Xiaomi Mi 11 Lite e My 11 Ultra they have just been certified Android Enterprise Recommended. It is a certification, if you can call it that, that Google itself gives to some devices with certain characteristics. It's not about technical specifications, mind you. In fact, too some Redmi not particularly performing have been included in the list, like the redmi 9T. But what is this certification of grace and what is it for in reality? Let's go see it together.
Xiaomi Mi 11 Lite and Mi 11 Ultra have just been certified Android Enterprise Recommended: they are in all respects suitable for working
Xiaomi Mi 11 Lite e Xiaomi Mi 11 Ultra have joined the large family of Android Enterprise Recommended devices. But what does this mean? We talked about it on our network, but below we try to explain it in simple words. As anticipated, the certification is not given to particularly powerful smartphones, even if in this case it is the best top of the range and the best mid-range of the brand. Basically Android Enterprise Recommended it is not even a certification, but more a pass.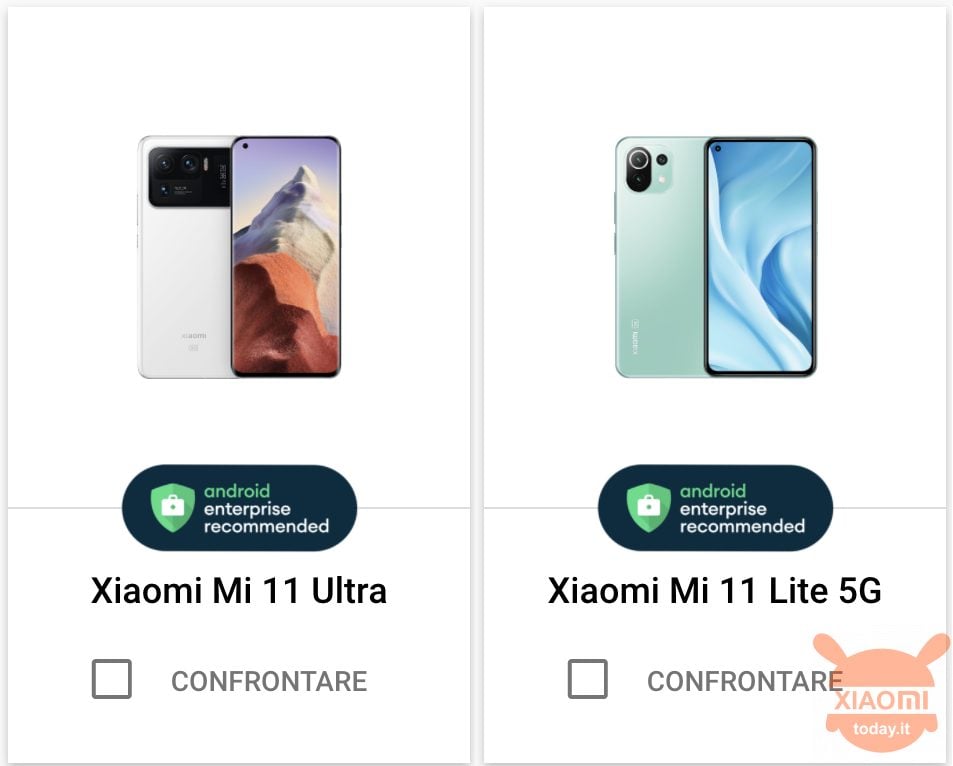 The question that Google asked itself years ago is: which smartphones from different companies are best suited to work? The Android Enterprise Recommended program was created with the goal of select the best Android smartphones
. Clearly every company has to promise that they will keep the device in question up to date for a long time. In this regard, we recommend reading
this article
. But what are the stakes, the minimum requirements of each Android Enterprise Recommended device?
The most essential requirements that must be met include:
minimum hardware specifications for devices running Android 7.0 and later
support for zero-touch enrollment to enable bulk deployment of Android devices
All Android security updates must be provided within 90 days of Google's release, for a minimum of 3 years
unlocked devices should be available directly from the manufacturer or retailer
the device must have an adequate user experience in the managed profiles (personal and corporate for example)
Furthermore, Google not only rates these devices but provides technical support and training as part of protocol validation.
Are you interested in OFFERS? Follow our TELEGRAM Channel! Many discount codes, offers, some exclusive of the group, on phones, tablet gadgets and technology.
259,90

€

349,90

€
available
15 June 2021 0: 42

Amazon.it
Price updated on: 15 June 2021 0:42