We will continue to talk about Xiaomi Mi 11 also in the next few days. This is because it will be one of the most talked about devices of the first months of 2021, there is no doubt. It is a fundamental smartphone because it is the first to be officially released with a processor Qualcomm Snapdragon 888. But it's not just the SoC that makes it truly special. In fact, in addition to the processor, there are other components that make the brand's device a little above average. This also justifies the price that may seem high, but if we think about it it is alone poco higher than that of its predecessor.
Xiaomi Mi 11 does not use a physical (hardware) sensor for proximity, but an algorithm studied by
Elliptic Labs

which uses speakers and microphone

When we hear about proximity sensor automatically we think of a concrete chip, a tool that allows the device to recognize when to turn off. For example when we call someone, the proximity sensor causes the display of our smartphone to turn off when it is in contact with the face. Well, Xiaomi Mi 11 is not equipped with no "additional" hardware component, but use the speaker and microphone.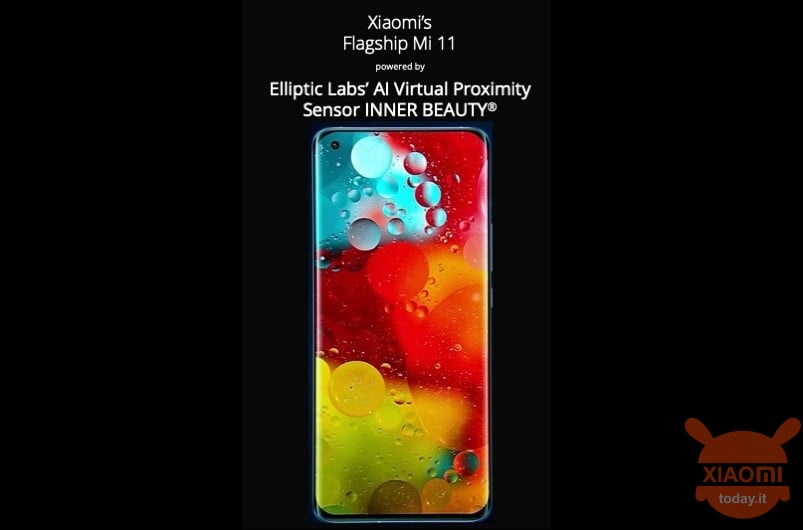 The solution, not new in the panorama of smartphone technology but anyway poco used, it was studied by Xiaomi together with Elliptic Labs. This Norwegian company has been a partner of Lei Jun's brand since 2016 and the two also collaborated on the production and development of Xiaomi Mi MIX 2. But back to the heart of the matter, what is special about this proximity sensor? First of all his name is AI Elliptic Labs INNER BEAUTY, and is a proprietary technology from the above company.
What makes the product special is that it uses a phone's innate components (speakers and microphone) for send and receive ultrasonic signals, which are then analyzed to determine the user's proximity. This eliminates the need for any additional hardware sensors. This brings not only it smartphone to be lighter, as it lacks "substance", but also to slightly lower the cost, clearly net of quality.
Buy on Amazon
552,50€
available
11 new from 552,50 €
2 used from 449,00 €
Last update of the 24 July 2021 23: 08 ⓘ
Are you interested in OFFERS? Follow our TELEGRAM Channel! Many discount codes, offers, some exclusive of the group, on phones, tablet gadgets and technology.