When it comes out Xiaomi Mi 11 Ultra? Every day all users ask us this and we promptly reply that we have no idea. In fact, during the official presentation of the family in Europe, the company has confirmed its arrival but not when. In fact, in addition to telling us that it would also debut in Europe (and therefore in Italy), he confirmed the price: we start from 1.199 € in the version with 12 GB of RAM and 256 GB of internal memory. Today, however, an official account seems to have revealed the launch period.
UPDATE AT THE END OF THE ARTICLE
When will Xiaomi Mi 11 Ultra be released in Europe and Italy? Xiaomi France anticipates it: early May will be the debut period of the super top of the range
According to the official channel of Xiaomi France the new Mi 11 Ultra will debut in early May. The reports come from Twitter but the offending post was promptly deleted by the company. Easy to understand why: the surprise event went to be blessed. But the users are very shrewd and have learned to save the righteous screenshot. So let's see the photo that testifies to the official debut date in Europe.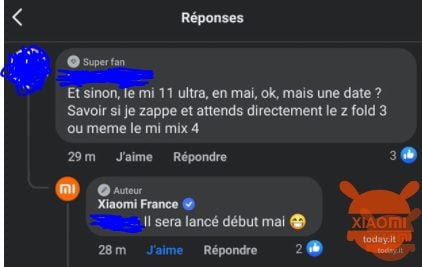 From what we understand, a user had already understood that the smartphone would be released at May. However, in the throes of an oversight, the brand's official channel said the debut is set for early May. Now, we don't have a specific date but it's very likely the first two weeks of next month. Recall that Xiaomi has a "teasing" strategy: precisely a week before the debut will begin to spam here and there teasers of different types. It will be at that moment that we will understand when to expect the official launch.
Having said that, let's recap the strengths of this smartphone compared to others in the family. First of all, Mi 11 Ultra is the first Xiaomi ever to be IP68 certified. Secondly we find a second auxiliary screen which will be used to receive notifications and as a support for selfies. Last but not least, the largest photo sensor in the world: Samsung GN2.
SECURITY UPDATE TRAINING
We were not wrong, the smartphone will arrive in early May. But when? Xiaomi Netherlands confirmed the official date via Facebook message: let's talk about11st May. However, it must be recognized that the Facebook translation makes it clear that the presentation will be "starting from"On 11 May. Via | GSMArena
Are you interested in OFFERS? Follow our TELEGRAM Channel! Many discount codes, offers, some exclusive of the group, on phones, tablet gadgets and technology.