Among the new features leaked in the previous days, there is no doubt that the most interesting was the possible implementation of recognition of fingerprints by ultrasound. This technology is a substantial evolution of the previous generation of sensors and brings undoubted advantages.

Ultrasound they are able to easily penetrate dust, moisture and fat making the reading of fingerprints much more effective and flexible even in "not perfect" conditions, such as in the case of dirty hands.

Another great advantage of this new technology is the possibility of being implemented on more diverse materials like wood, plastic, glass and sapphire. And this great opportunity will allow the Xiaomi Mi 5S to be the first phone in the world to integrate the fingerprint reader below the display eliminating completely the need for the physical button.

Fortunately for us all this "well of God" has been (almost) confirmed bylast teaser

shown by the official account Xiaomi showing a fingerprint and the big text says "What else can you add to fingerprint technology?"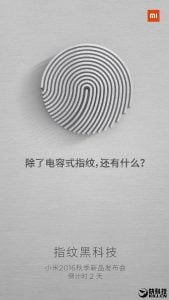 And it is always from the Chinese social network Weibo that we archive a further confirmation, this time on the 3D Touch (or force touch). In fact, a screenshot shows an unusual menu, as happens on iPhone 6/7, associated with pressing the camera icon. This menu shows quick shortcuts to the Selfie, Video and FishEye filter functions.
There are only 48 hours left until the presentation, so we can stop our imagination, sit in the armchair and wait. Xiaomi starts to silence everyone!
I do not know you, but my credit card is already ready.
Are you interested in OFFERS? Follow our TELEGRAM Channel! Many discount codes, offers, some exclusive of the group, on phones, tablet gadgets and technology.