After 7 years, Xiaomi is still doing big things and, looking at the queues at the entrance of Beijing University of Technology, it would seem that fans appreciate. A presentation in great style that made today for the highly anticipated Xiaomi Mi 6.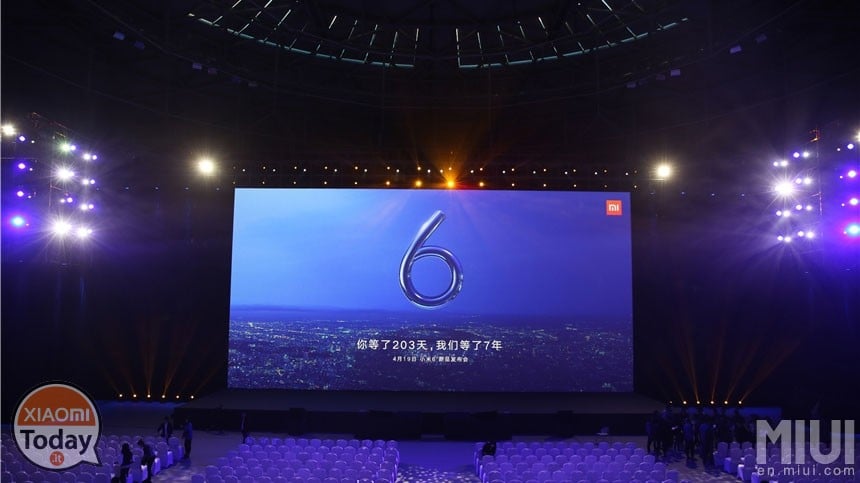 As the presentation panel briefly describes, Mi 6 arrives exactly 203 days after launching the S series of Mi 5 and later 7 years of history Xiaomi.
7 years have guaranteed the beauty of Xiaomi 10 Press Red Dot e 72 awards globally for the best industrial design: congratulations!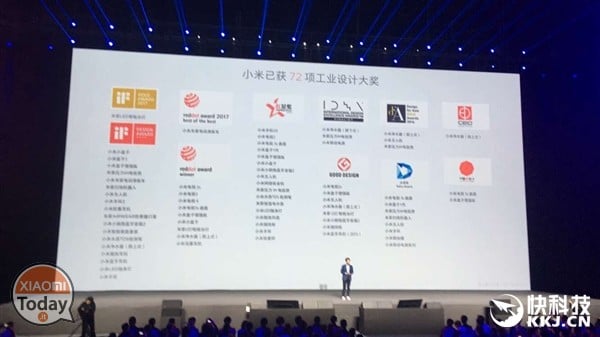 Before you go to the details and specifications of the new Xiaomi smartphones, I remind you that Lei Jun just a few minutes ago spoke about new "offline" openings, ie openings of physical stores in Asian territory (now we have to settle for ...) to reach the quota 1000 over the next three years!
Obviously with this article we do not want to bore you with all the details of the conference that has just ended because surely you have followed our direct, so let's see in detail the new Xiaomi high-end smartphone!
Xiaomi Mi 6: details from today's conference!
With Mi 6, Xiaomi officially launches the new one Snapdragon 835 on Asian smartphones. But Xiaomi Mi 6 is not just a processor: the company also wanted to target the graphics card compatible with the Vulcan API 3D, which should guarantee i 63 fps. An exceptional level if we think that iPhone 7 stops at 49 and P10 stops at 32!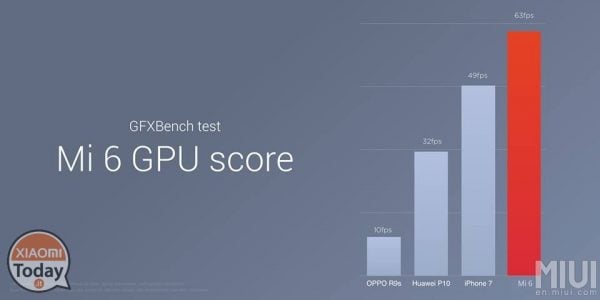 The Kryo 280 architecture and the maximum frequency of 2.45 GHz, will also provide exceptional performance to allow you to exceed the quota 180k points in benchmark tests!
Presented as the most powerful smartphone of the year - but of course it will be tested - Mi 6 arrives in the fantastic blue color, which is added to the more classic variants in white and black. The body is called hyperboloid because it is made in such a way as to have the curvature on all sides and 4.
Below I leave you some pictures that will make you shine your eyes!
As you can see from the pictures, Xiaomi Mi 6 is equipped with a dual rear camera which, together with the elegant choice to focus on the stainless metal, allows the new device to look as unique as ever in breaking away from the recent Huawei P10.
Most purist fans will not be happy about the choice of remove the audio jack from 3,5mm to the benefit of one resistance to liquids guaranteed through waterproof protections.
Lei Jun then pointed out that Xiaomi's attention, this time, has really turned to the smallest details like the absolute symmetry of all components and the maneuverability and the feeling of touch that - he promises - will be like we have never experienced it!
Another substantial novelty is to turn specifically to a single market, different from Asian! You will be sure to notice the fantastic silver color of the new Mi 6, which will be dedicated only to the US market: Xiaomi Mi 6 Silver Edition!
As told by the CEO of Xiaomi, the silver variant should cost considerably more than the other versions, as a minimum amount of dust in the production process could ruin the body absolutely smooth and reflective.
Completing the new Mi 6 the ultrasonic sensor for fingerprint recognition, as already seen on Mi 5S, and one display from 5,15 inches with reduced blue light emissions (our eyes thank) scientifically certified. But the novelty of this display, in addition to the attention to the health of users, is also the fidelity of the colors which, thanks to this innovative technology, will be made possible and, above all, automatable: in fact the Mi 6 will allow you to manage 4096 levels of backlight!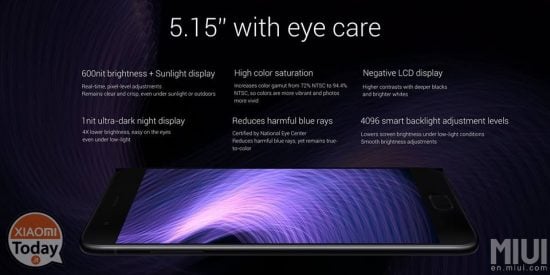 Xiaomi Mi 6 will be equipped with one battery slightly larger than the previous Mi 5S. 3350 mAh

will guarantee the stress of 4 hours and the achievement of a full day without having to carry a powerbank.
Considering then that the Snapdragon 835 should reduce consumption by 25%, the increase in battery capacity will catch the most avid users and those who are passionate about music! Yes, because Mi 6 is the first Xiaomi smartphone equipped with stereo speakers which will allow you to fully enjoy the multimedia of your device.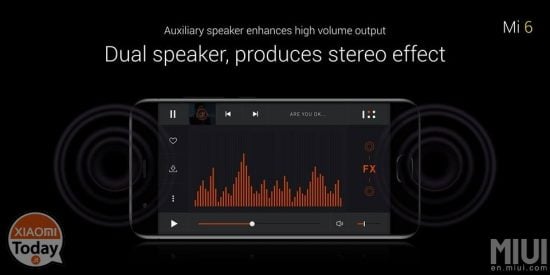 But let's talk about the camera, as we left it last!
Double camera, as mentioned, realized wire and without bosses, which guarantees less exposure to wear and scratches of the lenses. Speaking instead of sensors, the double back sensor from 12 Mpx + 12 Mpx will make possible shots with bokeh effect and ... hear hear ... one has been implemented as well optical zoom from 2x which, as Lei Jun said, should allow sensational shots also thanks to the reintroduction of optical stabilization at 4 axes. But here are some samples!
For the launch price of this new top of the range, Lei Jun started putting his hands forward and letting everyone know that prices would inevitably increase due to the increase in costs for dual-camera, permeability, new processor and to upgrade RAM.
In fact the increase is not so obvious and the prices will be as follows:
Xiaomi Mi 6 (6GB / 64GB): 2499 Yuan (approximately EUR 340)
Xiaomi Mi 6 (6GB / 128GB): 2899 Yuan (approximately EUR 395)
These two variants will be added to the Ceramic Edition (6/128) with gold finishing 18K at the price of 2999 yuan (approximately EUR 410 at the exchange rate). I remember that the two non-ceramic variants are made of stainless steel.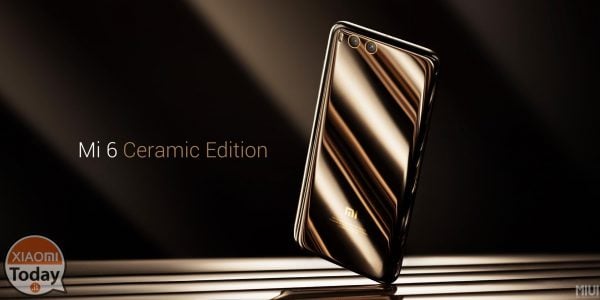 Sales will instead begin 28 April, Beijing 10 hours, and we did not know if they would expect a classic flash sales sale or if production has allowed a more consistent launch from day one.
Xiaomi Mi 6: technical specifications
dimensions: 145,17 x 70,49 x 7,45 mm
weight: 168g (182g the Ceramic Edition)
SoC Snapdragon 835 @ 2.45 GHz
RAM memory from 6 GB LPDDR4x (1866 MHz)
internal memory from 64GB and 128GB UFS
FULL HD display from 5,15 inches with blue light reduction
Adreno 540 GPU (653 MHz)
ultrasonic fingerprint sensor (like Mi 5S)
Available colors: white, black, blue and silver (only for the USA)
resistance to liquids and dust
dual rear camera (

Sony IMX386 + Samsung S5K3M3

- to be officially confirmed) by 12 + 12 Mpx with 2x Optical Zoom and Optical 4 Axis Stabilization
front camera from 8 Mpx (

Sony IMX268

- to be officially confirmed)
NFC
dual Wi-Fi antenna
dual SIM 4G (one SIM in 4G)
5.0 bluetooth with HID
infrared port
battery from 3350 mAh (tip / 3250 mAh min) with QuickCharge 3.0
Hearing hot
This new Xiaomi Mi 6 seemed to me a set of many technologies forced to coexist: there is not that something that makes you say "We needed this news!".
Yes, the silver and blue colors are beautiful, but from Xiaomi we expect better and, after stressing several times that innovation is the leitmotive of the company, it was legitimate to expect more. In my opinion.

Do not forget to follow us because in these days we will definitely deepen all the aspects that characterize today's event and, above all, the brand new Xiaomi Mi 6!
Here is the link to join our Facebook group dedicated to the new Xiaomi home smartphone!
[source]
Are you interested in OFFERS? Follow our TELEGRAM Channel! Many discount codes, offers, some exclusive of the group, on phones, tablet gadgets and technology.