Today, Xiaomi has officially released its new smartphone, huh? Xiaomi Mi 6, a delight for some a disappointment for others, but the new top of the Chinese range as well focus on performance really exaggerated thanks to the CPU Snapdragon 835 but that winks at the design with its style characterized by a curvature on the corners 4, and a screen that in addition to the quality also gives attention to the eyes of users as it is equipped with the anti-blue function ray.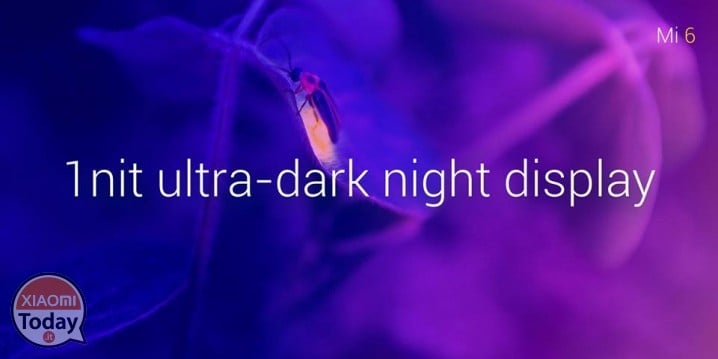 So if you are among the people who are doing a thinking about buying the new Mi 6 and you want to be one of the first to own a specimen, the good news is that the terminal is already available at preordering by clicking on the button below.
Xiaomi MI 6 pre-order on Geekbuying (439 € with discount code XIAOMI6)
Xiaomi MI 6 pre-order on GearBest
First of all I need to inform you that the Xiaomi Mi 6 does not support 20 bandwidth so someone might be slow to buy. On the online store the available colors are black, blue and white in the 6 GB version of RAM and 64 GB of internal storage at a price of 449,94 euro. As described by the store, the body is made of curved 3D glass.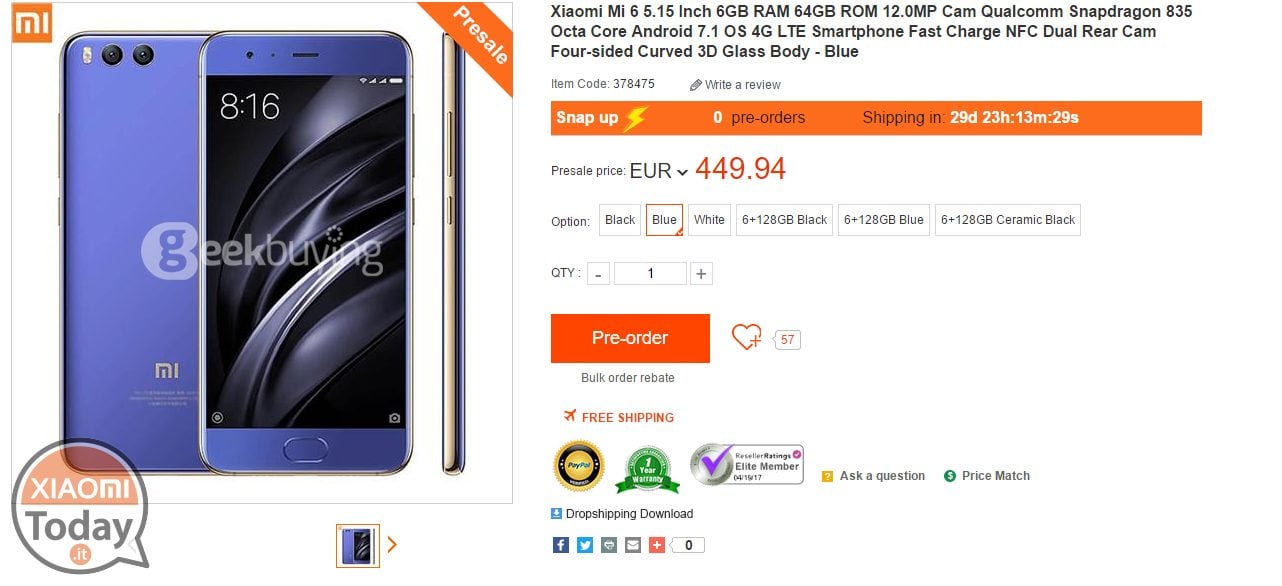 If you are curious to see the contents of the sales package you can consult our article on first unboxing of Xiaomi Mi 6, but Geekbuying also offers pre-order variants from 6 GB of RAM and 128 GB of internal memory in black and blue colors both made with 3D curved glass with 528,35 euro sales price while the 6 GB version of RAM and 128 GB of ROM made of ceramic, in black color, is always offered at the price of 528,35 euro. The peculiarity of the ceramic version is due to the gold inserts on the finishes, such as logo, double camera frames, etc ..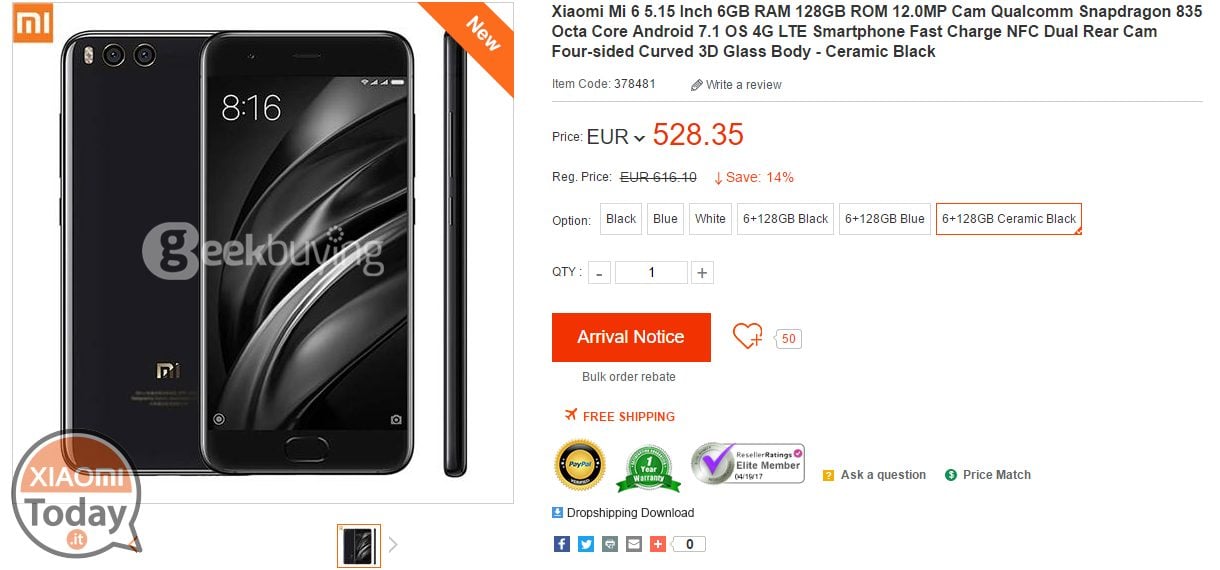 We remind you that the Xiaomi Mi 6 is the first Chinese smartphone to be powered by the new Snapdragon 835 CPU and if I do not, it is the second device in the world to be equipped with that CPU. This Android 7.1.1 with proprietary interface MIUI 8 which from the first impressions is fluid and performing. If you've made a turn in the online store you will notice that currently only pre-order is 6 GB + 64 GB version, but anyway if you do not want to wait then you can turn your Xiaomi smartphone into the new Mi 6 by installing dedicated topic which you find Thuremembering that you will need to sign up as a designer account to install it.
Which color attracts you more and what version? Let us know in the comments box below but above all do not forget to sign up to our facebook group.
Let's face it and discuss it in our Facebook group devoted to the
Xiaomi Mi6
. We are waiting for you!