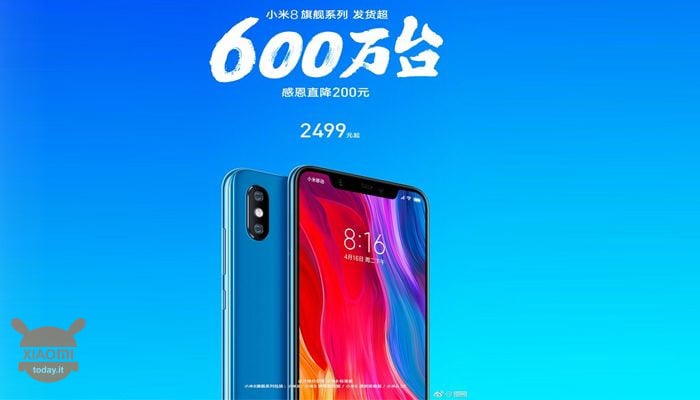 Xiaomi believes a lot in his top of the range so much to dedicate them one obsessive attention to detail, a passion that has always characterized in reality all the stable of devices proposed by the company. And with My 8, Xiaomi has really surpassed itself so much that the success of the terminal was already in the air considering the reception that Chinese users have reserved for the smartphone by recording the sold out since the first sale.

Xiaomi Mi8 Lite Global
FREE Shipping 8 / 10gg - Cover and Complimentary Film - Italy Guarantee 🇮🇹
249.99€
And so for this Xiaomi Mi 8, the company CEO Lei Jun, reveals us a impressive record through its official Weibo account: in just six months on the market, the Xiaomi Mi 8 would have sold over six million units, confirming a real success and a hope for the future, considering the negative implications that Xiaomi is living on the stock exchange.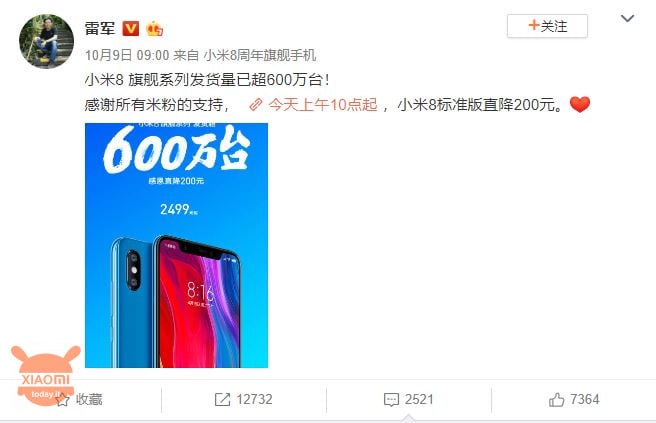 It is not clear whether the ercord value refers only to the standard Mi 8 model or to the whole family Mi8 SE, Mi8 Explorer Edition and the recent Mi8 Lite and Mi8 Pro. We of the staff could not fail to try Xiaomi Mi 8. A very interesting smartphone under various points of view, including multimedia
Xiaomi Mi 8: sold over 6 million units in 4 months
The fact on which we consider it appropriate to pay attention is undoubtedly the speed with which Xiaomi has reached this milestone, only 4 months. A result that bodes well for the future, with a sales projection that should touch new heights: at this rate, it is not excluded that the Mi 8 family can arrive in double figures by the end of the year, exceeding the 10 million of pieces sold. The same Lei Jun announced a small discount on the official list price of the 8 Mi in China, from now available to 2499 Yuan (about 314 euro), which will still help the spread of the device.
Read also: XIAOMI MI8 REVIEW | REVIEW XIAOMI MI8 SE
Are you interested in bidding? Follow our Telegram Channel!
A lot of discount codes, some exclusive offers from the group, phones, gadgets and gadgets.