Ever since Xiaomi released the MIUI 12 there are many users who look forward to it. The best have been able to install it through the ROM of Xiaomi.eu flashing the system. The others are still waiting and above all the users of Xiaomi Mi 9T and Mi 9T Pro they are very nervous as the rollout came out but soon afterwards it was stopped for some reason. It seems as if the program I Pilot is not yet finished when in reality it is not so. But perhaps the users of the first of these two devices will now switch to the Xiaomi .eu ROM as it only thanks to this it is possible to use the Super wallpapers.
Xiaomi Mi 9T is one of those devices that cannot enjoy Super Wallpapers: there is a way to have them but also a small price to pay
If you remember well, in fact, not all Xiaomi smartphones could take advantage of this beautiful feature that allows you to have animated themed wallpapers Earth and Mars. The fluidity they offer is unmatched even if the price to pay is one shorter battery life. In particular, the smartphones that can use this feature are:
Xiaomi Mi 10, Mi 10 Pro and Mi 10 Lite;
POCOPHONE F2 Pro;
Xiaomi Mi 9, Mi 9T Pro and Redmi K20 Pro;
Xiaomi Mi 8, Mi 8 Pro and Mi 8 Explorer Edition;
Xiaomi Mi MIX 3.
As you can see Xiaomi Mi 9T is not contemplated in the (official) list. But there is no despair as it is possible to use them anyway even if the price to pay may be too high for some: you have to install MIUI 12 by Xiaomi.eu.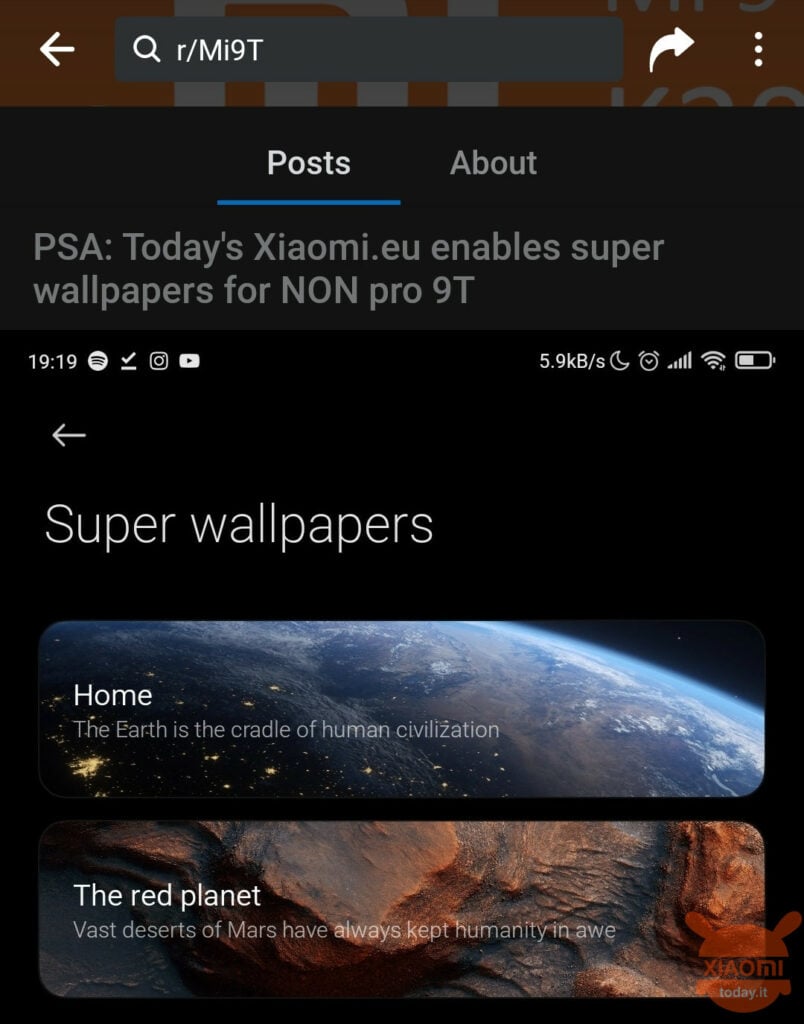 According to a Reddit user, from today it is possible to use the Super Wallpapers of MIUi 12 also on this device. In fact, an update should have arrived that allows you to do so. It is important to underline that it is not enough to proceed with the download of the ROM: below we post the download links remembering to proceed with caution as it is bootloader unlock required (which however does not invalidate the guarantee!) e ROM flash. Good fun!
Donwload MIUI 12 Xiaomi.eu for Mi 9T
Xiaomi Mi Note 10 Lite Global 6 / 64Gb
🇨🇳 EU Priority Line Shipping (7 / 15gg, No Customs) ✈
Source | Reddit