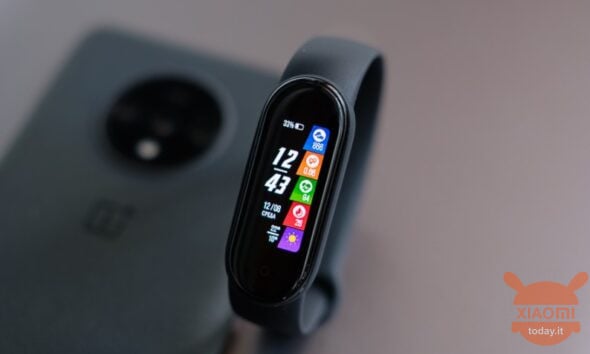 Are you interested in OFFERS? Be smart and subscribe to our Telegram channel! Lots of discount codes, offers, pricing errors on technology from Amazon and the best online stores.
Xiaomi Mi Band 6 will be the one to buy, there is no doubt. Just yesterday we got to see how the next queen of Xiaomi smartbands took the first step out of China. In fact, according to what emerged from the certifications that took place poco ago, the smart bracelet has already arrived (not commercialized) in Indonesia and India. This could mean that the launch is closer than we think. But having said that, we also know that the news compared to the previous generation and the Amazfit Band 5 are many. One of these, unveiled today by Magical Unicorn we will really like it.
The Xiaomi Mi Band 6 will allow us to respond to messages directly from the display, but be careful: not as we think
How many times have we had to reply to a message immediately but also not to have access to the smartphone. Sometimes the SmartWatch they come to our aid with the ability to respond and according to what emerged, Xiaomi Mi Band 6 will give us the opportunity to do so. But not as we think. In fact, the news just leaked refers to the quick answer

and not when the complete message is typed. This means that we will not be able to send actual texts but just quick answers, such as those of the smartphone via Messages.
Inside the application code We Fit, the developer has found interesting details about the new feature that we have been clamoring for years from the brand. The evidence speaks of the ability to send three quick replies through interaction on the display. These will be:
I'm in a meeting, I'll answer later
I'm driving, contact me later
I can't answer right now, contact me later
At the moment, however, it is not clear whether other quick responses will be implemented or not. Likewise we cannot say for sure if the smartband will allow answer directly by typing a text with the digital keyboard. What is certain is that it is not a feature from poco. While not as complete as we wanted, the message response is one functionality that we most require from the company.
Buy Now
MI Band 6 in Preorder
The brand new Xiaomi Mi Band 6 is already available for pre-order at 32 €
In Chinese version (English and Chinese language), but as usual this version should also be updated with the Italian language.

Buy it here https://xiaomi.today/3cCiS4 and use the discount code BGBGitMiFan6
🇨🇳 Banggood Express Shipping (No Customs)
19 January 2022 17: 01

Amazon.it
Price updated on: January 19, 2022 17:01