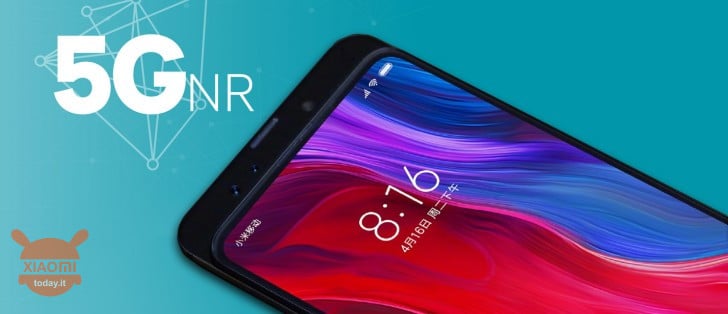 After an intense period of leakage and various rumors that often left us a bitter taste in the mouth because they turned out to be false, the company has finally decided to come out into the open and tell her how best she can do, that is through teasers who make some key clues. Just this morning we told you about the presentation of the awaited Xiaomi Mi Mix, which will take place on October 25 in Beijing where some details also revealed that the Chinese flagship will be accompanied by a dual traffic light camera as the previous generation while the shell with sliding mechanism will be transparent.
Xiaomi Redmi 7 Global
FREE Shipping 8 / 10gg - Cover and Complimentary Film - Italy Guarantee 🇮🇹
Now after a few hours, the company has released another image that leaves no room for imagination, revealing that Mi Mix 3 will be the first smartphone in the world to offer 5G connectivity, super fast, so much to be represented by the engine of an airplane. Other details do not seem to emerge if not the confirmation of a display with screen / body ratio close to 100% and again the slide mechanism that will incorporate sensors and selfie camera.

Xiaomi Mi Mix 3 is the first smartphone in the world to offer the 5G
Actually looking at the image well, in the position dedicated to the capsule a sort of Zeppelin is depicted, even if the meaning of this representation is not clear. Perhaps the simplest meaning to attribute is that the connection speed of the 5G will be so fast that it will seem to fly, or perhaps simply the Zeppelin represents the "old" 4G technology that leaves space to the best performing 5G.
Xiaomi Mi Mix 3 in any case will be an ultra-fast smartphone, so much so that it is rumored that the same will adopt a RAM from well 10 GB, which would decree another record for the terminal. On the other hand, there is no word or mention regarding the other protagonist expected for the event, namely the Xiaomi Mi LEX alias Mi Note 4, but now we have arrived at the end of the line and so we can not but wait to be sure that these days the company will delight us with other teaser riddles.
Are you interested in bidding? Follow our Telegram Channel!
A lot of discount codes, some exclusive offers from the group, phones, gadgets and gadgets.