The day of the presentation of Xiaomi Mi Mix alpha is getting closer and closer and it is therefore normal to witness these days with more or less official rumors. But when these reveal revolutionary scenarios in the smartphone environment then the hype already skyrocketing to incredible levels. We have in fact assisted in the past few hours to two teasers, who have fueled the hope (or maybe not) that the new flagship of the company could also be the first foldable of Lei Jun's company.
But it was the CEO himself who denied the nature of Mi Mix alpha, which however reassured the Mi Fans, suggesting that the device will still have an innovative design. Well nothing more true, considering the leak that appeared online a few hours ago, which shows a revolutionary concept phone. In fact, according to the image below, the Xiaomi Mi Mix alpha will have a flexible display that runs from the front to the back, marrying beautifully with a border that runs along the narrow back cover, where 4 rooms are also located.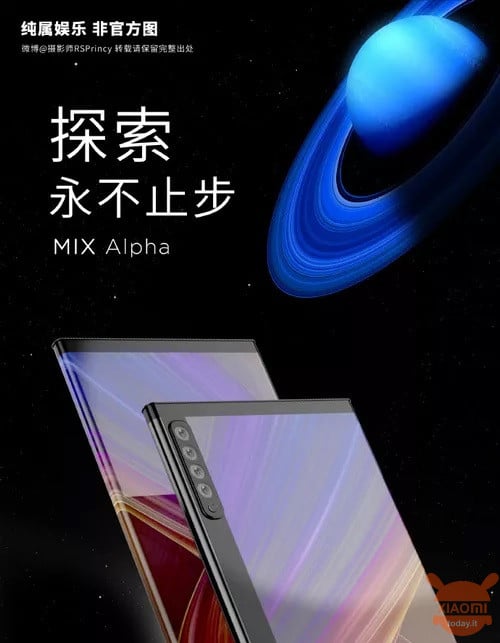 XIaomi Mi Mix alpha: more concept phones than you can imagine
We could define Mi Mix alpha, as a device that adopts a continuous dual display, without interruptions. No holes, nor notch, as the 4 cameras available will also perform the function of selfie room. Let me be clear, at the moment this is just a render and the company has not yet expressed confirmation or denial. A decidedly atypical design, which could meet the approval of many but also disagreements, but on the other hand in today's world of smartphones it is really hard to amaze now and if this design were confirmed, Xiaomi Mi Mix alpha, would surely speak for itself.
Read also: Xiaomi Mi Mix alpha shows itself in an official teaser (or almost) ...
And do you like this aspect of the future Xiaomi-branded flagship, or do you think a glass of wine has gone too far? Have your say in the comments box below.
Are you interested in OFFERS? Follow our TELEGRAM Channel! Many discount codes, offers, some exclusive of the group, on phones, tablet gadgets and technology.