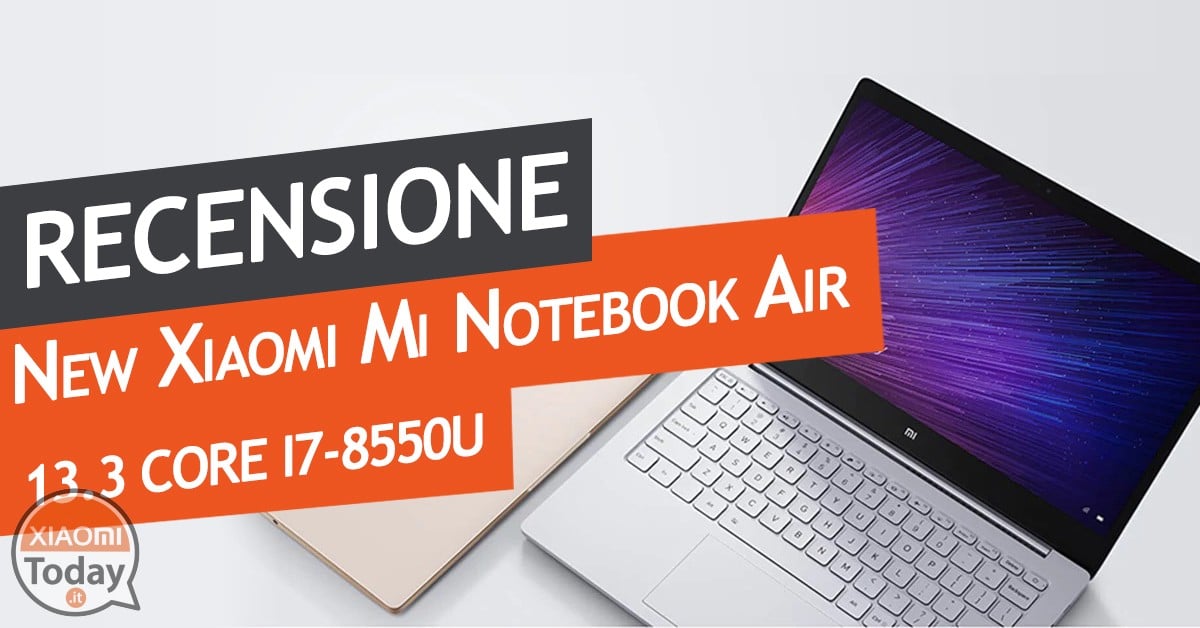 We have learned to know the notebooks offered by Xiaomi for some time and we have always remained pleasantly convinced of the product, which proves to be a valid alternative in the computer industry, too often and stupidly dominated by Apple's proposals. We could not therefore get away, thanks to the collaboration with Gearbest.com, who provided the sample, the new one Xiaomi Mi Notebook Air 13.3 enhanced version with Intel eighth-generation processor that today we will analyze for you in our full review.
The sales package does not differ from those of previous editions, made in white cardboard with the image of the product in good view on the front, while inside the notebook we can find the manual in Chinese also including the warranty (valid only in China: 1 year for the entire notebook and 2 years for the main components), loader with a Chinese socket (so you'll have to have a European adapter) with the exit 5 / 9 / 12 / 15V / 3A and 20V / 3.25A and 65W power, and finally the dual USB Type-C charging cable with length equal to 150 cm. The charger is really compact, with a minimal and elegant design, dimensionally similar to those used for smartphones, and which can be further resized as the two metal sweetbreads can fold back on themselves.
For some aspects it makes no sense to talk about the software, as the enhanced version of the Mi Notebook will arrive at your home with Windows 10 Home Edition Single Language including the pre-installed Office Student 2016 package, but unfortunately totally in Chinese. I have tried alternative methods to install the Italian language, but in the end I am due to resort to the our guide through which I managed to translate the "little animal" technological in Italian. Operation that really requires poco time (at the installation level), in fact, after only half an hour, my notebook was ready for use. What is positive is the fact that I managed to keep the original license of the notebook, as the latter is in digital format and resides directly inside the BIOS. Unfortunately, the lack of language remains one of the points against it of all the series of notebooks proposed by Xiaomi, as often users with little familiarity with software and operating systems, they prefer to avoid other models of rival brands that at a much higher cost, however, provide a machine ready for use. And it's a pity because the Mi Notebook 13.3 Air. of eighth generation has really a lot to offer at a price that goes from 850 to 1000 around euro, prices vary according to the various offers in progress and even if it involves a small risk due to the lack of assistance and warranty it still remains a great investment.

Personally I'm not a big user of Linux but know that for this Mi Notebook there is full support with recognition of hardware drivers automatically allowing you to enjoy the potential of the machine without having to dim. So you choose whether to use Windows 10, a Linux distro or why not have both operating systems in Dual Boot.
I would say that now we are ready to face the design of this Mi Notebook Air 13.3 enhanced version, which it does not differ from the models we have already reviewed. Simple lines, curves on the edges, which delimit one all-metal chassis, almost sensual looking thanks to one deep gray coloration. Xiaomi's notebook has dimensions equal to 309,6 x 210,9 x 14,8 mm and a low weight of 1300 grams, really ultralight if we consider that the whole body of our computer gadget is entirely realized in magnesium alloy, which translates into a premium build quality. Good stability on tables and surfaces in general thanks to the presence of 5 anti-skid rubber pads at the bottom of the notebook.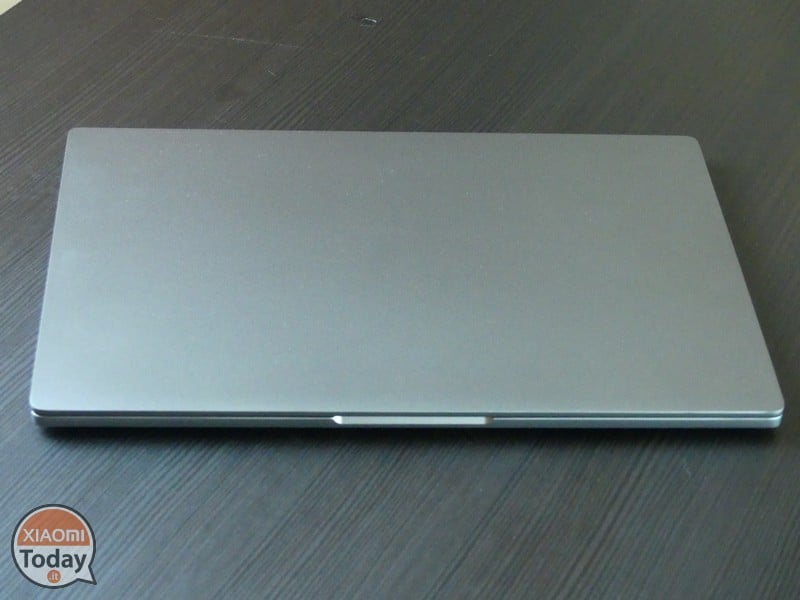 The only exception in the materials we find in the robust zipper display which results made of plastic and that almost completely covers the available surface. Although the material is not of the noblest, the construction is flawless, as the hinge is well balanced and calibrated, that is, we could open the lid of the display with one hand without the notebook flexing in any way (even when we keep it on our legs) using the comfortable groove on the front of the notebook. The zipper allows aopening and closing at 135 degrees.
Because our Mi Notebook is an imported keyboard product we will not find the Italian layout and this could create some difficulty of use for some users, who will either use the memory to identify accented letters and special characters or they will have to fall back on the purchase of dedicated stickers, which could make you give up the backlighting. Of course, our keyboard is backlit (3 nits) with the possibility of deactivation by means of a dedicated key (F10) in order to save energy. The keyboard backlight really turns out to be aexcellent ally at night but unfortunately, after 15 seconds of inactivity the automatic switch-off is activated, and to turn it on again we have to press a key, an action that in some situations could compromise our work. Anyway the keys have a stroke from 1,3 mm e writing is a pleasure, an improved experience compared to that offered by the other Xiaomi notebook models, albeit the sound returned certainly does not fit the use in the library. Finally, using the function keys F1 to F12 we can enable some extra features such as volume control or display brightness.
Under the keyboard of the Xiaomi Mi Notebook Air 13.3. of eighth generation we find the mouse trackpad with glass-covered surface, which guarantees precise control of the cursor, in a reliable and fluid way, able to support the Windows 10 gesture. This is joined by the integration of a fingerprint sensor which becomes a great ally for privacy, thanks to support for Windows Hello, but it also saves time because we do not have to type the user password every time the screen is locked.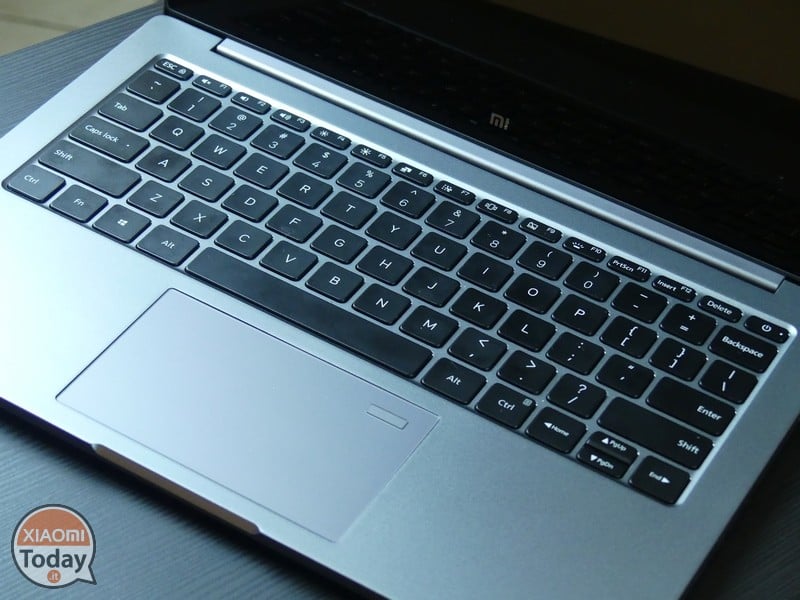 The display is also confirmed with respect to what has already been seen, ie a Sharp panel from 13,3 inches into 16: 9 (frame ratio 80,1%, frames from 5,59 mm) Full HD IPS with 1920 x 1080 pixel resolution (166 ppi), translating into 1,8 resolution times that of a monitor from 24 ", namely richer details. Good brightness equal to 300 nits, contrast 800: 1, especially when used indoors, but also on the outside you can enjoy the visual quality offered without too many compromises. Brilliant and faithful colors in extreme angles (viewing angle 170 degrees), but what should be a positive feature, namely the presence of one Corning Gorilla Glass display protection third generation, it is a double-edged sword because it is really too reflective, sometimes annoying the view with direct lighting. At the top of the display we have a kit 1 megapixel camera with HD 720p resolution assisted by a dual digital matrix microphone and a small status LED, which makes the experience of video calls and / or chat in general more than optimal, but also small shots to post on the various social.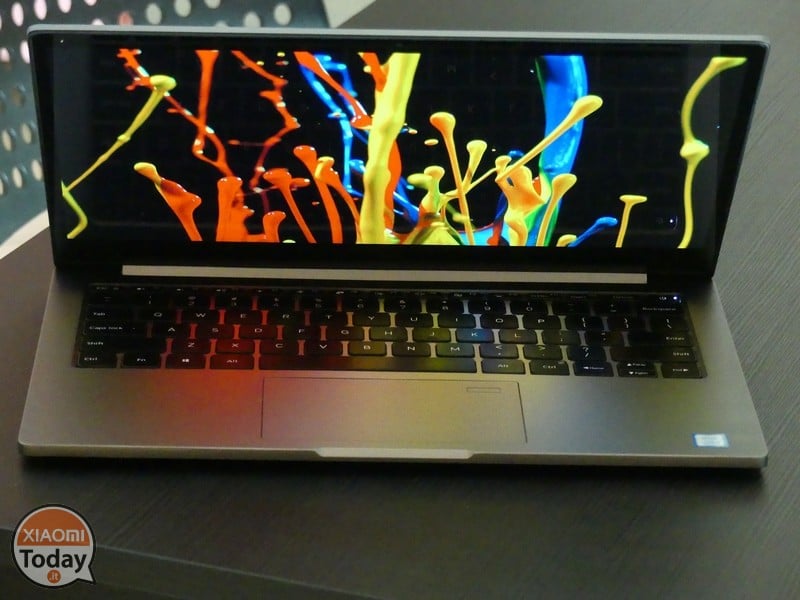 Another point in favor of this Mi Notebook is the audio compartment (Realtek ALC255 sound card) which consists of the two professional speakers from 2 Watt each with resonance area offered by the brand AKG by Harman with easy Dolby Audio ™ Premium. Sound fromcinematic effect, full-bodied, balanced on every frequency range, without ever distorting even when the volume is at maximum (and the volume level is really high), resulting in a pleasure for the ears while listening to music and multimedia audio content in general. A first innovation compared to previous generations we find it also in the audio sector, because the effect of the sound in the headphones has been enhanced through the 3,5 mm jack, however, now also supported those with remote control and microphone, through which to control the music tracks (Apple earphones / headphones are not supported). Finally at the software level we can customize the sound based on the contents, such as movies, music, games, etc.
BENCHMARK
One of the problems that in the past has afflicted the first generations of Xiaomi notebooks is the overheating of the entire surface, which is why the company decided to improve the heat dissipation system, which has been completely updated in order to guarantee the best performance at the CPU level. The ventilation grille hidden behind the display hinge integrates new metal materials with processing on 14 processes while the volume of the heatpipe is increased by 37% , bringing an air flow greater than 63% compared to traditional cooling systems. There are two fans that carry out this hard work, operation that they perform optimally, thanks also to the huge grid on the bottom panel of the notebook. In situations of high stress the Nvidia GPU never exceeds 61 ° C reaching maximum temperatures of 82 ° C per CPU while during normal use we touch maximum values ​​of 48 ° C. Another positive thing is the fact that during my use I never saw CPU saturation. The improvement of the whole cooling system is also felt by the fact that the fans enter into action only when necessary ed the noise level of the same seems to have been decidedly revised downwards.
These values ​​are definitely the result of the hardware optimization that Xiaomi has preserved for its Mi Notebook Air 13.3 that is renewed in the processor using now a Intel Core i7-8550U Kaby Lake of eighth-generation to 14nm with maximum clock to 4.0 Ghz (increased 40% performance compared to the previous generation), a SSD PCIe x 4 NVMe from Samsung 256 GB (expandable via free M.2 SATA slot), 8 GB RAM DDR4-2400 MHz Dual Channel Memory and a Dedicated GPU Nvidia GeForce MX150 with memory support from 2 GB GDDR5 (to support we also find an integrated Intel HD 620 graphics card). And the performances are really stunning: lightning-fast at start-up, snappy during complex operations like video editing also in 4K and versatile thanks to the possibility of to be able to connect up to 3 screens in parallel of which 2 with 4K resolution. Perhaps the graphics card does not lend itself to games too demanding or that require high fps, but even the latest titles can be enjoyed in an optimal and enjoyable.
It certainly does not lack an excellent form Wi-Fi dual 8265 / 2.4 GHz 5 ac Intel XNUMX (maximum speed of 867Mbps), module Bluetooth 4.1, one USB Type-C port which allows the notebook to be recharged as well as being used as a video output, data transmission (5.0 Gb / s transfer rate) and peripheral devices, 2 3.0 USB ports (5.0 Gb / s speed), 1 HDMI input port, entrance jack from 3.5mm . Unfortunately there is no SD / Micro SD card slot.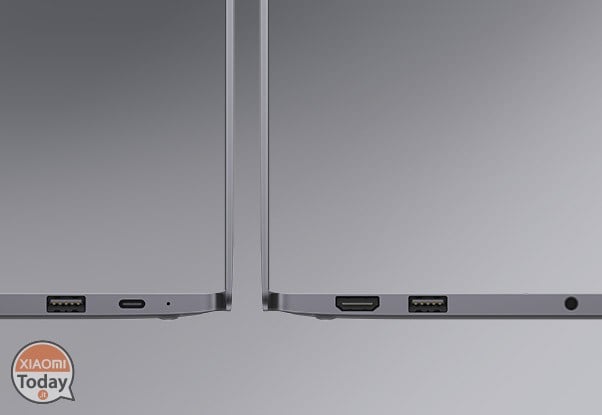 Finally we should talk about it battery which for this notebook is from 40 Wh with the possibility of charging via the supplied power supply with USB Type-C connection of 65 watts 5 / 20V max 3.25A and support for fast charging reaching a 50% of autonomy in just 30 minutes (100% charged in approximately 1 hour and 45 minutes). Xiaomi declares that with this battery the eighth generation Mi Notebook Air 13.3 manages to reach up to 9,5 hours of continuous use: honestly I have not experienced in what conditions this is possible but I can undoubtedly say that in situations of intensive use such as video editing or gaming, the battery drain is quite consistent, performing no more than 3,5 hours and in more classic conditions like writing articles, active wifi, music reproduction, etc. you can also easily get 7 hours, considering that it is possible to intervene both on the backlight of the keyboard and on that of the display.
CONCLUSIONS
The qualitative leap in this enhanced version of the 13,3-inch Mi Notebook Air is felt and also a lot. Honestly, I don't think the American layout of the keyboard is a limit or the fact that we have to use the operating system to make our technological friend in Italian. What matters is the yield and in this case I was not disappointed in any area. Although it remains a really valid product and certainly cheaper than competing brand models, the Xiaomi notebook still represents a significant investment for a common family. Maybe I wouldn't recommend it to a student or even a gaming maniac, but I find it definitely suitable for those like me who use a PC / Notebook for work a lot and need extreme portability. Well, with only 1,3 kg of weight, the Mi Notebook offers you a power and performance that allow for example to edit a video in complete tranquility or to work on a CAD / PSD file while you are on the train etc .. But maybe you who you are reading you are part of that slice of users who are simply looking for a good notebook to use as a fixed station but do not want products with poor quality materials or that can limit the use of multimedia content. Also for you it is recommended to purchase the Mi Notebook Air 13.3 enhanced version through the store Gearbest.com offering the best in technology at competitive prices, so do not miss out on the offer. Impossible to find better at this price !!!
XIAOMI MI NOTEBOOK AIR 13.3 8th generation
Also this time Xiaomi does not contradict itself, improving a product that was already at the top. Improved CPU with the integration of an eighth-generation processor and improved cooling system. I can not say that this Mi Notebook Air 13,3 8th generation is perfect but then Confucius said: Better a diamond with a defect than a stone without.
PROS
CONSTRUCTION AND MATERIALS
ULTRA LIGHTWEIGHT WEIGHT
DISPLAY
CPU / GPU PERFORMANCE
QUICK AND ULTRACOMPATIC CHARGER
SLOT M.2 SATA FREE
LINUX SUPPORT
AUDIO COMPARTMENT
ADVANCED PERFORMANCE TO ALL USER TYPES
COOLING SYSTEM
WRITING EXPERIENCE WITH KEYBOARD
CONS
AMERICAN LAYOUT
WINDOWS 10 HOME SINGLE LANGUAGE CHINESE
ABS SLOT MICRO SD CARD
SURFACE DISPLAY TOO REFLECTIVE
Add your review