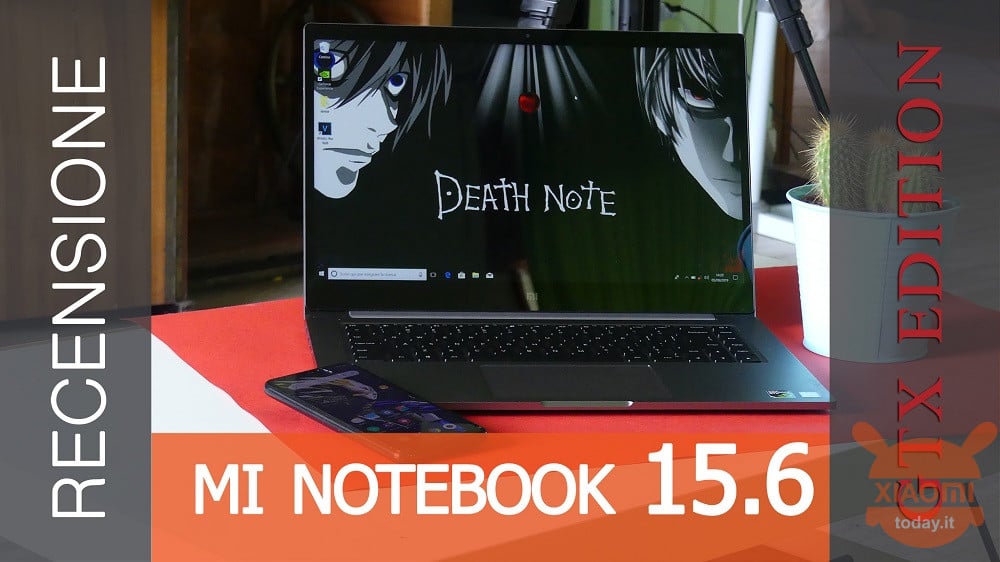 Over time we have had the chance to try more or less the whole series of Notebooks Xiaomi, always being satisfied with the relationship quality price fielded by the company, net of some compromises to be taken into account during the purchase phase. Today we are going to rediscover a Notebook that we have already reviewed on the channel and on the blog, but that the company has enhanced in this 2019, namely the Mi Notebook Pro 15.6 GTX Edition, which is updated to offer even more power and performance. Let's find out better together, within ours Full review.
Xiaomi Mi Notebook Pro 15.6
🇨🇳 FREE EU Priority Line Shipping (7 / 15gg, No Customs) ✈
€1299
Xiaomi Mi Notebook Pro 15.6 GTX Edition Review
Unboxing
In the sales package, made of cardboard, with the classic white color with the image of the product above, the following accessories are present:
Mi Notebook Pro 15.6 GTX Edition;
Quick User Guide (in Chinese);
power supply with foldable Chinese socket with max output 20V / 4.5A (90W);
USB Type-C / Type-C charging cable.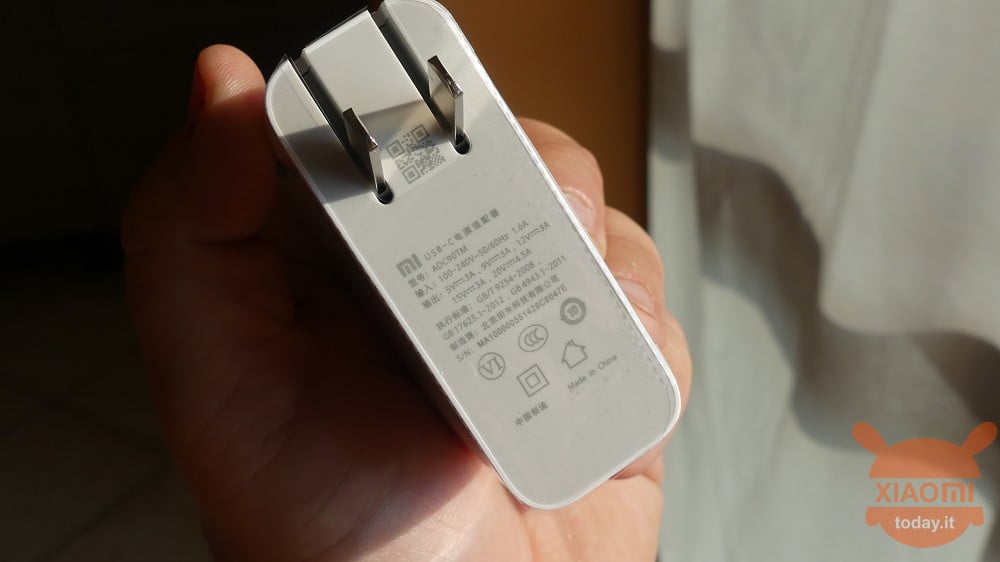 Design & Materials
Mi Notebook Pro 15.6 GTX Edition comes with a body made entirely in reinforced magnesium alloy, showing a brushed surface, resulting not only beautiful to the eye but also useful against any dirt left by fingerprints. From the constructive point of view, Xiaomi's notebook is solid and well assembled, not showing crunches or imperfections worthy of note. On the front there is no logo, continuing the minimalist line that the company has dedicated to its computer machines. Regarding the dimensions, this device measures 360,7 x 243,6 x 15,9 mm thick, with a weight of 1,95 Kg. On balance, we are not dealing with a manageable laptop, as the weight and dimensions certainly do not favor transport in a backpack but on the other hand it is a compromise that must be accepted on Notebooks with accentuated screen diagonals.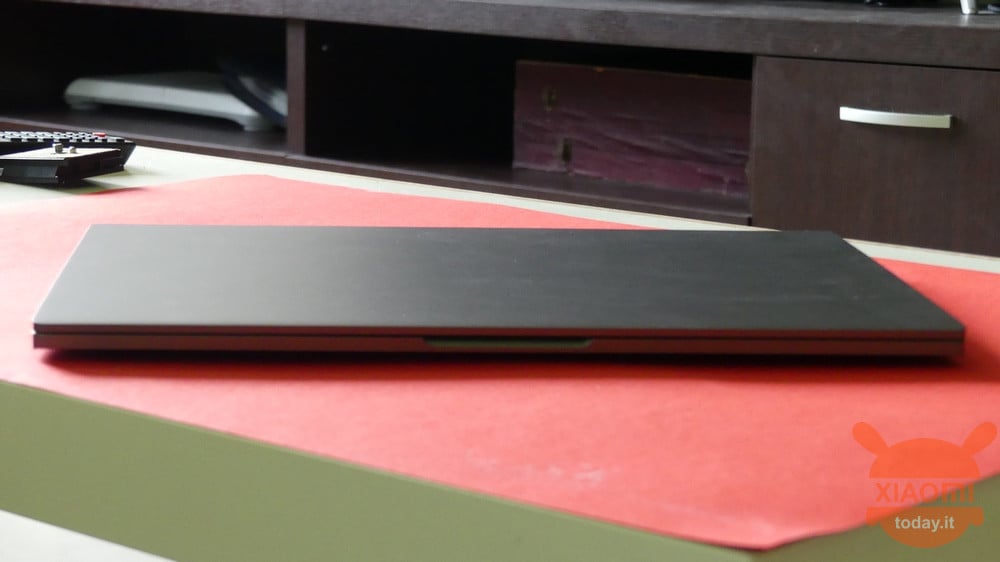 On the back there is a series of screws, which allow access to the internal components of the device, for example the compartment for the expandable hard disk SSD M2.SATA. Along the side profiles, however, are visible two stereo speakers, from 2.5W of power of the Harman Infinity, which also exploit panoramic sound technology Dolby Atmos, revealing itself as one of the strengths of this terminal. Also on the rear panel we also find 5 non-slip silicone pads but above all a ventilation grille for the double cooling fan.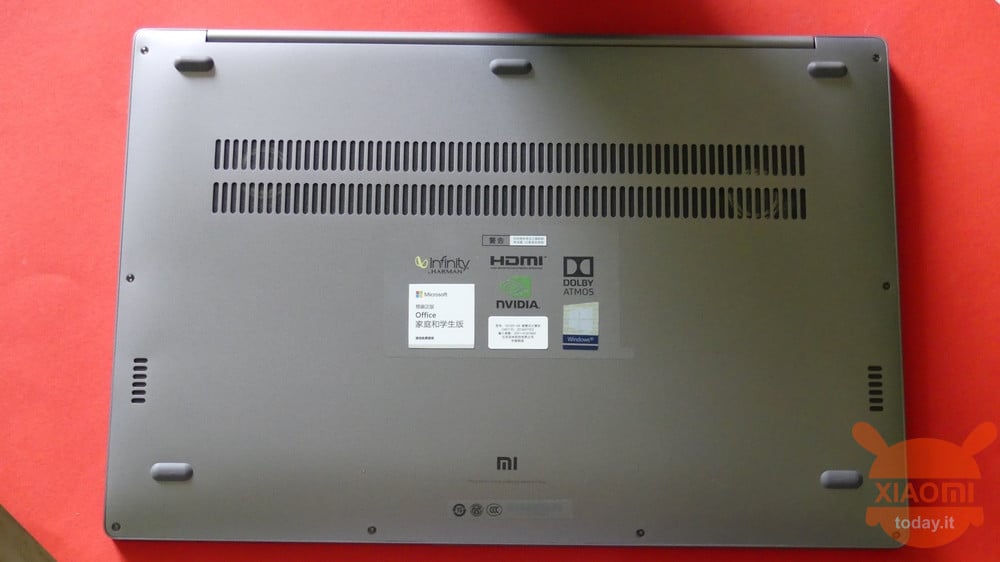 Regarding the ports on the Notebook, we find two inputs on the left USB 3.0 with data transfer speed up to 5 Gb / s, one HDMI port and the hole jack from 3.5 mm. On the right side we find the entrance instead Type-C I am supporting the quick charging and data transmission, an additional input Type-C which also allows the device to be recharged, but also data transmission as well video output to connect an external monitor. Finally, one completes the range of doors dedicated slot to reading cards SD / SDHC / SDXC. A rather complete equipment that meets the needs of all users even in the professional field.
Keyboard & Touchpad
Looking at the keyboard, you can see the presence of a American layout, therefore the arrangement of accented letters and particular characters does not reflect the real disposition on the keys. This problem can, however, be solved with the use of special ones sticker, thus modifying the setting of the keyboard itself, provided that you give up the backlight from 3 nits, useful in case of writing in environments poco enlightened. Despite this, the writing is rather comfortable as the key travel seems to have the right degree of pressure (1,5 mm), so much so that during the most intense work sessions, there is no problem in typing, also thanks to a decidedly perfect distance between the keys.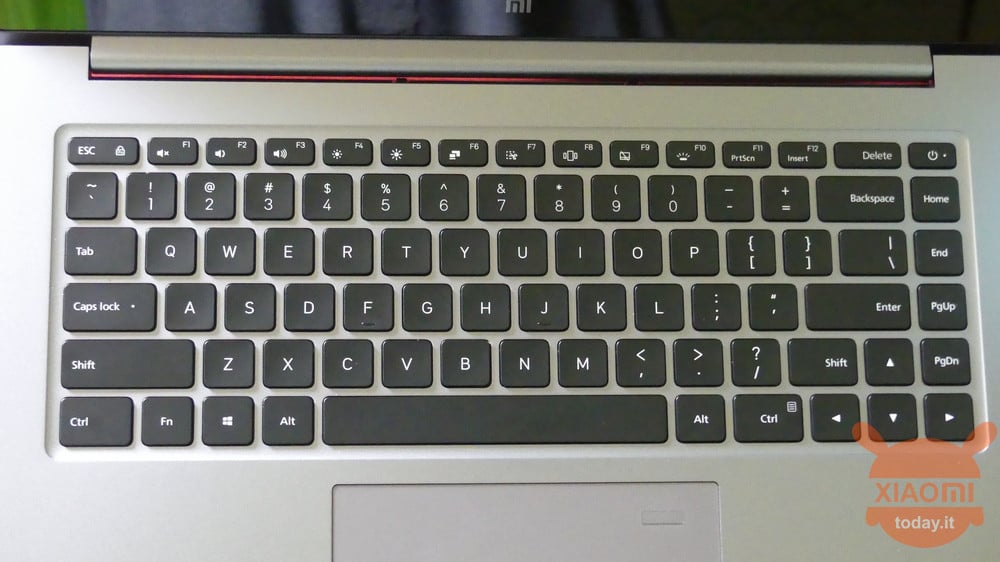 Poco further down, in the lower part, resides a touchpad quite generous in size (127 x 83,6 mm / 6 inches), making it comfortable in everyday use and above all fluid thanks to the glass cover. The Windows gesture and every single touch is always recognized without any problem. Also in the upper part of the touch surface also resides a fingerprint reader, convenient to exploit even in the multimedia environment such as for online payment of some services, but above all to unlock the notebook without the need to type in passwords.
Display
As the name suggests, Xiaomi Mi Notebook Pro 15.6 GTX Edition, offers a display from 15.6 diagonal inches of type IPS and resolution Full HD (1920 x 1080 pixel) 142 ppi. The frames are quite small but not to the point of creating the WOW effect. In fact we are facing one screen-to-body-ratio dell ' 81,5% and side frames from 6,52 mm, but apart from that the viewing angle of the panel equal to is appreciable 170° with a brightness of 300 nits and contrast ratio 800: 1 in 16: 9. The entire surface is covered with a third-generation Corning Gorilla Glass glossy type that contributes to the excellent vision in closed environments, but unfortunately the visibility in the open air is compromised, suffering a lot from reflections that tend to dominate the multimedia content in execution. A further point in favor of this panel in addition to the general quality of the color rendering, is the structure, characterized by a hinge quite solid despite the plastic cover, which allows you to rotate the panel at an angle of approximately 130° and to open the same with one hand, outlining the excellent balance between body and display.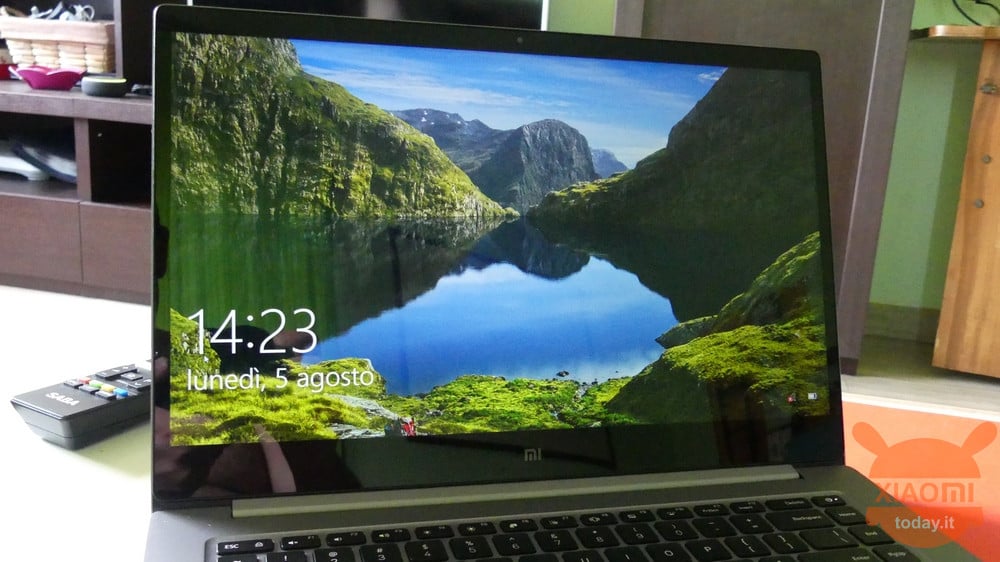 The entire chromatic range it is well reproduced, showing rather deep blacks and rather faithful colors. Generally I would have preferred an anti-reflective surface, but considering that most likely these Notebooks will be stationed more on the desktop than on the move, a glossy panel could be the ideal solution to enhance the color quality of the contents offered.
Hardware & Performance
A board of this Xiaomi Mi Notebook Pro 16.6 GTX Edition finds space for a chipset Intel i7-8550U quad-core with a maximum clock frequency of 4.0 GHz (in Turbo Boost mode). This is a fairly recent solution and this naturally benefits the general performance that according to the manufacturer results in a 40% better than the previous generation.
Of course they also help 16 GB of LPDDR4 RAM Dual Channel @2400 MHz which are the right solution for any type of graphic work, from the trivial editing of images on Photoshop to the most extreme video editing. On this notebook, we also find a 256 GB SSD with PCIe SSD M.2 SATA expansion support to increase the space available.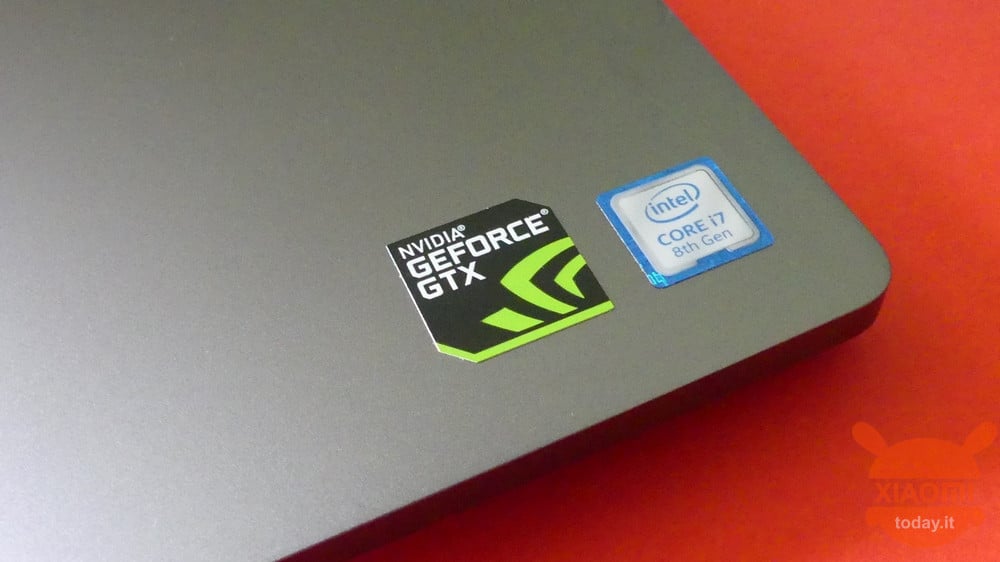 Needless to say, this equipment alone is more than excellent for managing every task, but without a doubt the real novelty of this Xiaomi branded notebook lies in its graphic design. In fact we find the performing GeForce GTX 1050 Max-Q 4GB GDDR5, which will allow us to take advantage of our laptop even in the rather demanding gaming environment, exploiting the most attractive titles of the moment, without having the fear of incurring annoying overheating or performance losses.
Previous generations of Notebook Xiaomi suffered in some cases of overheating but this time the Chinese company worked really well using well two fans and heatpipe designed for a 45 watt notebook, one on 15 watts, which in combination can optimally process the heat generated by CPUs and GPUs by cooling the ends of the heatsink with heat due to the huge ventilation grid on the back of the notebook. All this translates into a great yield of the plant even in stressful situations reaching maximum temperatures of 74 ° C per CPU, while for the Nvidia GPU we never exceed 60 ° C, however values ​​obtained under conditions of unreal use with CPU and GPU at 100%, while during normal use we touch maximum values ​​of 40 ° C .
Benchmark
Xiaomi Mi Notebook Pro 15.6
🇨🇳 FREE EU Priority Line Shipping (7 / 15gg, No Customs) ✈
€1299
Could it be interesting for you: How to translate your Xiaomi Mi Notebook Air from Chinese to Italian|Xiaomi Mi Notebook Pro Review - Ultra performance, ultra WOW
Software
Xiaomi Mi Notebook Pro 15.6 GTX Edition will come to your home with Windows 10 Home single language, ie in Chinese. We have already explained how to bring the various Xiaomi Notebooks into Italian, by following this guide, but in this case I had a little more trouble searching for the drivers to install as well as the Windows license, which I'll probably have to buy separately. In short, this remains one of the major limitations when buying all Xiaomi Notebooks, as you will have to be brought to a minimum of "tweaking" because you will not have a PC ready to use, unless you know Chinese. After the initial obstacle, however, you will end up with a clearly fluid device in all menus, total absence of slowdowns permitting managing multiple programs simultaneously, as well as the display of streaming content net of really good satisfactory performances.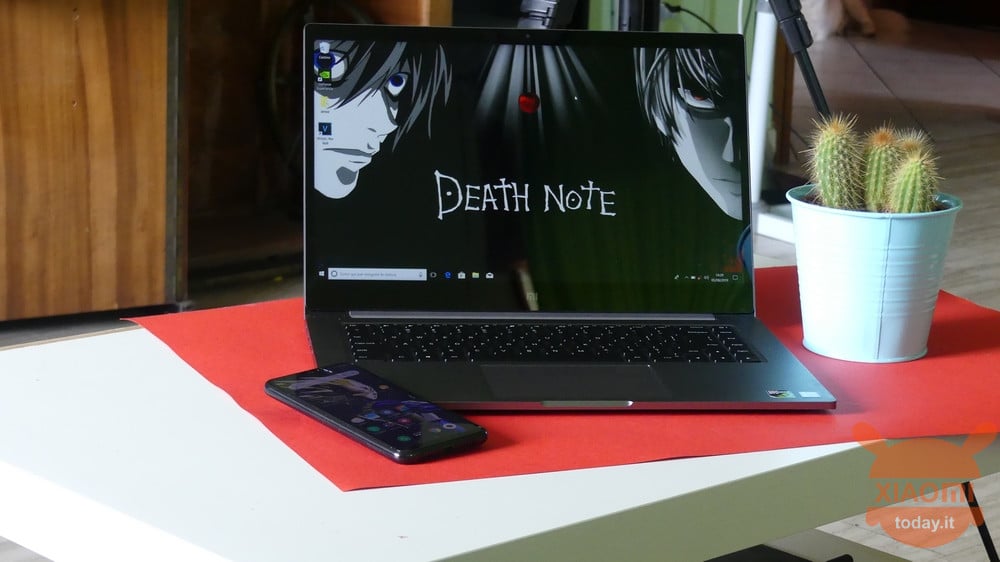 Connectivity & Audio
A module resides on this Mi Notebook Pro 15.6 GTX Edition Wi-Fi 802.11 a / b / g / n / ac a double band, which guarantees excellent performance anywhere in the house, even the most difficult ones. As said in the initial review phase through the allocation of doors USB 3.0 and Type-C we also have the possibility to connect up to 3 external monitors, as well as all the peripherals, transforming our computer into a multimedia station.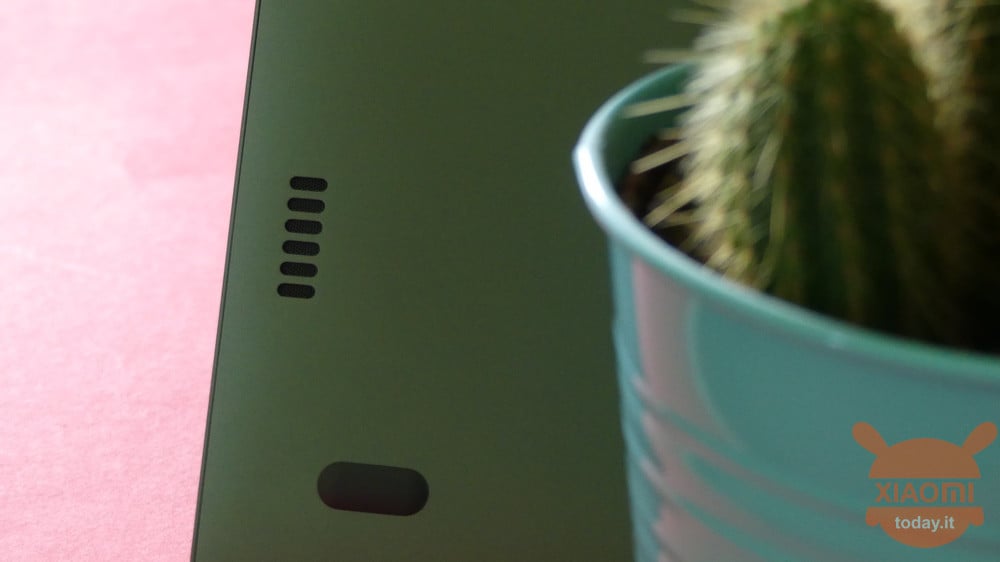 Then there is the Bluetooth 4.2 and a WebCam da 1 megapixel with resolution 720p with which it is possible to enjoy some video calls without too many problems, also thanks to the presence of a double microphone, although the video quality is not the best. Come on two speakers inferior, the quality is really of excellent quality with rather high volume and good calibration of the frequency ranges.
Autonomy
This Xiaomi Notebook features a battery from 60 Wh. Taking advantage of the device in a continuous way, mainly for work and video editing with relative rendering, we do not exceed the 3 hours and 30 minutes of use. With a standard use such as watching streaming TV series, Office, web browsing and a few moments of gameplay, we reach about 5 and a half hours with still a residue of 10%. Fast charging is supported in 35 minutes about manages to give a 50% of autonomy, mind for a full charge thanks to the supplied power supply will take about 2 hours.
Xiaomi Mi Notebook Pro 15.6
🇨🇳 FREE EU Priority Line Shipping (7 / 15gg, No Customs) ✈
€1299
Price & Conclusions
Xiaomi Mi Notebook Pro 15.5 GTX Edition is sold with prices ranging from 900 to around 1200 euros based on current offers. A rather high figure, although cheaper than rival brand solutions equipped with the same hardware. You will be satisfied with the performance, as well as the good reliability shown in each operation, but unfortunately you will have to deal with the fact that you will have to "fiddle" with the installation of the OS and drivers to make the product usable. However, even for jobs where a lot of hardware is needed, such as video editing and image retouching, the Mi Notebook offers high performance. Another note is the portability of the product that certainly does not remain the most comfortable for transport, turning the purchase intention towards desktop solutions, which at the same figure are able to offer perhaps more brilliant performances.
XIAOMI MI NOTEBOOK PRO 15.6 GTX EDITION
Xiaomi proposes a new variant of its top-of-the-range notebook confirming and improving the already excellent performances both with standard use and in the more stressful one such as gaming or video editing. Unfortunately, the graphics section is not added to this Mi Notebook Pro 15.6 GTX Edition, offered at a super interesting price. But the doubt remains if this upgrade was really necessary.
PROS
CONSTRUCTION AND MATERIALS
SLOT M.2 SATA FREE
LINUX SUPPORT
AUDIO COMPARTMENT
ADVANCED PERFORMANCE TO ALL USER TYPES
CONS
AMERICAN LAYOUT KEYBOARD
WINDOWS 10 HOME SINGLE LANGUAGE CHINESE
NO ADDITIONAL FEATURE COMPARED TO THE STANDARD VERSION
DAILY USE FROM PC DESKTOP
Add your review