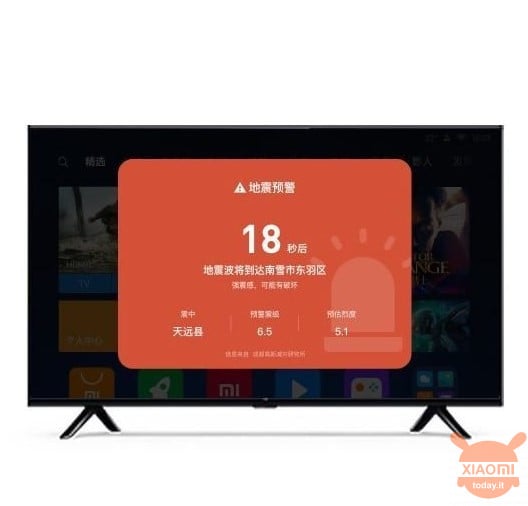 This summer, specifically the 4 August, we have made known to you a very useful feature that has been developed by the team of MIUI 11 and that will be present on smartphones, at least the Chinese ones. We refer to theearthquake alert which, through a message, can be notified in real time or even a few seconds in advance, seconds that could save lives. However, smartphones are not the only devices that support this interesting but useful function: in China, in fact, even the We TV 5 have this feature implemented and for the first time we have proof of its existence, but above all the proof that it really works. A user of Weibo in fact, he shared a shot citing Xiaomi's TV industry and thanking him for the attention he puts into his projects.
Xiaomi Mi TV 5 announces earthquake alert thanks to a pop-up message
First of all, we want to remember how the province of Sichuan, one of the most affected by earthquakes in China, was the one chosen by the development team to study and test this new earthquake alert system. In the distant 2008 there was, right here, a tremendous earthquake that made a clean sweep and also affected the neighboring provinces. In any case, based on the findings of the Chinese Seismological Agency, a 3.9 magnitude earthquake hit the area in question at today's 21.03 hours.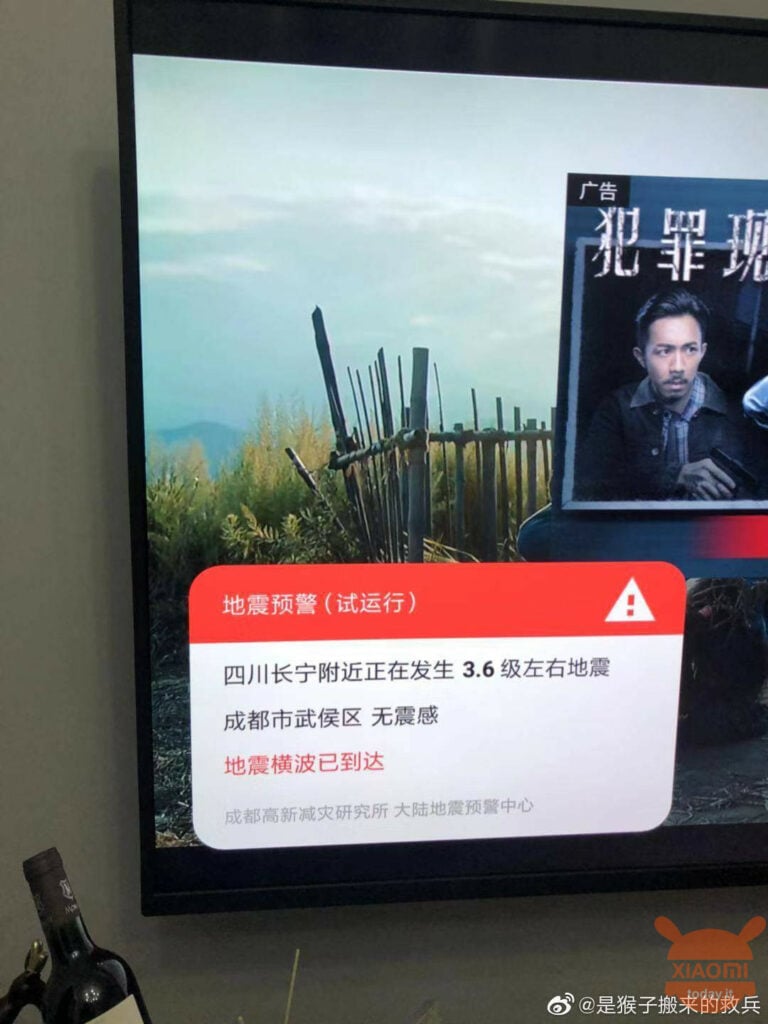 In the lower left corner we see the pop-up message that appeared on the Mi TV 5

User. The writing clearly states that "an 3.6 magnitude shock hit near the city of Changning in Sichuan. The city of Wuhou (where the user lives) received no shocks".

During the "Xiaomi 2019 Developers Conference"Recently held, Xiaomi announced that it had created the first AIoT mobile phone platform in the world regarding all that surrounds this type of technology of aAlarm and earthquake warning. He also announced that he will provide all his experience in the field to other companies as wellso totally free. A signal that sometimes the safety of people is far more important than the gain and that, even from the "physical" point of view, Xiaomi is close to the users.


This function has been jointly developed by Xiaomi and dal Chengdu High-Tech Disaster Reduction Institute (referred to as "Disaster Reduction Institute"). Not long ago, an earthquake occurred in Yibin, also in Sichuan province, and again a Xiaomi smartphone successfully issued a earthquake warning with tens of seconds in advance.
Are you interested in OFFERS? Follow our TELEGRAM Channel! Many discount codes, offers, some exclusive of the group, on phones, tablet gadgets and technology.