You know, the perfect smartphone doesn't exist, it's all a game of balance and compromise. But this Xiaomi Mi 11 Lite 5G surprised me. Wow effect and a lot of concreteness, let's find out together!
Xiaomi Italy sent us this My 11 Lite 5G last week and, before introducing it to you, I wanted to try it properly. A week of more or less intense tests that…. SPOILER: They made me fall in love with this device.
Aesthetics
THEWOW effect I was talking about earlier is about the aesthetics of this Mi11 Lite.
As soon as I unrolled the bubble wrap that contained the device, my eyes lit up. Not because blinded by who knows what devilry, but simply kidnapped by one unique simplicity and lightness.
I don't want to sound exaggerated but, to the touch, I rediscovered sensations that I hadn't felt for years. Maybe just Mi2S, Mi3, the first Nubia and (let's say it under the heading) some iPhones.
It was mainly there that triggered this rain of memories angularity of the edges, almost compact dimensions of the device and low weight to the bone with its 159 grams.
The dimensions are generous: 160,53mm x 75,73 and a 6.55 "display. But given the tendency to approach and, in some cases to exceed 7 ″ diagonal, this Mi 11 Lite 5G even appears compact.
To accentuate the sensation of compactness we have one Thickness of only 6,81 mm.
The result is one of the most beautiful and balanced devices I've ever seen.
It goes without saying that this reduced thickness has put many doubts in my head. But we'll talk about it later.
La Black version that was sent to us is very elegant. On the glossy black frames we find: USB TypeC port, stereo speakers, SIM trolley, IRDA, noise suppression, volume bar and power button with integrated ultrasonic fingerprint reader (a pleasure).
The back cover has a very pleasant matte black finish and very resistant to fingerprints and fingerprints.
Absent the 3.5 ″ Jack but objectively with such a reduced thickness ... there would have been no space I guess.
Display
The 6.55 "display is an AMOLED FHD + HDR10 + with 2400 x 1080 resolution, 402 ppi density and 800 nits of brightness..
It is a dot-display and this means that, as per current trend, we are not faced with a hump or drop, only a small hole in the left corner.
The refresh rate is 90Hz and this guarantees a fluidity that is decidedly above average.
This display of excellent workmanship and extraordinary color rendering is protected by a Corning Gorilla Glass 6 therefore guaranteed a certain resistance to scratches and bumps.
Performances
With the arrival of the Xiaomi Mi 11 Lite 5G, I knew I was in front of a medium range. So I knew I couldn't expect super performance from the Snapdragon 780G.
Instead his own 8 cores at 2.4Ghz they behaved very well!
In the game sessions, micro lag is sometimes perceived which, trivially with the 855 of POCO F2 PRO but I have nothing that could affect the gaming experience.
The general fluidity and the reactivity between APPs is absolutely of a high standard. Let's say that in daily use I have not found differences in use compared to the so-called TOP.
Connectivity
This version of the Mi 11 Lite is equipped not only with the 5G form (as we easily understand from the name) but also brings with it an important feature absent (inexplicably I would add) in the 4G model: the NFC support with the relative possibility of making contact-less payments.
Lack a little too serious for the 4G version. Nothing to say about this 5G version which, jack aside, has exactly everything I could want from a level device.
Photography
The photos are of high quality, absolutely high details in favorable light conditions and sufficient in low light conditions. The colors are a little washed out. I prefer brighter colors even if a little cardboard.
Funaiona well the macro and the wide angle is always very useful.
No praise to the camera sector which is understood not to be the flagship of this device.
Battery
We come to the crucial point. The thickness of the device, if on the one hand it had exalted me, on the other it had worried me not poco. What battery will they be able to put in a scarce 7 mm? And how does it work?
The battery that mounts the Mi 11 Lite 5G is a 4250mah us quick charge to 33W. Definitely not a few given the space available.
The first "configuration" day went smoothly, neither infamy nor praise, full recharge at 9:00 in the morning and 5% in the evening at 23:00. It had a poor day despite the configuration and app installation phase being the most energy-consuming of all.
The following days were a crescendo of duration coming up almost 28 hours with 5 hours of display on and 1 hour of calls.
A life stress test with the display on would surely have brought the display hours to 7-8 hours without any problems.
It is not a battery phone, that's for sure! But the results are more than acceptable and, if combined with the thickness of the device, they are almost superlative.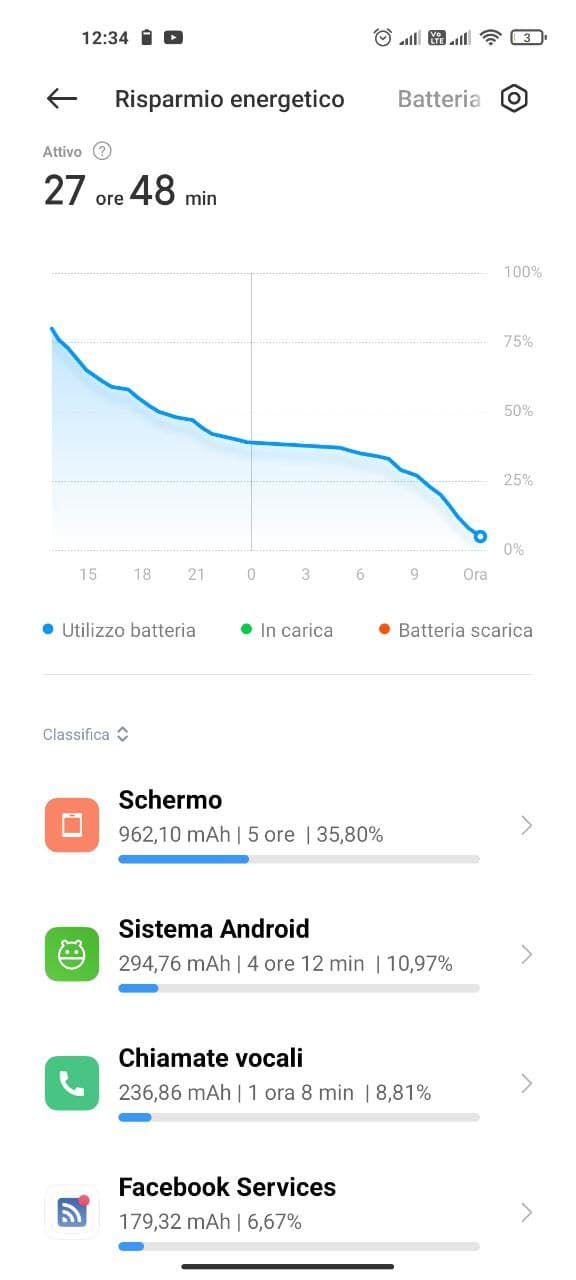 Conclusions Xiaomi Mi 11 Lite 5G
I had spoiled everything at the beginning, I loved the device! I would sign today to upgrade to this Mi 11 Lite as a personal device. I quietly give up the Snapdragon 8X and 100mpx cameras for the compactness and lightness of this device.
It is really a pleasure to hold it in your hand and use it and, nowadays, it is certainly not a foregone conclusion.
The price? On mi.com the price of the 8GB / 128GB model is € 449,90. Not very few for a midrange but certainly well spent for one of the most beautiful devices on the market today.
What do you think?
Xiaomi Mi 11 Lite 5G offers
The Xiaomi Mi 11 Lite 5G is on offer on TECNOSELL at € 343 instead of € 449 using the discount code 8763GB3UIDE. Here in the BLACK color. Here in the YELLOW color. Additional 10 € discount if you choose to collect on site.
Alternatively it is also available on eBay at this address.
Are you interested in OFFERS? Follow our TELEGRAM Channel! Many discount codes, offers, some exclusive of the group, on phones, tablet gadgets and technology.
MI 11 Lite 5G
Xiaomi with this Mi11 Lite has split! It is one of the most complete and balanced smartphones I have ever tried. Good Xiaomi!
PROS
BEAUTY
90HZ DISPLAY
WEIGHT
BATTERY
CAMERAS
Add your review
|
Read reviews and comments