This Xiaomi mi 11 ultra it came to me without warning. The courier rings, I open the box and .... WOW!
Since it first appeared in the various leaks, I have always had a craving to get my hands on it. He yes, he is the real top of the moment ... I thought ...
I won't go into technical details as I'm certainly not the first to review this device and, if you've come here, you certainly know the specs even better than I do.
What I would like to do today is a list of the reasons why YES, I think this is the DEFINITIVE TOP OF THE RANGE, and why, in my opinion, it is so difficult to open the wallet. Here is ours Xiaomi Mi 11 Ultra review.
Why would I buy the Xiaomi Mi 11 Ultra
Let's start with the pros of Xiaomi Mi 11 Ultra technical sheet, of which we will analyze every detail in the next lines in great detail.
Potenza
The Mi 11 Ultra is simply the TOP. The Snapdragon 888 and Adreno GPU 660 they literally fly the smartphone. If we also put ourselves 12GB RAM… Score of Antutu? 688720… Woooow!
He's a monster! And the 120Hz display honors the overall fluidity of the system by sliding animations like never before.
There is no application or game able to worry such an advanced technical sector. Maybe a game will come out that can give such an engine a hard time but if we are sure of one thing it is that this HW will accompany us satisfying our every whim for several years.
Cameras
The photographic and video sector is also top of the class. Powerful 120X zoom, incredible definition despite having opted for a solution perhaps against the tide. Decrease the megapixels and enlarge the photo sensor.
The main room from 50Mpx with 2.0µm f / 1.4 with optical stabilization does an excellent job giving us incredible details in any light condition. Night photos are even brighter than reality without the annoying grain of forced overexposure. There second 48 MP "telephoto" camera is concerned with reaching incredible zoom levels and the third 48MP with 2.2 ultrawide focal length makes scary panoramas. If you need a cameraphone with a capital "C", this Mi 11 Ultra is highly recommended.
IP68 certification
Yes, I would never have said that. I let myself be conquered by a feature that I thought was almost useless. Without the risk of being denied, almost all devices on the market today, even if not "certified" are resistant to humidity and involuntary splashes.
Ma the possibility of being able to wash under running water your device in this period of greater attention to hygiene standards is a nice PLUS.
67W charging and reverse wireless charging
Here too, from a superfluous gem, to a romantic possibility of charging the wife's Mi9 simply by touching the back covers. It will certainly not be the feature that would push me to spend 1000 euros and broken but the reverse wireless charging it's definitely a welcome feature that I've been re-evaluating in the last few days.
67W wired charging? A pleasure! Have the phone charged from 0 to 100 in less than 40 minutes it's really crazy. The technicians say this power does not harm the battery and we believe it.
Second display
Il second display it may seem silly but, in my opinion it is only the beginning of a flood of applications that, to date, are not yet active. If we take it as a simple Display Selfie it is worth what it is worth. If, however, we think the second display can be used for notifications, For quick answers and for VIDEO preview shooting personal shots taking advantage of the rear photographic compartment ... then things change.
Whatever use you decide to do with this secondary display, I want to reward theoriginality of Xiaomi which finally shows us something different than usual.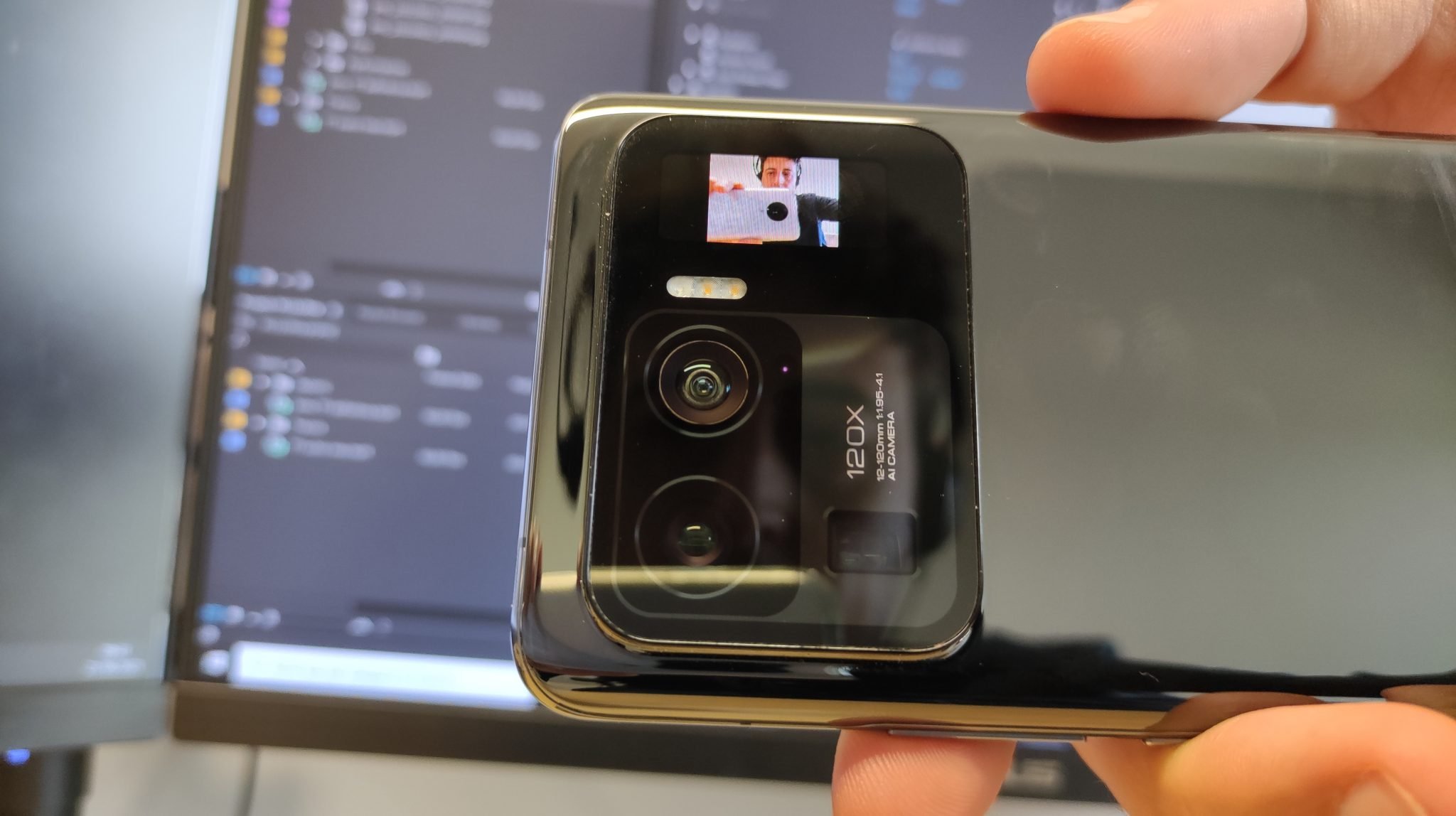 Why I would NOT buy the Xiaomi Mi 11 Ultra
And now we come instead to the cons of buying this device. There are, but let's see if they really affect the very good things we've seen in the pros.
Ergonomic spaces and furniture
The Mi 11 Ultra is BEAUTIFUL! VERY BEAUTIFUL! On an aesthetic level, I also like the bulky rear camera block… but it's uncomfortable! The dimensions of 164.3 x 74.6 x 8.4 mm and the pexo of 234g they don't help.
La glossy shell rear accentuates the soap effect and the curved display (which I LOVE!) often causes involuntary pressure.
Basically it is as beautiful as it is difficult ... I know I have already heard this thing here. 🙂
Battery
Beautiful there recharge from 67W, nice reverse charging… but on the duration we are not really there. The battery of the Mi 11 Ultra is a 5000mAh and, unfortunately, he doesn't take me in the evening.

Just 4 hours of display and 1 hour of satellite navigation took me from 100% to 6% in less than 10 hours overall. With mild use, the day does it, but this power deserves a much more demanding use.
Battery failed.
Connectivity
It is not a problem only of the Xiaomi Mi 11 Ultra, all the latest 5G tested in the last year have almost the same sensitivity to the 4G field.
In particular, testing TIM and VODAFONE (officially recognized as the operators with the most extensive coverage), I realize that in areas where "old 4G" took 3-4 full notches, these new 5Gs take 1,2, max 3 stunted notches . Sin.
Xiaomi Mi 11 Ultra Price
Yes, the main reason that makes me desist from opening my wallet for the benefit of this Mi 11 Ultra is precisely the amount of dindines that would come out of it. On the site, with reference to the Xiaomi Mi 11 Ultra price, the official figure on the site is ben €1.399,00, in my opinion a blunder.
It is true that it is also cheaper, but it will be difficult to go below € 1.000,00 which as far as I'm concerned is the limit price for a PERFECT device. Available on AMAZON: https://amzn.to/3zE1ZAh
Conclusions
The Mi 11 Ultra is a monster! Has power, design, intriguing features, it has almost everything what you might want from a smartphone. Unfortunately the defects (some absolutely subjective) cannot make me consider this Mi 11 Ultra a perfect smartphone and, even in this case, I would hardly go beyond the € 1.000,00 spending.
How do you see it? Let me know here in the comments.

My 11 Ultra
Xiaomi exaggerates by churning out the most advanced device ever seen without half measures. Really MUCH STUFF! But at what price!
PROS
BEAUTY
CAMERAS
REVERSE CHARGING
PERFORMANCE
CONS
BATTERY
RECEPTION
ERGONOMICS
Add your review
Xiaomi Mi 11 Ultra - Smartphone 256GB, 12GB RAM, Dual Sim, Ceramic Black
1 used by 1.399,00 €
30 November 2022 5: 55

Amazon.it
Price updated on: 30 November 2022 5:55