The revolution of 5G keeps everyone on their toes, from smartphone and home automation manufacturers to the users who will use it. And this is precisely what we are talking about in these last days, in every cave of all social webs, in Europe as in China; and about China it seems that a highly rated reporter "discovered" like the new smartphone in the series Mi9 with 5G technology can arrive earlier than expected: according to the reports that would have seen the device in question he would be ready for his duty and would leave by the end of September. Obviously we talk about the Chinese market, you know, but it will not be long in coming to our shelves.
Xiaomi Mi 9 5G earlier than expected: perhaps by September
We have talked extensively about the Mi 9 5G previously, revealing how much will be improved compared to the standard model, showing you the official 5G certifications and finally officially showing the technical specifications. The smartphone would compensate for the battery consumption caused by the 5G module with a large one well battery 4000 mAh: we note how the Chinese brand has learned to implement larger batteries on their smartphones, as we have seen for the recent Notes redmi 8 Pro.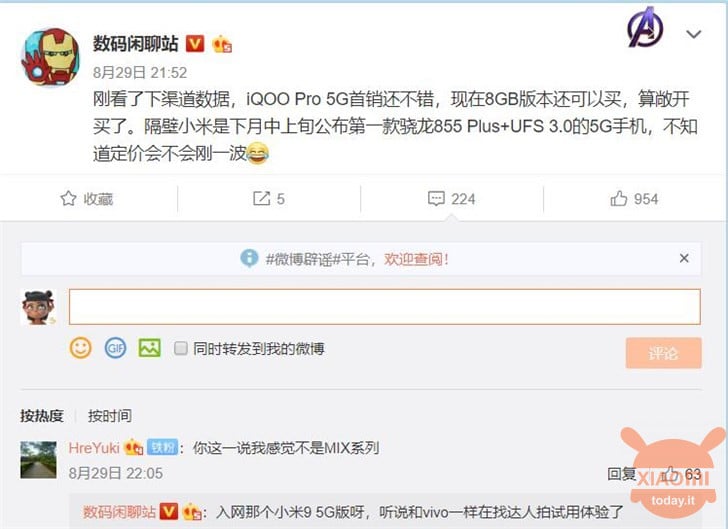 Returning to the heart of the matter through this post Weibo let's see how the reporter, in the comments regarding another non-Xiaomi device, said that the Mi 9 will be available for September.
"The Mi is coming and is the first 5G mobile phone that announced the first Snapdragon 855 Plus + UFS 3.0 memory and will be released in the middle of next month."
It is with these words that the reporter lets us hope. In addition to this powerful new-generation processor we remember that it will mount a display with 2K resolution (from Full HD + of the standard model) and with measures equal to 6.39 ", a overall thickness of no small account equal to 8.95mm (considering the battery and 5G module, it was not to be expected otherwise) and finally, above average measurements equal to 157.21 74.64 × × mm 8.95. In addition to this good news, we also have another one: the same figure would have revealed that the smartphone will be the cheapest in its category, surpassing iQOO Pro 5G which is currently the cheapest smartphone with a price of 3798 yuan (about 499 euro).
Are you interested in OFFERS? Follow our TELEGRAM Channel! Many discount codes, offers, some exclusive of the group, on phones, tablet gadgets and technology.