Today the official account of Xiaomi Smart Ecosystem officially announced that a new product, the Mijia Air Purifier 4 MAX, will go on presale in China starting tomorrow, August 24th.
Xiaomi Mijia Air Purifier 4 MAX announced in China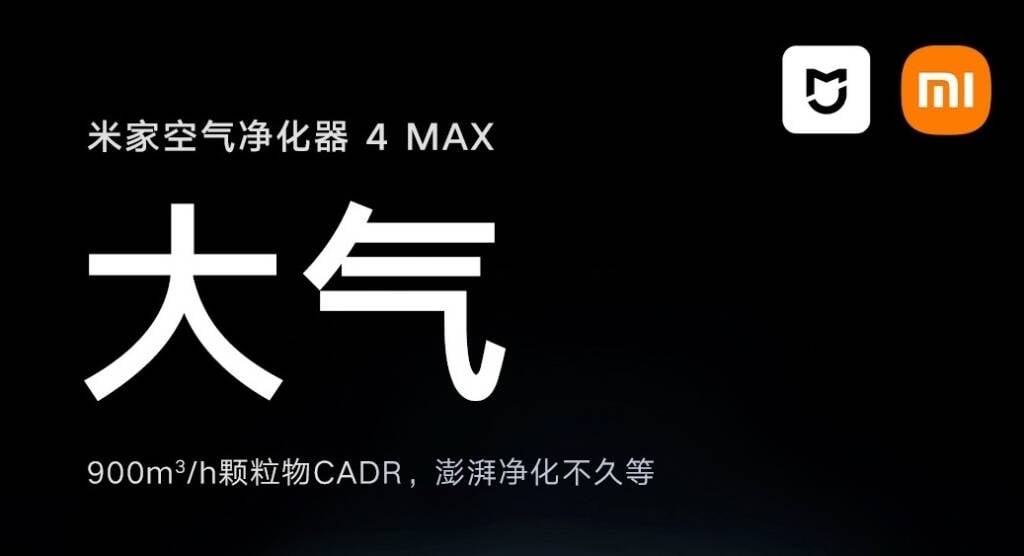 From the poster it can be seen that the clean air output ratio of the air purifier (CADR) of the Mijia 4 MAX reaches 900 cubic meters per hour.
The CADR value is a unit for measuring the purification efficiency of an air purifier. In general, an air purifier with a CADR of 800 cubic meters / hour can satisfy the purification needs of a space ranging from 50 to 100 square meters.
As we know, formaldehyde indoors is colorless and odorless, and it has also been recognized that the long-term damage to the human body is not insignificant. Therefore, the new product is equipped with a solid-state formaldehyde sensor and the quality and high-precision formaldehyde digital display which can monitor the formaldehyde content in the home in real time. It is therefore able to fully satisfy the needs of families.
Recall that the Xiaomi brand launched the Mijia Air Purifier 4 Pro last year. The air purifier arrived with a particulate CADR of 500 cubic meters per hour, while the formaldehyde CADR was 200 cubic meters per hour and the operating noise was 33,4 dB. The product also had a screen brightness that could be turned off, meaning it can run with low noise and no "light pollution".
In addition, the Mijia Air Purifier 4 Pro can be connected to the Mijia Smart Ecosystem. After pairing it with the Mijia app, the device can be controlled by mobile phone. Its price was 1299 yuan, about 190 euros at the current exchange rate.
Now we just have to find out how much the new Mijia Air Purifier 4 MAX will cost.