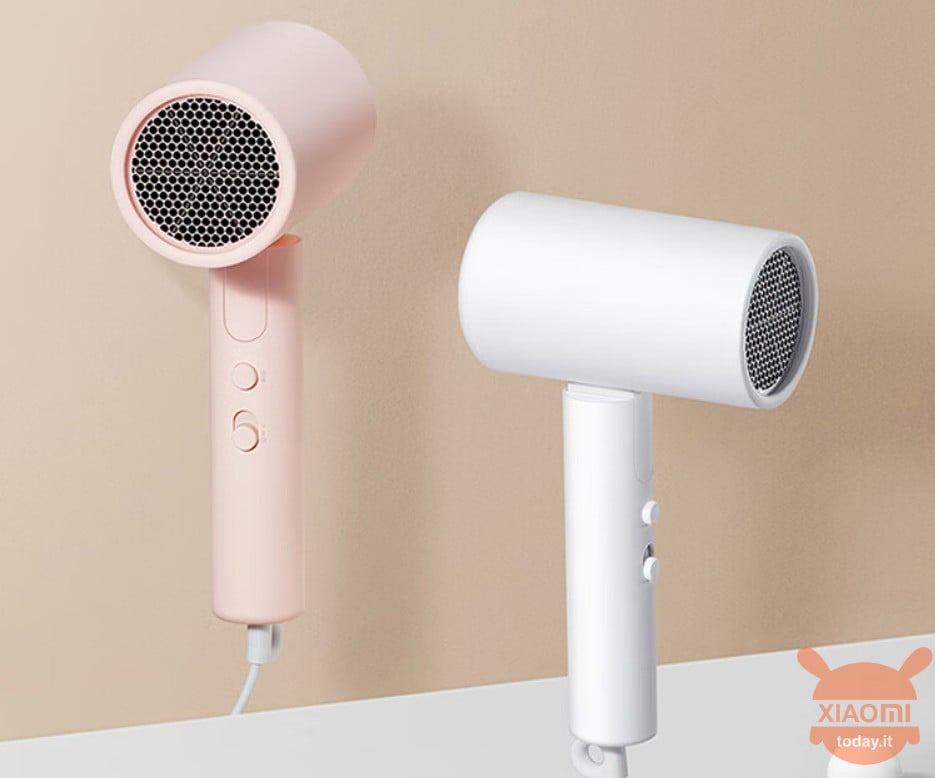 This afternoon the tech giant Xiaomi released the Mijia Portable Hair Dryer H101, a portable hair dryer with a foldable design and high-power quick drying that supports negative ion hair care. The product will be sold in China at a price of 99 yuan, about 14 euros at the current exchange rate.
Mijia Portable Hair Dryer H101 is the new foldable and economical hair dryer Let's start with the design of the Mijia H101 portable hairdryer which will be available in white and pink. The handle is foldable and has a built-in shaft with high wear resistance. The product has a fuselage surface adopts a warm matte design and delicate to the touch. The hair dryer head can be flexibly rotated 360 degrees and adopts a double-layer thermal insulation system, which reduces the temperature of the external surface of the head during the hair drying process and reduces the risk of accidental burns.
In terms of performance, the Mijia Portable Hair Dryer H101 is equipped with a high-speed motor of 20000 revolutions per minute, with the wind speed that can reach 15 meters per second. We then find a six-blade fan designed to mimic the flow of air around the plane's propeller, the wind is strong but not dry and the rated power is 1600 W. The hair dryer provides a variety of drying modes, providing two adjustable levels of cold air and hot air, and the airflow speed can be adjusted in two levels: strong and weak.
The Mijia Portable Hair Dryer H101 also has a built-in negative ion generator, which generates 50 million negative ions and releases them on the surface of the hair, so it can neutralize static electricity, eliminate frizz and support overheating protection. and protection from burns. Finally, the hair dryer has a total weight of about 430 grams, therefore relatively light for the type of product.
Xiaomi Mi Ionic Hair Dryer
7 December 2022 3: 21

Amazon.it
Price updated on: 7 December 2022 3:21