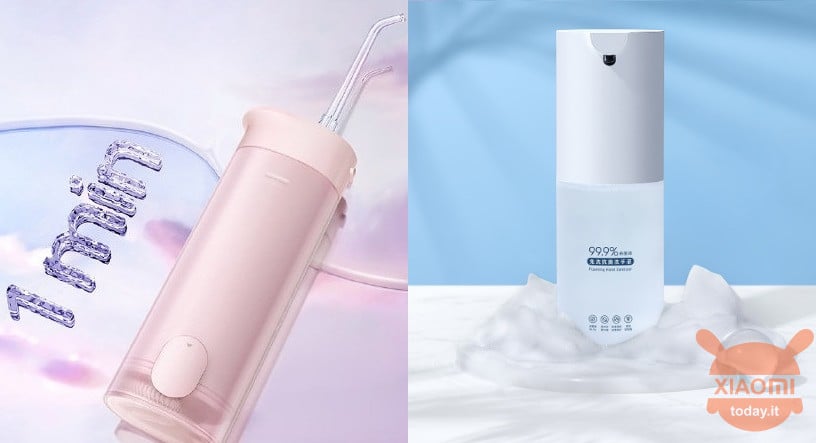 The Chinese electronics giant Xiaomi is preparing to launch the new Xiaomi 12S series by warming us up with a couple of gadgets that will surely become popular even outside of China. These are in particular a dental water jet and a new cleansing foam dispenser.
Xiaomi Mijia Portable Teeth Rinse and Automatic Soap Dispenser presented: cleaning teeth and hands has never been easier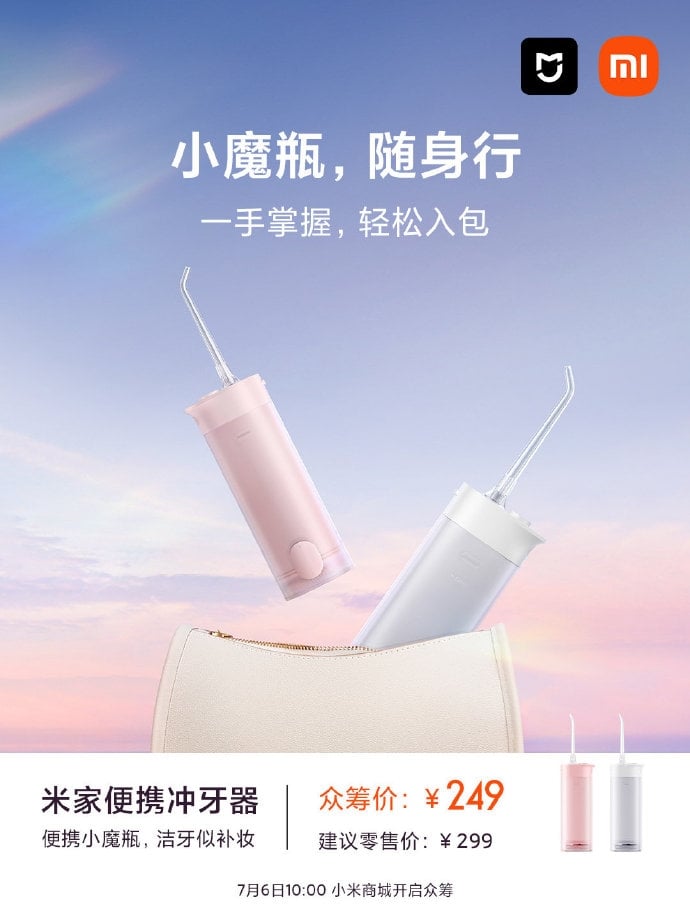 Let's start with the Mijia Portable Teeth Rinse which will go in crowdfunding at the price of 249 yuan (35 euros), while its list price once the fundraising is finished will be 299 yuan, on 43 euros at the exchange rate.
Compared to conventional water flossers on the market, the Mijia Portable Dental Water Flosser is more compact, with a length of 13,9cm, can therefore be easily stowed in the bag and easily held with one hand, has a 120ml water tank and can complete a thorough dental cleaning in approximately 90 seconds.
The Mijia Portable Dental Water Flosser also uses a new carbon brush permanent magnet motor, quality high frequency pulses and strong water pressure that can easily penetrate your teeth.
The product is also equipped with a scientific voltage stabilization system, can reach 1400 times / min of water spray, the water pressure can reach up to 120PSI, and provide 3 modes of use:
Standard mode: moderate intensity, suitable for daily cleaning after quick meals or afternoon tea;
Powerful mode: powerful, suitable for deep and stubborn cleaning after heavy meals of any kind;
Comfort mode: comfortable strength, more suitable for washing and cleaning in the morning and evening.
The brand includes two professional nozzles: a standard nozzle and orthodontic nozzle. While its built-in 1300mAh battery can be fully charged in 2 hours and can be used for 60 days (if using 1 minute per day)
Let's go now to the second product, the Xiaomi Mijia Automatic Soap Dispenser. The soap dispenser will also go into crowdfunding on 6 July (the day after tomorrow) at the price of 79 yuan (11 euros). Its list price will instead be 99 yuan, about 14 euros.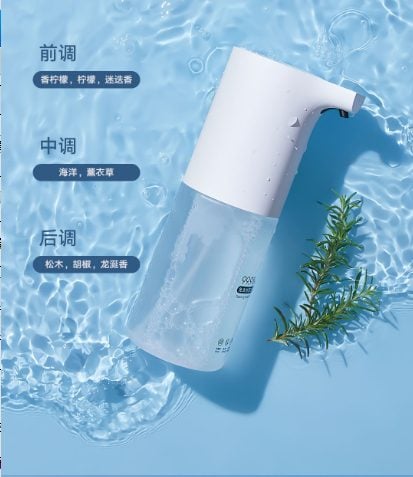 The Xiaomi Mijia Automatic Soap Dispenser uses a mild and powerful bactericide, benzalkonium chloride, which can effectively kill 99,9% of E. coli, Staphylococcus aureus and Candida albicans, helping the hands to defend against external bacteria.
The thick foam covers the skin of the hands and after being rubbed on the hands it can reach even the finest pores. After thorough washing, hands can be dried without rinsing with water. It is not only easy to use at home, but also convenient for hand washing in public places such as office and supermarkets.
The hand sanitizer is free of alcohol, specially selected amino acids and double moisturizing ingredients, to reduce hand damage caused by frequent hand washing, clean and protect hands.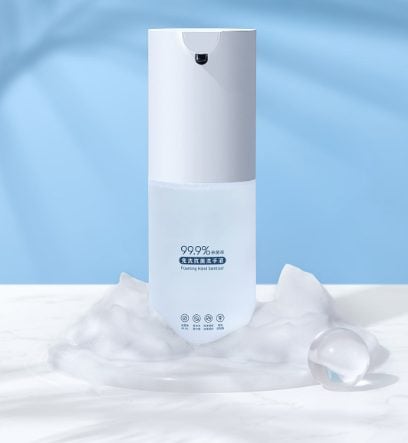 The large capacity increased to 420ml increases the capacity by 40% compared to the hand sanitizer supplied with the Mijia Automatic Washing Pro set and the whole bottle can be used about 600 times.
In any case, after washing the hands, the product leaves a natural, refreshing and pleasant smell. Fresh bergamot and rosemary bring new energy; through the refreshing lavender, it brings an airy ocean-like vibe; the calm pine forest and ambergris prolong the aroma.
As for the "tech" part, the new Mijia Automatic Soap Dispenser adopts very fast infrared induction, in fact, it is necessary to wait only 0,25 seconds before the detergent comes out, which reduces the possibility of cross-infections and makes it safer hand washing.
Finally, the product is powered by 4 AA batteries and can be used continuously for 9 months.
Xiaomi Mijia Auto Induction Foaming Smart
10 December 2022 10: 18

Amazon.it
Price updated on: 10 December 2022 10:18