The Chinese technology giant Xiaomi has just launched the new Mijia Smart Air Fryer 3.5L on its Xiaomi Youpin crowdfunding platform. The product has a market price of 399 yuan, around 50 euros, while the price during the crowdfunding campaign will be 299 yuan, around 38 euros.
Xiaomi Mijia Smart Air Fryer 3.5L in crowdfunding: goodbye oil, but not only!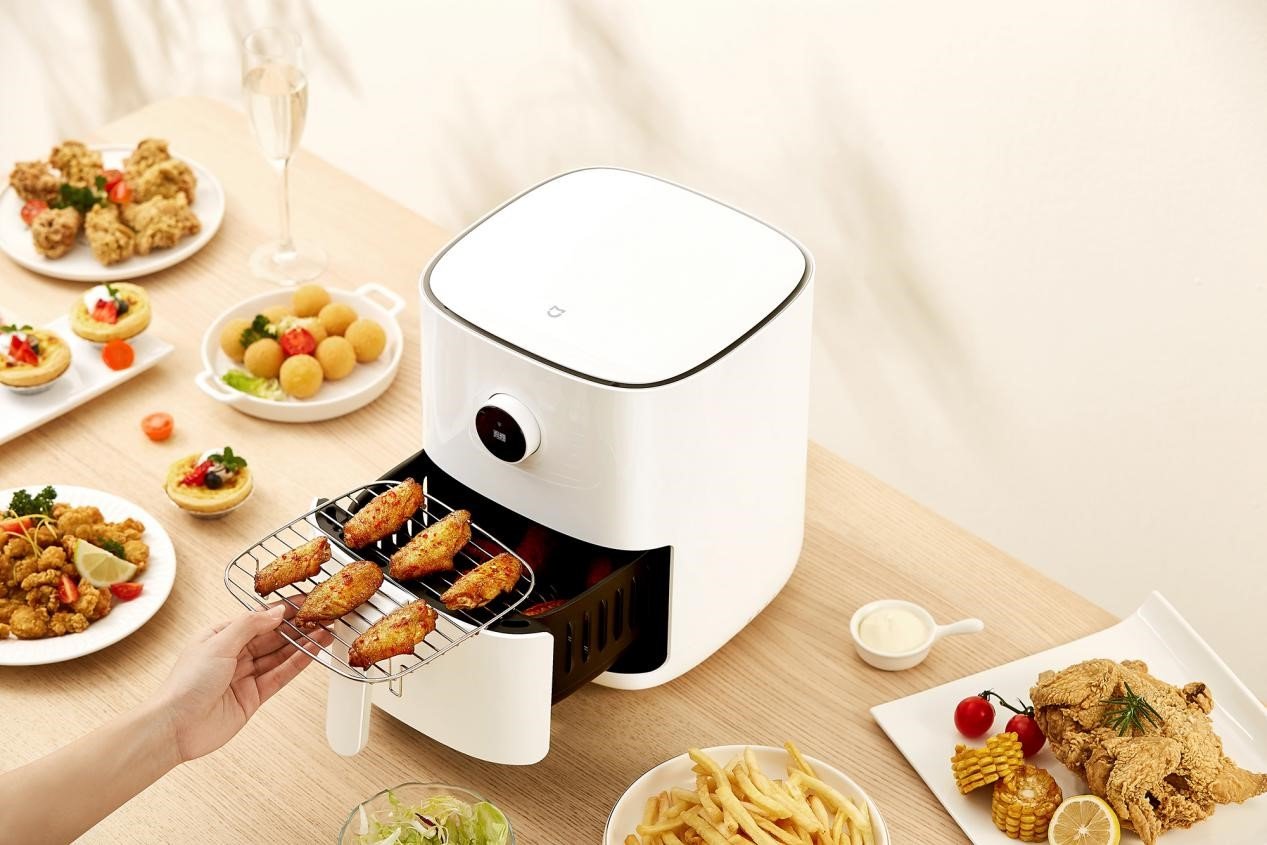 The Mijia Smart Air Fryer uses a heating system with 360 ° hot air circulation, forming a flow of heat circulating in an enclosed space, covering the food in all directions, making the food more evenly heated or cooked.
At the same time, during the entire cooking process, there is no splash or smoke caused by the oil. So we can then "fry" without sputtering the frying house.
The product also adopts a design divided into sections with a double-layer non-stick PTFE coating for contact with food then accompanied by a special food grill.
According to the brand, the Mijia Smart Air Fryer can not only fry chicken wings, fries, fried chicken and other fried meals, but also make grilled steaks, yogurt, dried sweet potatoes and much more. The product has a precise temperature range ranging from 40 to 200 degrees centigrade, and it is possible to change the fan speed to two intensities.
It can therefore defrost food at a low temperature, cook various types of dried fruit and vegetables, meat and ferment at a constant temperature for the production of yogurt. In general, this appliance integrates the functions of ovens, microwave ovens, fruit dryers, yoghurt machines and other household appliances.
As for the smart side, the Mijia Smart Air Fryer uses an interactive OLED screen with a single button control to adjust the cooking temperature, time and display the various suggestions depending on the recipe.
As a Mijia product, it is naturally linked to the Mijia smart home, supports the Xiaoai assistant, and connects to the Mijia app to have access to more than 50 smart recipes.
17 April 2021 11: 55

Amazon.it
Price updated on: 17 April 2021 11:55
Are you interested in OFFERS? Follow our TELEGRAM Channel! Many discount codes, offers, some exclusive of the group, on phones, tablet gadgets and technology.