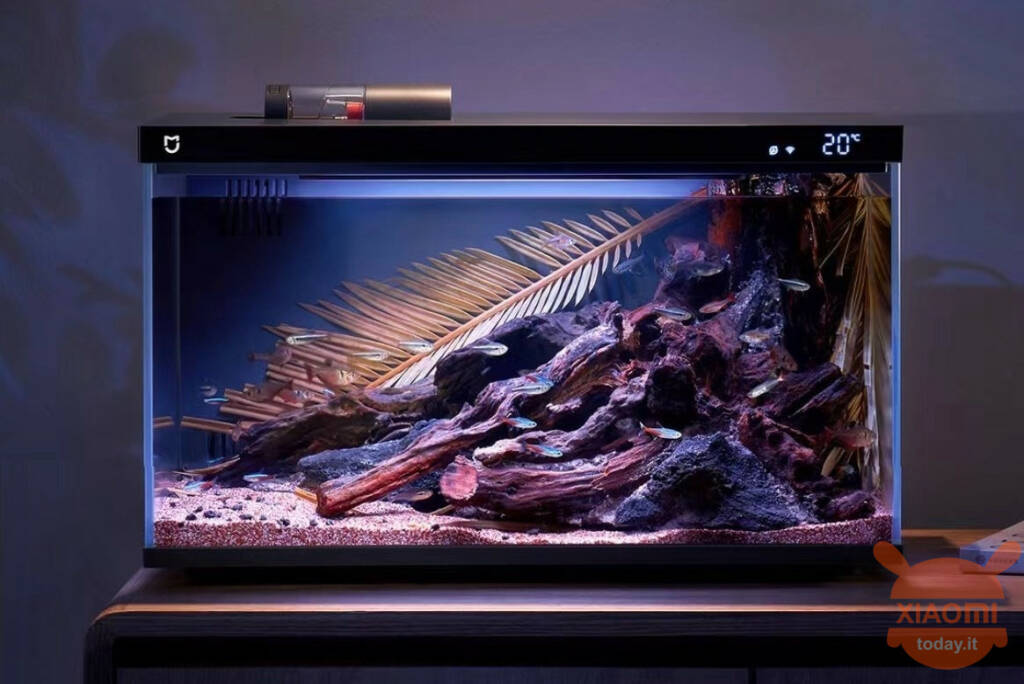 Are you interested in OFFERS? Be smart and subscribe to our Telegram channel! Lots of discount codes, offers, pricing errors on technology from Amazon and the best online stores.
Yesterday afternoon, Chinese tech giant Xiaomi unveiled the Mijia Smart Fish Tank. The new smart aquarium will go into crowdfunding on December 28 at a price of 349 yuan, about 47 euros at the exchange rate.
Mijia Smart Fish Tank is the new smart aquarium that feeds fish automatically but not only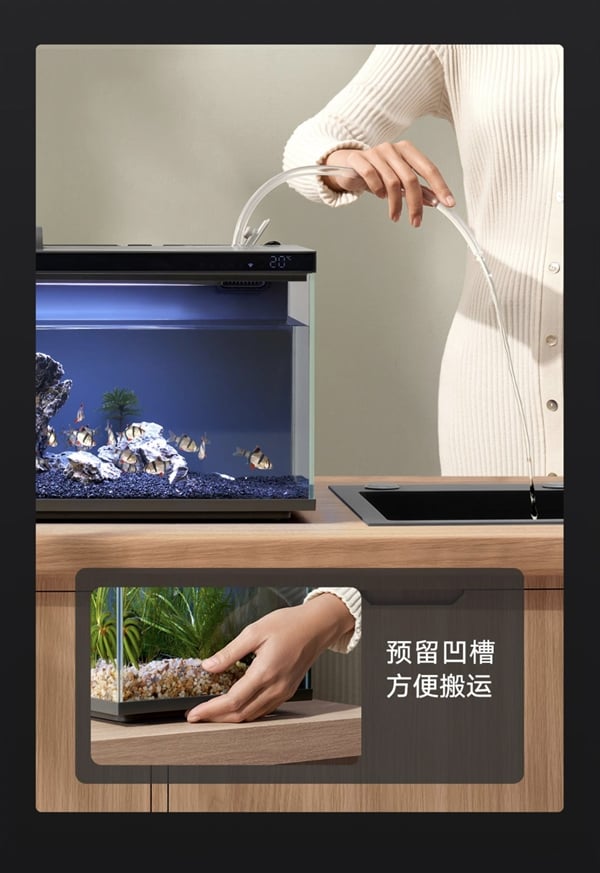 The Mijia Smart Fish Tank adopts an integrated design with a 16:9 widescreen ratio that integrates a water pump, lighting, power supply, tank, filtration system and temperature sensor. It is free of assembly and ready to use. It also has a five-layer ultra-clear UHA grade glass with an ultra-high light transmission of 91,3%.
The aquarium has a professional-grade compartment module system with a total of 5 parts, it is equipped with a self-cleaning patented anti-clogging water pump. The water pump is equipped with a high-speed brushless motor and has a 2-head rotary stainless steel cutting blade, which can effectively cut weeds, algae and other impurities, according to the official statement "No need to change the water for six months.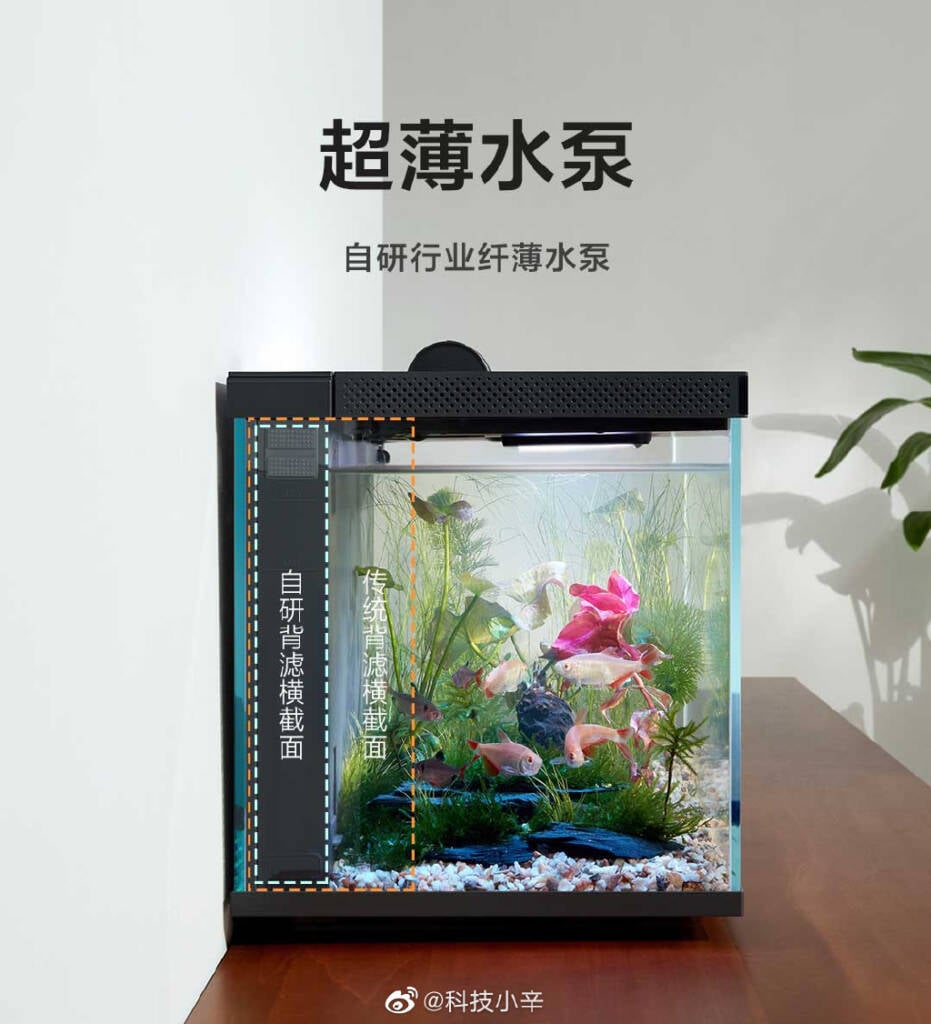 In addition to not having to change the water frequently, the Mijia Smart Fish Tank can drain the water in the tank from the water pump module through the side suction pump, which is very easy.
Mijia smart aquarium is also equipped with full-color eco-friendly light, 24 high-display LED white light beads and 16 full-color RGB light beads, which can switch between white light, night light mode , current wind, South American wind, etc.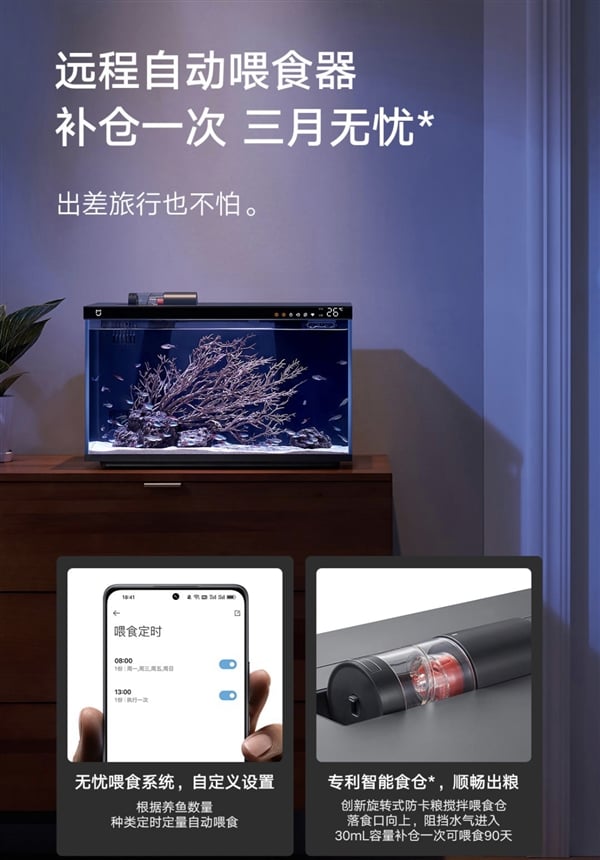 The light mode of aquatic plants has deep blue light with a wavelength of 450nm and deep red light with a wavelength of 640nm. Users can customize the lighting duration via the Mijia app based on plant growth.
Finally, as for the smart side, the aquarium supports remote control of the Mijia app for fish feeding management. You can choose when and how much to feed them directly from the app. So even if you travel, you don't have to worry about their nutrition.
Xiaomi Mi Smart Camera C300
5 February 2023 1: 23

Amazon.it
Price updated on: 5 February 2023 1:23