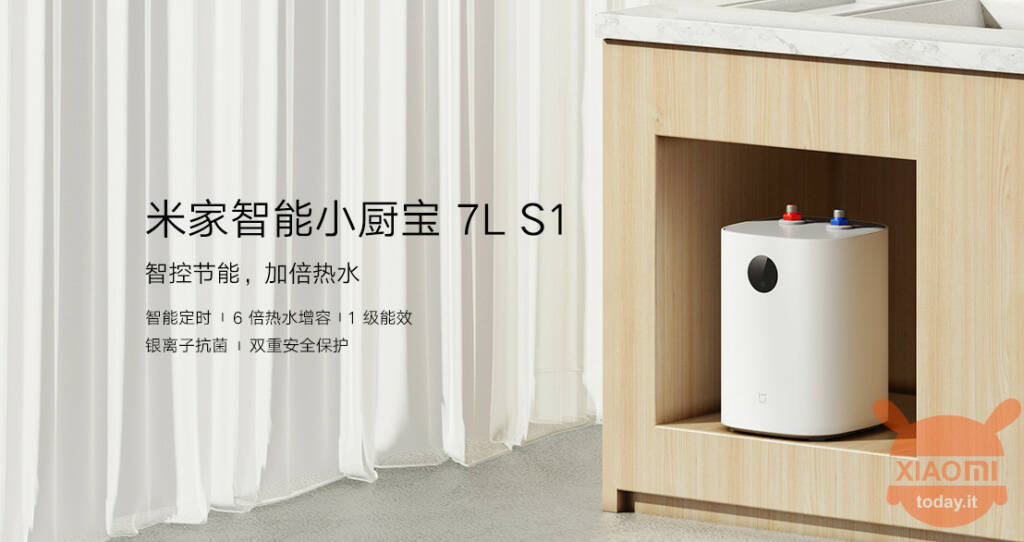 Our favorite brand, Xiaomi, has just launched a new product for the smart home of the future: the Mijia Smart Kitchen 7L S1. The smart water heater will be sold in China at the presale price of only 499 yuan, about 70 euros at the exchange rate.
Mijia Smart Kitchen 7L S1: the mini smart kitchen water heater arrives
The Mijia Smart Kitchen 7L S1 is a water heater with a power of 2000 W has a seamless coating, this means that no leakage is possible. We also find a dense polyurethane insulating layer that allows for long-term heat retention for 24 hours. While thanks to the silver ion antibacterial system, it can inhibit the growth and deposition of bacteria at the water inlet and outlet with the antibacterial rate reaching 99,9%.
The hot water production rate of the Mijia Smart Kitchen 7L S1 is 80%, which is 10% higher than other products in the same range. The brand claims that this high energy efficiency can save 100 kilowatt hours of electricity in a year.
In terms of features, the Mijia Smart Kitchen 7L S1 can be linked to the Mijia app, supports setting on and off times, supports voice control through Xiaoai speakers, can be linked to Mijia smart locks, as well as various temperature and humidity meters. So for example it is possible to turn it on by detecting the temperature, if it's cold, when the lock is opened and much more.
As for safety, the product has a double anti-shock protection with the electrical circuit completely separate from the water circuit. So a possible water leak will be intercepted by a "firewall". In any case, if a problem with the electrical system is detected, the water heater is automatically switched off to avoid the risk of electric shock.
The dimensions of the Mijia Smart Kitchen 7L S1 are 250250340mm, the water inlet pressure is 0,05MPa-0,7MPa, and it supports low/medium/high three-power temperature adjustment.
Xiaomi Mi Smart Band 7
2 used by 46,46 €
26 January 2023 22: 44

Amazon.it
Price updated on: January 26, 2023 22:44