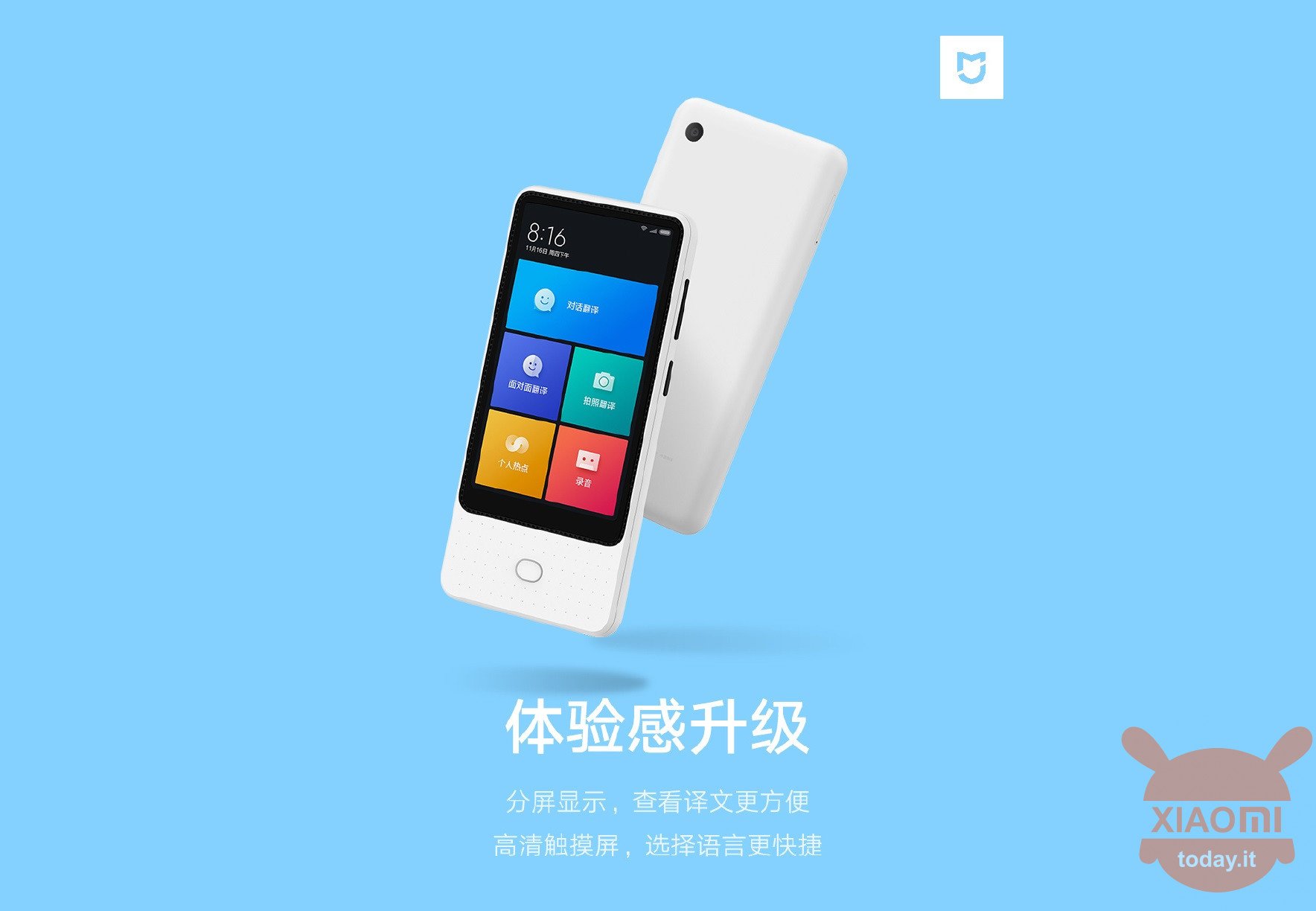 Are you interested in OFFERS? Be smart and subscribe to our Telegram channel! Lots of discount codes, offers, pricing errors on technology from Amazon and the best online stores.
The international soul of Xiaomi seems to reinforce more and more or at least this is the impression it gives us with the bulk of products dedicated to the translation and learning of foreign languages. Today in particular, the Chinese brand has presented a new device to translate audio or text in real time; let's take a closer look at the Xiaomi Mijia Translator.
Xiaomi Mijia Translator launched in China, translates up to 18 languages
The Xiaomi Mijia Translator could be considered almost like a smartphone a few years ago, with huge borders and reconfigured to translate languages ​​instead of entertaining us on social, video games or other. In fact we find an 4,1-inch LCD screen with a PPI (Pixel Per Inch) ratio of 357 and even a 8MP camera on the back, but as we will see later this is not for taking pictures of cats or sunsets to share online.
However, the most important hardware we have on board is in the audio sector. The translator of Mijia adopts 6 microphones in total to be able to capture audio from two different directions. The incoming audio is then passed through an AI algorithm that eliminates background noise and therefore allows the device to perfectly understand everything that is said translating without any error. To activate the translation, all we need to do is press the button and start the "conversation translation" mode. In this mode the translator will automatically understand when one of the two interlocutors stops, will translate what has been said up to that point and will then do the same with the other interlocutor. So we won't have to press buttons continuously.
Alternatively, there is the "face-to-face translation" mode in which what was said by the interlocutor is translated on screen without ever stopping.
The Xiaomi Mijia Translator is able to translate up to a maximum of 18 languages, although at the moment the list of languages ​​has not been revealed. It is also possible to record audio or even transcribe the entire voice message and then send it to your email account so you have a written copy of a speech.
As for the 8MP camera we mentioned earlier, this is used to take pictures of text to be translated. Although this feature is limited to 8 languages ​​and only works if you are connected to the network.
Speaking of the network, the device supports three types of connections: through SIM card, WiFi and eSIM (virtual card), so you can connect anywhere around the world. Furthermore, you can also use home hotspots to connect up to six devices.
Finally, the Mijia translator integrates an 3000mAh battery for 19 days of autonomy or five hours of non-stop translation. The Xiaomi Mijia Translator will go on sale in China on November 26 at the price of 1299 Yuan, on 170 € at current exchange rates.
Amazfit GTS
🇨🇳 Priority Direct Mail (No Customs) Shipping ✈