25 October 2020 7: 25

Amazon.it
Price updated on: 25 October 2020 7:25
As winter approaches, Xiaomi has started rolling out a variety of devices to keep us warm, including the smart bed warmer smart hot water bottle, the electric convector and smart table warmer. Well, today the floor version of the latter arrives, it is the Xiaomi Mijia Vertical Heater from today on sale in China on the Xiaomi Youpin, Xiaomi Mall, and Tmall sites at the price of 399 yuan, or about 50 euros.
Xiaomi Mijia Vertical Heater is the smart warmer with user detection system
If it wasn't already clear from the images and the name, the Xiaomi Mijia Vertical Heater is nothing more than a vertical heater for heating interiors quickly. In fact, it has a power of 2100W, a semiconductor ceramic PTC heating element and emits a powerful flow of air.
At the same time, to meet the needs of users in different usage scenarios, the warmer has 5 modes to choose from, namely smart mode (intelligent heating for the whole house), sleep mode (silent heating in the bedroom), warm air mode (strong heating), warm wind mode and natural wind mode which provides airflow at room temperature.
There are also three ways to move the direction of the Mijia Vertical Heater. When using it for the first time, pressing the switch at the top activates the default setting with 100 degree rotation coverage.
While after connecting the warmer to the Mijia app it will be possible to choose between three rotation modes: the mode that can detect the user's position and move accordingly, the mode for a symmetrical movement of the rotation and that to customize the movement to your liking.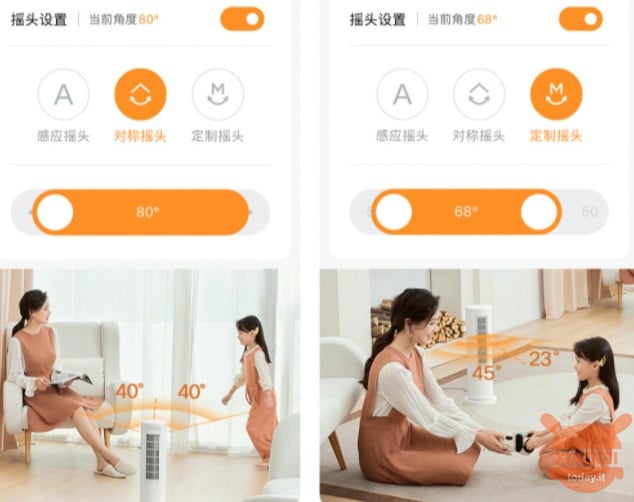 The most interesting of the three modes, the automatic one with user detection is recommended for a single person and works thanks to an infrared sensor. Finally, the Mijia Vertical Heater is 555mm high, weighs 3.67kg and produces a noise of only 38 decibels during use.
Are you interested in OFFERS? Follow our TELEGRAM Channel! Many discount codes, offers, some exclusive of the group, on phones, tablet gadgets and technology.