After having anticipated it a couple of days ago, today Xiaomi launched a new version of the Mijia Walking Pad presented for the first time in 2019. The product is called Mijia Walking Pad Armrest Edition and, as you may have already guessed from the title, it is a version with handle. The treadmill will be sold in China starting September 15 at a price of 1399 yuan, about 200 euros at current exchange rates.
Mijia Walking Pad Armrest Edition launched: the budget treadmill now with handle
According to official data, the Xiaomi Mijia Walking Pad Armrest Edition uses an integrated carbon steel alloy bar, which is capable of supporting high loads, is very stable and durable. Furthermore, this bar does not need to be assembled when the product arrives, but it is already assembled as it can be easily folded and stored by pulling the lock down.
The design of the safety handle is also stable and comfortable, and unlike the original version, the new model of the Mijia Walking Pad is equipped with touch buttons, which can be operated with a click. We also find a new high brightness dot matrix LED type display that shows the speed value during exercise, as well as showing the usage time and calories burned in real time.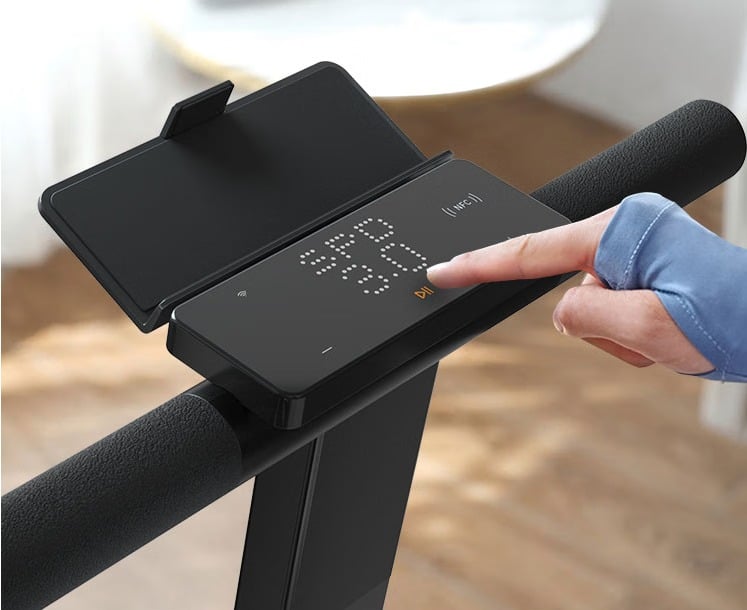 As for the technical characteristics of the treadmill itself, the Xiaomi Mijia Walking Pad Armrest Edition is equipped with a brushless type motor that manages to spin the carpet at a speed of 6 km / h, so it is still a product low-end and for those entering the world of fitness at home. The treadmill can withstand a load of 110 kg.
As for the rest, the version with the handle of the Xiaomi Mijia Walking Pad has a very compact body compared to the typical treadmill, it covers an area of ​​only 0,8 square meters. The product also produces poco noise and supports connection to Mijia app.