Xiaomi is undoubtedly one of the Chinese manufacturers on the rise at the moment, one of those companies that can aspire to sit at the table of the most famous companies in the mobile sector as soon as possible.
If, as far as smartphones are concerned, Xiaomi has already demonstrated its capabilities with various devices capable of wondering the curiosity of many western enthusiasts, in the tablet field the manufacturer still has to show what he is capable of doing.
Rumors on a supposed tablet have already begun this summer with a planned launch for the end of the season, but everything turned out to be false, now in a picture published early in the month by Weibo (China's famous technology news site), XiaoMi would already ready for a device with which to enter the tablets market that should be called Xiaomi MiPad and of course relying on the well-known MIUI ROM.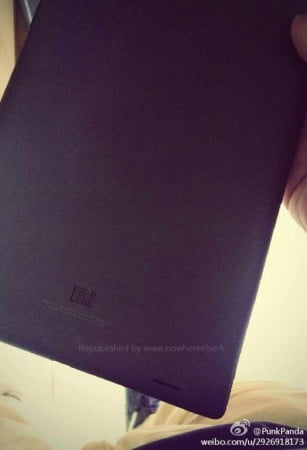 Still, we do not know what the technical specifications are, but should not miss a display between the 7 and 8 inches with HD resolution, 2GB of RAM and a quad-core processor that is hoped for either the Snapdragon 600 or 800.
According to the image should mount a rear body black rubberized material, Nexus style 5 and 7 to be clear in which it would also place the integrated speaker at the bottom.
There is currently no other information on the features of XiaoMi MiPad or the possible launch date, which could be expected for the start of 2014, or in which countries will be marketed.
Knowing the policy implemented so far by the producer, one thing should not be doubtful: price will be one of the strengths of this new terminal; some rumors mention a price lower than the 200 euro.