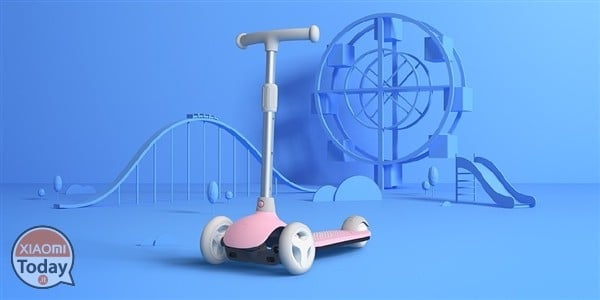 Among the products that are generally proposed by the Chinese technology giant, Xiaomi, include those dedicated to children ranging from simple gadgets to small concentrates of technology so as to dedicate them a special brand, such as MITU. Indeed after witnessing the release of MITU Drone is now the turn of the Xiaomi MITU Mini Scooter, that is a scooter with a weight of about 50 Kg that will be available from 8 June at a price of 249 yuan, equivalent to about 33 euro.
Xiaomi Redmi 7 Global
ATGRATIS Shipping from Italy 24 / 48h - Cover and Film free
The whole design of this gadget is designed to guarantee the safety of children without detracting from the fun. On the other hand, one of the most appreciated gadgets by adults, Mi Fans is the M365 electric scooter, one of the protagonists of the official launch of Xiaomi in Italy, and on this basis the company proposes the child version. C-shaped handlebar for a better grip with an aluminum frame wrapped in soft rubber for better ergonomic comfort. The wide 567 mm long and 134 wide platform guarantees stability of the child once in the "saddle" at the MITU Mini Scooter, to which is added one anti-slip cover.
Xiaomi MITU Mini Scooter is the baby-sized scooter

also the 3 wheels which make up the scooter are designed to ensure safety while driving. Made of wear-resistant PU rubber with a high degree of impact resistance. The thickness of the front wheels is 32 mm while the rear one goes up to 52 mm, to which are combined flashing lights that give a captivating and sporty look to the children's vehicle. Xiaomi MITU Mini Scooter also has a large rear brake in case the small pilot engages a speed worthy of the best Flash. But stability is given even more by front wheels slightly inclined, in order to prevent the scooter from tipping over, for ages up to 4 years, while it will be possible to make them straight at will. to which one is added double spring gravity guiding system, ie the handlebar will automatically return to the central position to help the child maintain balance.
Finally the handlebar is adjustable on three different heights, as well as foldable on itself for better transport and less space occupation. Among the available colors we find pink, blue and yellow.