According to images leaked online, Xiaomi is working on the roms MIUI9 that should be based on Android 7.0 Nougat. Moreover, when the coincidences get in the way, the number of devices that will be supported by the update will be the exact version number of MIUI, that is 9.
In August Xiaomi released MIUI 8 based on Android 6.0 Marshmallow. MIUI9 based on Android 7.0 Nougat will have the version number 9.6.9.23 and will soon be released. The photos that emerged online show that the ROM is almost complete.
MIUI9 Compatible Devices:
Supported devices are the following: Xiaomi We 5, 5s and Mi 5s plus. Other devices that will receive the MIUI9 update are We 4s, Mi 4i, Mi 4c, Mi Max, Mi Note Pro and Mi Pad 2.
Xiaomi is also considering releasing the Android 7.0-based upgrade for the cheapest RedMi series. The devices included in the upgrade will be the RedMi Pro, RedMi 3 Notes, RedMi Note 4, RedMi 2 Prime, RedMi 3, RedMi 3S and 3A RedMo. These latest devices will receive the MIUI9 update as soon as the company's rollout towards medium / high-end devices is completed.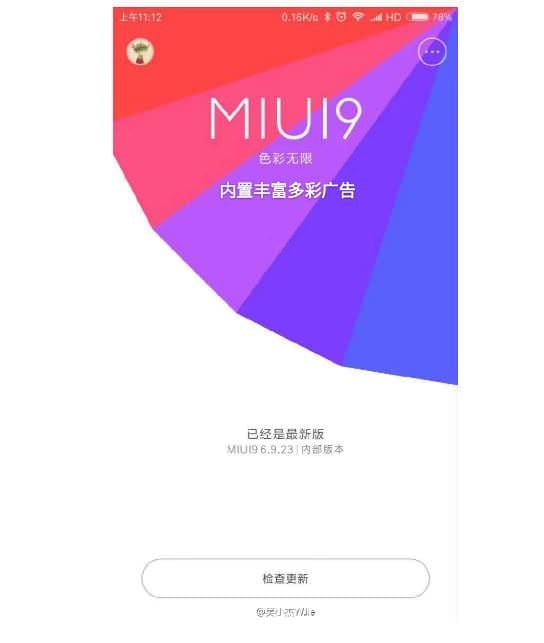 According to recent news, Qualcomm has no plans to release graphics drivers for devices that mount the Snapdragon 800 and 801 CPU. This only means that the Mi Note with Snapdragon 801 processor will miss the appeal for the update.
Meanwhile, Xiaomi is working on the Note 2. According to recent leaks the laptop will be a younger brother of the Samsung Galaxy Note 7. The Xiaomi Mi Note 2 will have a dual edge screen, as well as the camera will be dual on the back. The device will feature 5,5-inch OLED screen and an all-metal body. The device will be available with 6GB RAM, 64 / 128GB storage. It will be powered by a Snapdragon 821 chipset and 3600mAh battery. The phone will also have the USB Type-C port, a fingerprint sensor and stereo speakers, 16 megapixel and 4 megapixel cameras.
But for details I invite you to follow our daily news on the site and on the official team Facebook. Stay tuned for more updates on Xiaomi devices.