After having created the first tri-bezel-less device on the market, the Xiaomi Mi MIX, which started the full screen trend, the Chinese company may wish to start another one, or so it would seem from the last patent appeared online
On the site of the Wipo (World Intellectual Property Organization), or the global organization for intellectual property, a patent created by Xiaomi that depicts a smartphone with a rather unique design was found.
Xiaomi patents new Full Screen design with external notch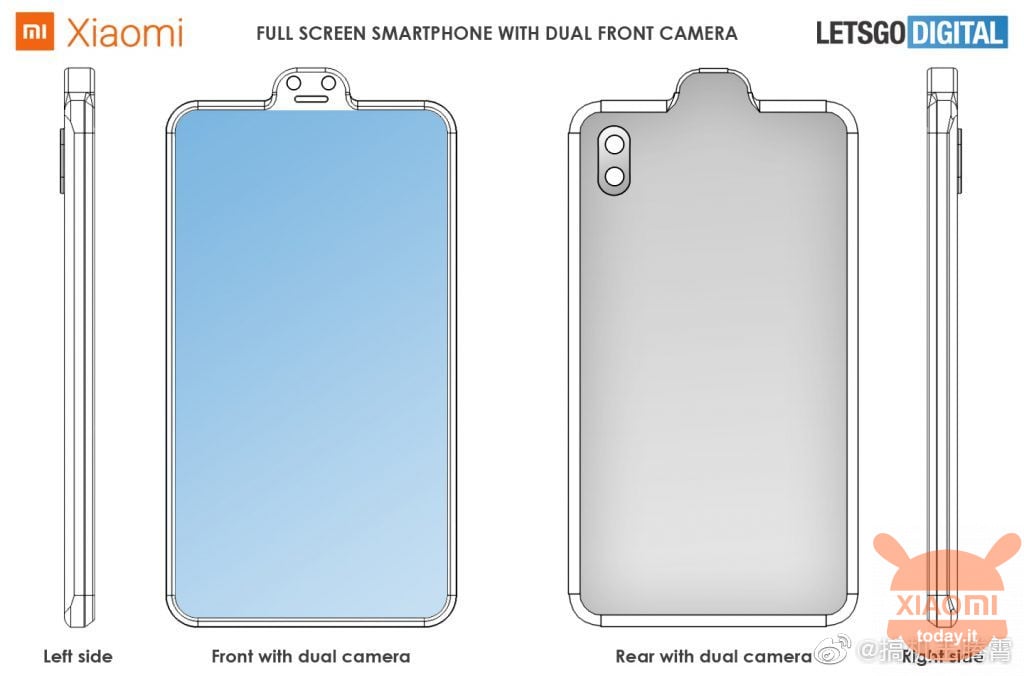 As we can see in the photos in fact, this concept phone would have a notch that protrudes from the top. In the notch there are therefore two frontal cameras, the speaker grille and we also suppose several other sensors.
Seen from the back instead, there does not seem to be any hardware component but only the continuation of the back cover.
In the patent there are actually two devices with different notches, the first is wider and trapezoidal, while the second is slightly smaller and has a more rectangular shape.
Obviously a design of this kind allows the terminal to have a "full screen" screen without any notch that decreases its view. Having said that, we are not sure that the screen-to-body ratio (screen / chassis ratio) comes out the winner, since we have a larger surface in total.
Furthermore, we cannot fail to admit that this design is quite bizarre and it seems difficult to us that Xiaomi chooses to take this path. We think instead that as usual it is a strategy to make sure you have no problems if in the future, for whatever reason, they decide to create a device with a similar design.
We conclude with some funny comments published by Chinese users after seeing the images. We have those who say "Great design for self defense, you can use it as a blunt weapon", while another says it would cut the notch first. Finally, a user says he appreciates the design "Summer is behind doors, notch you can use grilled bottle openers".
What do you think instead? Doesn't it inspire you too much? Let us know in the comments section below!
Are you interested in OFFERS? Follow our TELEGRAM Channel! Many discount codes, offers, some exclusive of the group, on phones, tablet gadgets and technology.