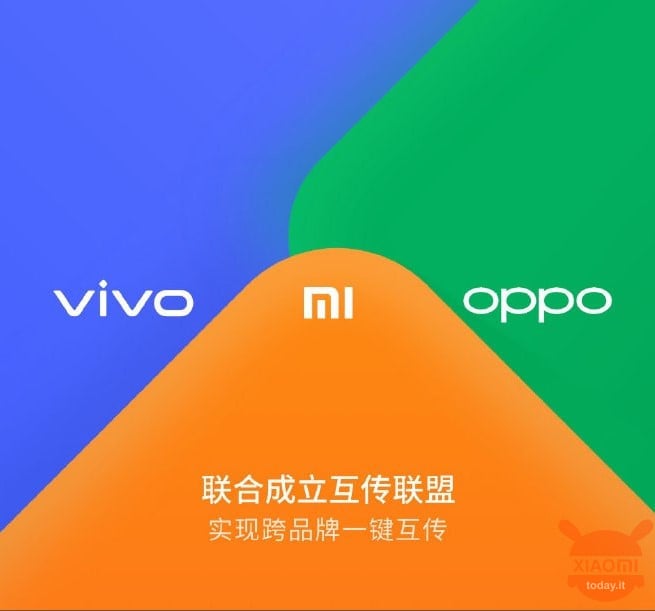 Unfortunately, many users believe that brands that are enjoying great success in recent years tend to be closed in on themselves in order to "keep" their primacy. What few people understand, however, is as much as one union of forces it is important, as well as for a more homogeneous progress, also for the development of the companies themselves. evidently Xiaomian, OPPO is alive this thing they understood and they decided to make one partnership centered for file transfer. But what does it mean? It means that they have joined forces to create a quick and easy way to exchange data with each other, all Android-based systems.
Xiaomi, OPPO and Vivo form a partnership for file transfer
We have news of this from our sources, which yesterday evening (in China) announced this mammoth alliance between the three big names in technology (smartphones and not) who alone own more than 50% of the market share concerning mobile devices in China. From the image we see below, with which the brands are advertising their agreement, we can understand how everything will work through the bluetooth technology used for transferring data between mobile devices.
This alternative method of exchange that will unite the smartphones of the brands in question, all excellently moved by Android, will concern as obvious i music files, videos, images, documents etc.. However, the novelty of this management is the speed with which we will exchange data: similarly to the native app of Xiaomi ShareMe, the three devices can pass files to each other fixed speed of 20MB per second, which means that even a large files can be loaded and passed in very short time without interruption.
Exchanging data in this joint mode is always been a problem for Android but perhaps from today it will no longer be. Think about whether you could exchange data between all platforms (Xiaomi, Huawei, OPPO, Vivo, Samsung and so on) in this way: it would be a joint step forward that would not only lead to a point for the single brand, but also and above all for the whole technology.
Are you interested in OFFERS? Follow our TELEGRAM Channel! Many discount codes, offers, some exclusive of the group, on phones, tablet gadgets and technology.