Are you interested in OFFERS? Be smart and subscribe to our Telegram channel! Lots of discount codes, offers, pricing errors on technology from Amazon and the best online stores.
If there is an Apple product that I have always envied lovers of the bitten apple it is undoubtedly the iPad, in all its variants, from the basic model to the more premium one, because thanks to a high-level manufacturing and user experience at the top thanks to a unique software of its kind, the tablet of the Cupertino company has managed not only to become a best seller in the market segment to which it belongs but above all it has become a point of reference.
But with the advent of Xiaomi Pad 5 (eh we lose the MI suffix) things could change, also due to a decidedly aggressive price and specifications that clear the idea that we have made in recent years, in reference to Android tablet, or products from supermarket baskets. So let's find out together in this review made possible thanks to the collaboration with the Goboo store.
XIAOMI PAD 5
Pre-order with shipment on September 23 Free shipping in 2 days from warehouse in Spain

Price updated on: 29 September 2021 11:52
So let's start on this technological journey to discover Xiaomi Pad 5 in the Global version, therefore with full support for Google services, getting to know the sales package, apparently very minimal, even minimal even in the content that is composed as follows:
Xiaomi Pad 5;
Quick guide and user manual;
Charger with European plug, USB input and max output of 22.5W;
USB Type-C cable for charging and data transfer.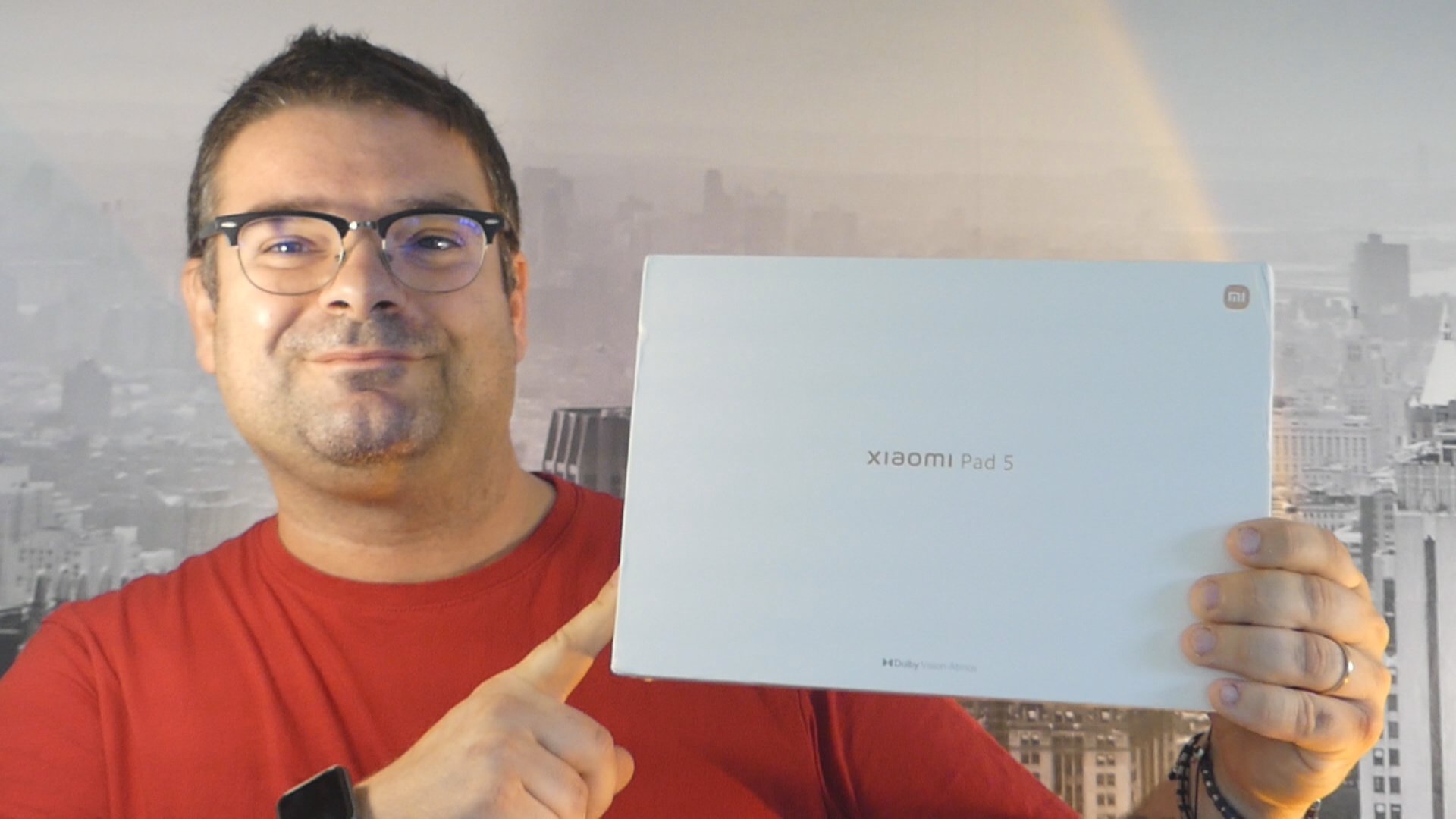 Xiaomi Pad 5 is renewed in aesthetics, abandoning the soft and sinuous lines of the past in favor of a more modern and square look, combining simplicity and elegance. The back is made of opaque glass, but so well made that during the video review I exposed myself in judging it as metal, also due to the fact that just like metal, the glass used by the brand for this tablet really holds fingerprints a lot. and dirt, always forcing us to clean, which does not always succeed in the best way. Also on the rear we find the camera bump in which a single camera and a single tone LED flash are housed, whose shape recalls that of the Xiaomi Mi 11 flagship.
The sensation is much better with the tablet's square profiles, made of metal with matte paint. If we position the Pad 5 in landscape mode, the lower profile houses 3 magnetic pogo pins for the attachment of the keyboard with integrated cover, sold separately, which will allow to increase the productivity yield for office-type activities but on which I cannot express myself, as I have not received the accessories. Accessories such as the stylus or pen, which basically offers other dedicated functions and which can be magnetically attached to the upper profile from which it can also recharge.
In fact, on the upper profile we find an area of ​​a different color that identifies the space on which to place the pen. Also on the upper profile we find then two microphones and the volume rocker. Another welcome surprise is the presence of 4 speakers with support for Dolby Atmos technology and specifically we have 2 speakers on the right side, which also houses the USB input for charging, data transfer and OTG support and an additional microphone, an element that we find also on the left profile, together with the 2 speakers and the on and off button.
We therefore do not find a SIM slot which remains a feature available only in the 5G variant of the PRO model, also absent the sensor for reading fingerprints using for unlocking only the classic PIN / Pattern or via Unlock Face by means of the selfie camera, much less support for video output and not even the 3,5 mm jack to take advantage of wired headsets. For the latter, in reality we do not miss it at all, because the audio that comes out from the 4 speakers is truly superlative, in a single term: immersive. We have sound definition, bass depth and volume amplitude worthy of an audiophile's ear. With Xiaomi Mi Pad 5 it will be a pleasure for the ears but above all for the eyes, take advantage of multimedia content as we can count on a large 11-inch diagonal display.
It could not be otherwise, by virtue of dimensions equal to 254.69 x 166.25 x 6.85 mm and a weight of 511 grams, which precisely allowed the insertion of a decidedly generous panel even in the resolution that goes up to a 2,5K, or 1600 x 2560 pixels, 275 PPI with aspect ratio in 16:10. Despite the technology used is IPS LCD, the colors reproduced by the Xiaomi Pad 5 screen are really realistic, as we have Dolby Vision and True Tone technology as standard but above all the refresh rate reaches up to 120 Hz, making the contents on the screen fluids like water.
There is also support for HDR10 content, protection for the eyes from harmful blue light, a renewed reading mode and sunscreen function 2.0, which allows perfect vision even in direct sunlight, also counting on a contrast of 1500: 1. But leaving out the technical aspects, the Xiaomi Pad 5 display is really enjoyable, excellent colors and practically excellent viewing angles but above all a panel so bright that it is also the envy of sea lights. In short, you can enjoy videos in 4K on Youtube but also on the major streaming platforms, such as Netflix and Disney +, thanks to the Widevine L1 DRMs, even if as often happens for Xiaomi products, this certification is not recognized by Amazon Prime Video.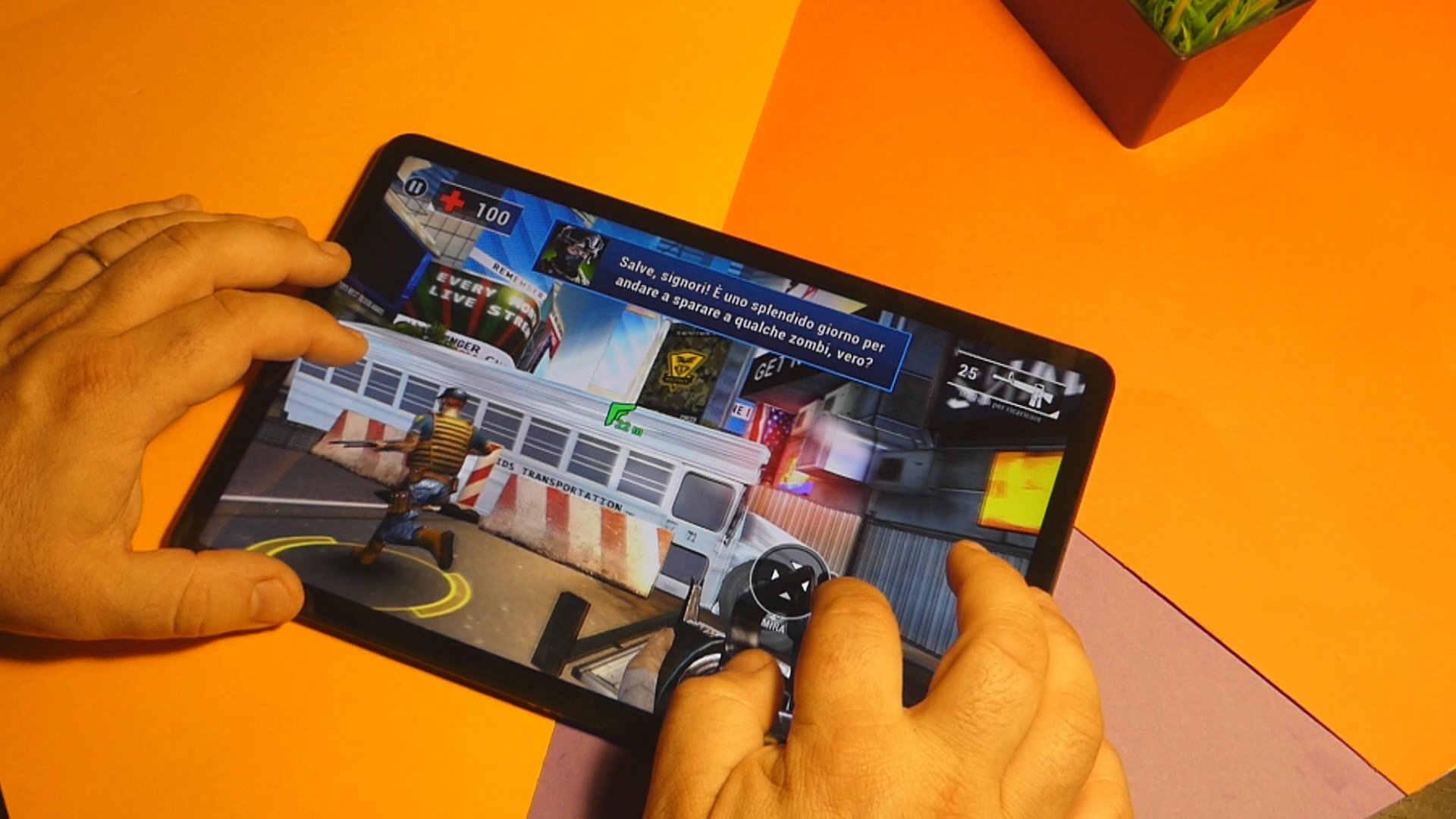 Too bad for a very poor anti-reflective and oleophobic treatment, considering that the main use will be through touches. Oh yes, I have specified the term main use, because through the USB Type-C input you can equip yourself with a USB HUB with which to connect mouse and keyboard but also other accessories such as Joystick, the latter possibly also associated by means of Bluetooth 5.2 technology. which joins Dual Band WiFi connectivity. We will come back to this aspect later, when he talks to you about the software.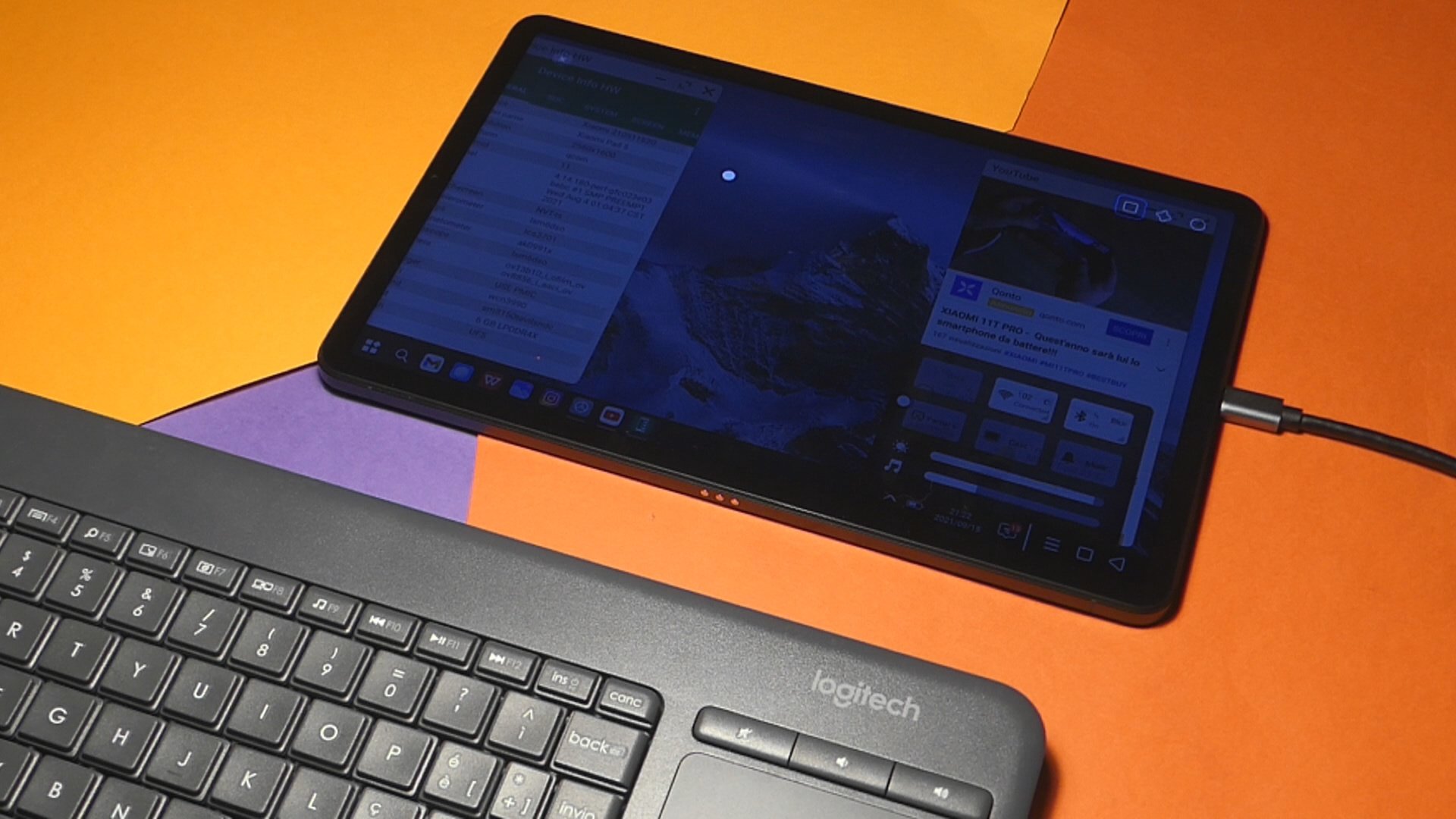 First, in fact, I want to talk to you about the hardware and its performance, since in this context Pad 5 is certainly not a fool and does not let himself be intimidated by anyone by offering a Snapdragon 860 SoC under the body, octa-core solution with maximum clock at 2,96, 485 GHz Kryo 7 structure and 640nm production process that works in symbiosis with the Adreno 675 GPU with a maximum frequency of 6 MHz. There is also 4 GB of LPDDR128X RAM memory and 256/3.1 GB of non-expandable UFS XNUMX internal storage. .
What do I tell you to do, with Xiaomi Pad 5 we can really do everything, from simple use from the sofa, with watching movies, social media and messaging, to the more pushed one such as gaming and photo and / or video editing. However, it should be noted that today there is no real support from application developers, who in the Android field often leave something to be desired and do not offer similar alternatives to the iOS world. Just think of the simple Instagram, which too often infuriates Android users.
A shame because from the software point of view Xiaomi for its Pad 5 offers the excellent MIUI customization in version 12.5.2 with security patches updated in July 2021 and based on Android 11, but above all compared to the younger brothers, the smartphones, here we do not find any bloatware nor the presence of advertising. The integration with Google services is then a not so obvious icing these days but theoretically the killer feature of Mi Pad 5 is the PC mode, which is obtained by launching the proprietary PC Launcher application that is not found installed on the tablet. but which you can find by downloading the APK from this link.
Through PC Launcher the tablet will turn into a small laptop, which we could also connect to a larger screen using mirroring. The graphics and gestures vaguely resemble Windows 10, but unfortunately Xiaomi got lost in a glass of water. In fact, not everything works perfectly, for example if we create a folder on the desktop, we cannot access it, but above all not all applications can go to full screen, nor can we resize the window, a real problem with certain apps, such as the File Manager. In this regard, I invite you to view the video review, because on Xiaomi's PC Mode I have dedicated an in-depth study that you must not miss.
XIAOMI PAD 5
Pre-order with shipment on September 23 Free shipping in 2 days from warehouse in Spain

Price updated on: 29 September 2021 11:52
In other words, the possibility of connecting a mouse and keyboard is not enough to make Xiaomi's tablet productive, which must improve at the software level, on which I really rely so much. In this regard, Xiaomi Pad 5 could become a true companion of your school days or as a business man, relying on a large 8720 mAh battery with support for fast charging at 33W. Of course, the autonomy will depend a lot on the type of use you will make of the tablet, but in principle, with a hyper reckless use you will always take home a stressful day and / or in any case up to 10 hours of active screen.
Although generally in the tablet sector you do not particularly rely on photographic and video yield, Xiaomi Pad 5 does not disappoint even in this area. In fact, in the last historical period we lived, the quality of the front cameras of the devices, workmate or remote study, has become of fundamental importance. Well, the Xiaomi tablet offers an 8 MP, f / 2.0 lens on the front that allows video recording up to 1080p at 30 fps and which overall behaves really well in video calls, also counting on a ' excellent audio quality due to the various microphones scattered on the 3 profiles of the tablet.
On the rear, instead, there is a 13 MP camera, f / 2.0, which allows video shooting up to 4K at 30 fps. I repeat that Pad 5 was not born with the idea of ​​enthusing in the photographic field, but I was pleasantly surprised by the yield of the shots, which in certain conditions are particularly defined. Of course the camera used on Xiaomi Pad 5 remains as a "tablet" with limited use, but it is truly unique in document photography, so much so that at the software level we have a special function for such shots.
XIAOMI PAD 5
Pre-order with shipment on September 23 Free shipping in 2 days from warehouse in Spain

Price updated on: 29 September 2021 11:52
Xiaomi PAD 5 - Prices, Offer and Conclusions
We have come to the conclusions that if analyzed from the point of view of Android tablets, they can only be positive, counting on really excellent performance and multimedia emotions. Viewing content and listening to audio as well as practically infinite autonomy are difficult to find on any other rival tablet, but if we think of Pad 5 as the antagonist of Apple's iPad, well in the current state of the software, we are light years away, and it is a a pity because the Xiaomi tablet has all the right cards to win the game, but the Asian brand does not drop the ace of victory.
The Xiaomi Pad 5 is already on pre-order offer for this one from Goboo. The 128GB version costs € 299 while the € 256 is offered at € 349 (less than the Mi Store). Currently it is a presale with shipping from 23 September, therefore only a deposit of 20 € is required.

🛡Goboo is a Xiaomi partner and offers an official guarantee. Ships free and fast from its warehouses in Spain. Accept PayPal for added security.
XIAOMI PAD 5
Xaomi Pad 5 comes after years of waiting but above all in a historical moment in which if you think of the tablet category, Apple's iPad immediately comes to mind. The solution of the Chinese brand has everything in order to count on top-level performance and use of top multimedia content. Too bad Xiaomi has not refined the PC mode, because otherwise for the Cupertino house there would have been big trouble.
PROS
120 HZ DISPLAY
DOLBY ATMOS STEREO AUDIO
SUPERB AUTONOMY
MODERN DESIGN
CAMERA PERFORMANCE FOR VIDEO CALL AND DOCUMENT CAPTURE
PRICE
GENERAL PERFORMANCES
CONS
PC MODE NOT UP TO EXPECTATIONS
Add your review
|
Read reviews and comments