La portable printer from Xiaomi it is one of the gadgets that I have loved the most among those I have tried. Beautiful, simple, functional - it gives "little" emotions to every print.
Made of shiny plastic, it has a clean and minimal design: a rectangle of 17x10x4.8cm that resembles a Powerbank and that can be taken anywhere thanks to its low weight of only 280g.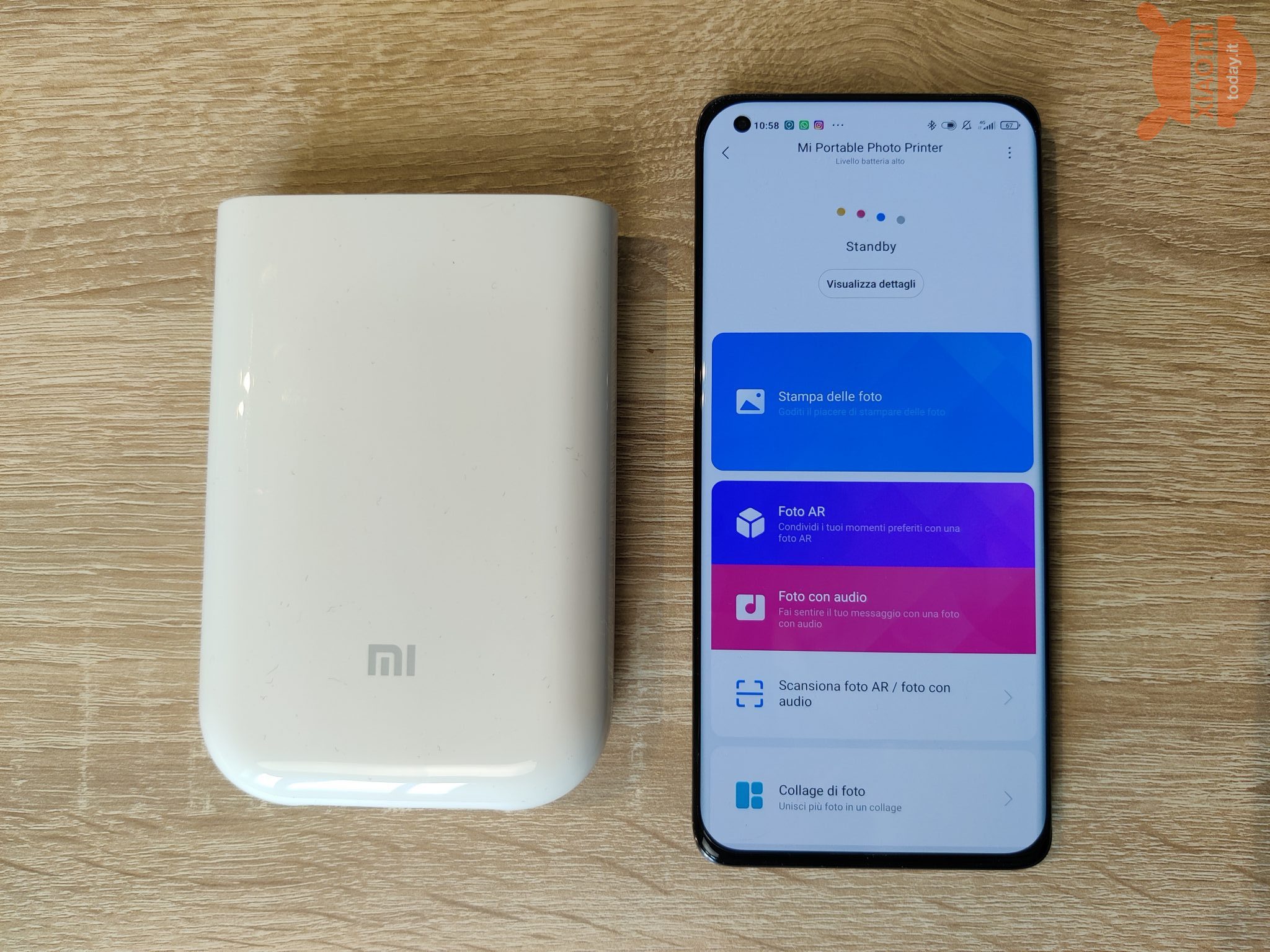 Thanks to the new technology adopted called ZINK, it is able to print photos in the 3 "format (76x50mm) at a resolution of 313x400dpi no ink needed and all the resulting inconveniences. A special is used instead glossy photo paper quite similar to that of classic prints.
Il loading paper it's very easy, just slide the top of the printer to access the compartment that can hold up to 10 photos at a time. The photographic paper it is in fact sold in blister packs of 10 at a cost of about € 0,50 each. Alternatively, a self-adhesive card is also available to create beautiful stickers.
To use the Xiaomi Pocket Printer you need to add the device to the app Xiaomi Home (available for Android and iOS) without the need to use Chinese servers as it is fully compatible with the global market and translated into many languages.
The printer is equipped with its own rechargeable battery in 2 hours via micro-usb port (cable supplied) and can therefore be transported wherever you want, ensuring you decide to print independently.
The interface available it is very easy to use. Once the bluetooth connection (4.2 BLE) is made it is enough select the photo to print, modify it (filters, clipping, etc) if necessary using the tools available and send it to the printer. It takes about 20 seconds for the printer to send and warm up, and another 10 for printing. The end result will be ready to be used
without the need for the paper to dry like in polaroids.
In addition to the classic print are other modalities are available: AR photos and photos with audio. The photo AR allow you to associate a video to a frame that will be played instead of the photo through augmented reality from the Xiaomi Home app. Similarly, in the photo with sound you can combine any audio file that will be played when you frame the photo.
Finally, it is possible to create directly with the app of Photo collage o grid subdivisions to create artistic compositions.
Xiaomi Portable Printer - Conclusions
This gadget from Xiaomi surprised me for the ease and quality of printing which, although inferior to classic prints, is clearly superior to that of inkjet printers.
Compared to the all-in-one solutions of Polaroid e Fujifilm, we have the great advantage of being able to take advantage of the higher photographic quality of modern smartphones and being able to use the Xiaomi Pocket Printer on any phone and even lend it.
La compactness and lightness make it a faithful companion to take on your outings or to brighten up your events.
Last aspect, but perhaps the most important, is the really competitive price than any other product. It's possible buy here the mini printed of Xiaomi from BangGood al price of 39 € by inserting the discount code BGXMitoPrin. Shipping is from the European warehouse, so fast and duty free. In the package you will find 5 free prints, but it will therefore be necessary also buy refills here.
Are you interested in OFFERS? Follow our TELEGRAM Channel! Many discount codes, offers, some exclusive of the group, on phones, tablet gadgets and technology.