Hands up who hasn't heard of President Trump's resounding ban against Huawei. Without going too much into the merits of this decision, the successes of the story are certainly shocking and they see a series of sudden changes on the part of the Huawei company and of the company linked to the Asian brand.
As you well know, the cutting of the Android ecosystem by Google was perhaps the news that made the passionate users of Huawei-branded smartphones discuss and reflect: many ran for cover by selling off their terminals, others simply waited trustfully the evolution of history but future users know that Huawei has in store a trick up its sleeve, namely the launch of its own operating system, which according to rumors should respond to the name of HongMeng OS.
Xiaomi could Huawei's operating system
And you say, but who cares about Huawei since we are on a blog about the Xiaomi world. True, but the famous Global Times magazine launched a bomb that concerns Xiaomi and Huawei's proprietary operating system, which could be used on future devices. Of course there is still nothing official, although neither Xiaomi nor Huawei have denied the news reported on Tweeter.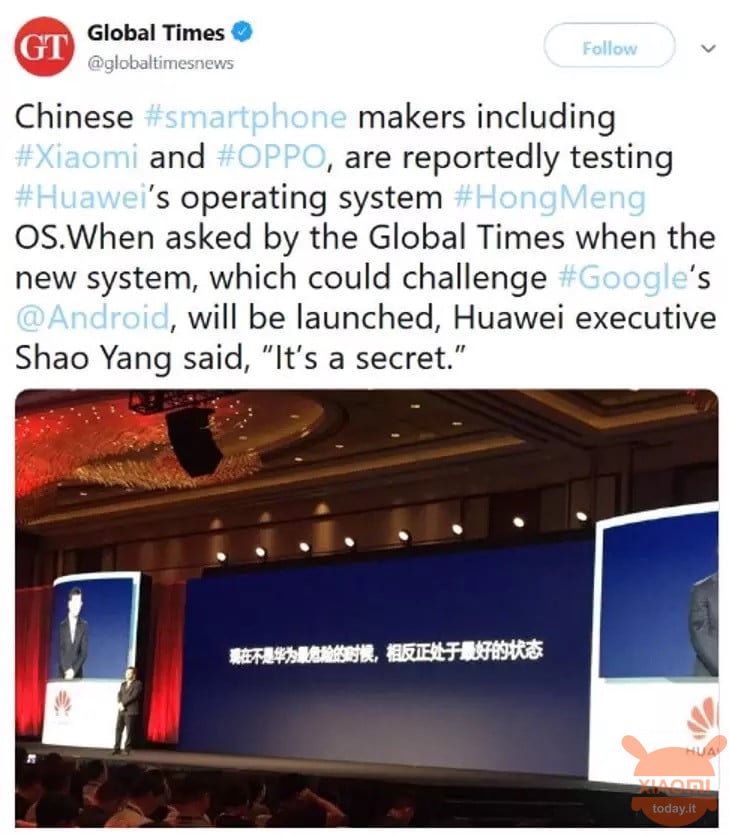 Probably the news could prove to be unfounded, but if confirmed, the scenario we will face will see a total revolution in the smartphone landscape. China already dominates the smartphone market in terms of sales and in doing so, the Android world could follow in the footsteps of Windows Phone. A scenario perhaps apocalyptic, but not too far from what the political "disputes" between America and China have been drawing for some time.
If there were developments on the Xiaomi-Huawei question, we will not be slow to give you news, so continue to follow us on our social profiles.