In the past few weeks, nothing else has been said in China: Xiaomi's first smart car. It would be nice if a company that has always dealt with smartphones and related operating systems was transformed and expanded to such an extent. In fact, if we think about it, it would not be a new thing for this brand: in just 10 years it has become the so-called "technology supermarket"In the mother earth: the idea of ​​expanding even more is not so absurd. But perhaps it is soon a smart car.
A curious poster published on the official website shows the shadow of a small off-road vehicle: the idea of ​​a smart car whales but is immediately denied
A few minutes ago a rather curious fact happened: on the Mi.com official site A poster appeared in China that left little room for imagination. What you see in the cover image is undoubtedly the shape of a small off-road vehicle and in no time the netizens have stated that Xiaomi was ready for the launch of its smart car. Nothing more wrong. No such product is expected and the company's officers confirm this.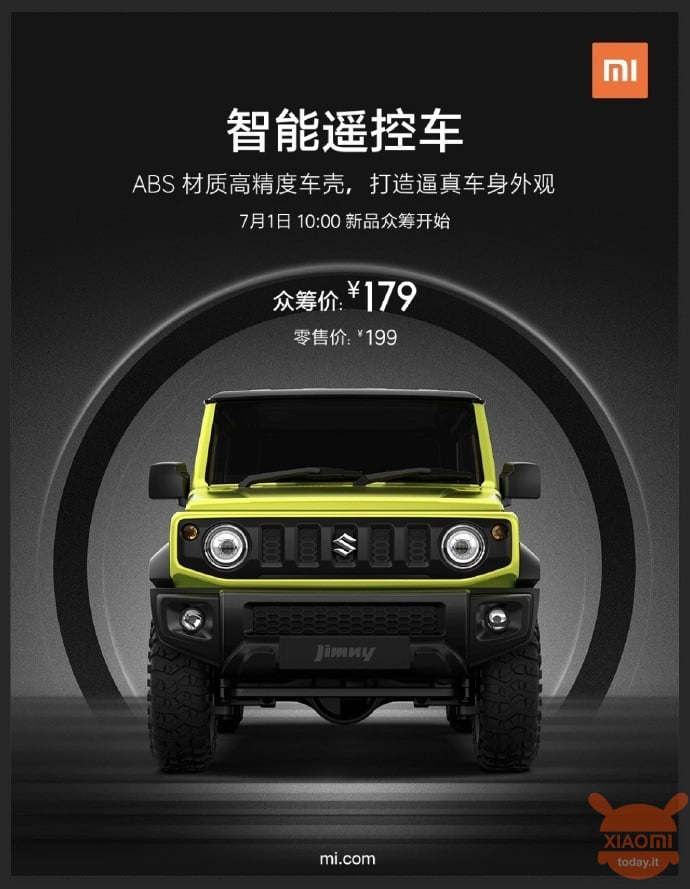 Through the official account Weibo Xiaomi Mall comes the confirmation of what is supported by users: no branded car is coming. In fact, from what can be seen in the photo above, the brand is Suzuki. But this does not even mean that Xiaomi is collaborating with the Japanese manufacturer for the construction of a vehicle. What the Chinese company would be preparing is nothing more than a "Remote control car system", or an intelligent system for remote control of the car. The launch price would be 179 yuan, approximately € 25 at the current exchange rate.
In the same post, the company also confirmed that the one pictured in the photograph is not even a "real" model of Suzuki's Jimny vehicle: it is in fact a 1:16 model equipped with remote controls. In any case, it is not clear what the meaning of this advertisement is (later removed from the official website).
We certainly know that the automotive collaboration of our company with BYD led to the development of a really interesting technology.
-24%
Sale
🇨🇳 Priority Line Collection (8 / 20gg, No Customs) ✈
-21%
Sale
🇨🇳 Priority Line Collection (8 / 20gg, No Customs) ✈
Source | Weibo
Are you interested in OFFERS? Follow our TELEGRAM Channel! Many discount codes, offers, some exclusive of the group, on phones, tablet gadgets and technology.