One thing that really fascinates the real Mi Fans about Xiaomi is the continuous presentation of products of all kinds, and therefore every day a different surprise awaits us which nevertheless manages to enthusiastically but at the same time the simplicity of the product is really basic and not very innovative. And so today's surprise is double, because Xiaomi presented two products, very different from each other but with a common tech soul.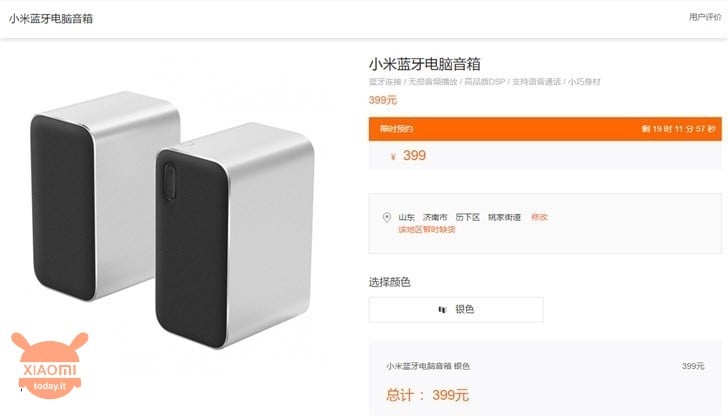 The first product responds to the name of Mi Bluetooth PC Speaker that is, aBluetooth speakers to use with your PC / Notebook and offered at the prices of 399 yuan, about 50 euro. Naturally, having Bluetooth connectivity we could use the speakers also in combination with a smartphone so that voice calls are supported. The body is completely made of metal with CNC machining and anodizing process. It is definitely compact, with minimalist design in silver color with the possibility of placement vertically or horizontally.
On the right speaker we cover a small ellipse that houses the volume buttons while the main speaker, from 2 inches and power from 12 W and impedance from 4 Ohm , gives a quality sound thanks to the adoption of the chipset DSP as well as support for protocols APTX and APTX-LL. Finally, it is also possible to take advantage of the AUX input to connect old MP3s or PCs and Notebooks that do not have Bluetooth connectivity. In short, a design product that will certainly not look bad on your desk.
Xiaomi presents two new products: Mi Bluetooth PC Speaker and Townew, the smart dustbin
Finally at a price of only 199 yuan, about 25 euro, on its own crowdfunding platform beginning 11 September 2018 date shipments, Xiaomi unveiled Townew, a dustbin with a smart heart. In fact this trash bin with the capacity of 15.5 liters not only integrates a sensor that allows you to open and close the lid automatically of the same favoring then the user in throwing the possible garbage but above all integrates a series of LEDs that expire the capacity level of the bin and if necessary report the achievement of maximum capacity to the user cwith just a touch, you can seal the bag without getting your hands dirty.
The smart Tomnew dustbin feeds with one battery from 12V 2.2H which can be loaded in about 10 hours, but it has not been declared how much is the actual autonomy of the product. Which size 240 x 310 x 402 mm and a weight of 3,5 Kg. In short, a found to say the least brilliant.