The last time we talked about a projector Xiaomi, it was on March 29th when the company globally launched the Mi Smart Projector 2 Pro. However, we must remember that the company does not only offer "its" products but also those of its ecosystem. Today we are going to see a new projector that has three distinctive characteristics: sound, video quality and compactness. His name is XGIMI RS Pro2 and it was presented just today. Let's go and see all its features.
Xiaomi's XGIMI RS Pro2 is an ultra compact projector with 4K resolution, but not only: the Harman Kardon audio makes it truly unique
By now we all know Harman Kardon, the US team that has edited the sound system of Xiaomi Mi 11 and of the whole family. A name that also returns today with the new XGIMI RS Pro2, a new generation projector with a whole series of goodies that are hard to find on the market. Before starting to talk about it, it is fair to point out that the product is purchasable (at the moment) only in China. As soon as it is available for Europe we will not fail to warn you.
This new Xiaomi projector is designed for small rooms and in fact its size shows that it is not for professional use. However, both the build quality that audio and video make it a high-end product. As for the first point, the body is entirely in metal and is equipped with an aluminum alloy drawing to highlight the premium texture
. The front of the fuselage is made with a Danish textile wool sound net.
As you can understand from the image below, at the front we find a kind of door at the top that allows you to access the display with the internal lens. This is where the light beam of 2200 ANSI Lumen. Obviously the projector has been certified by TÜV Rheinland against blue light which is harmful to the eyes. Up to 4 meters away, the projector manages to develop one 150 ″ screen.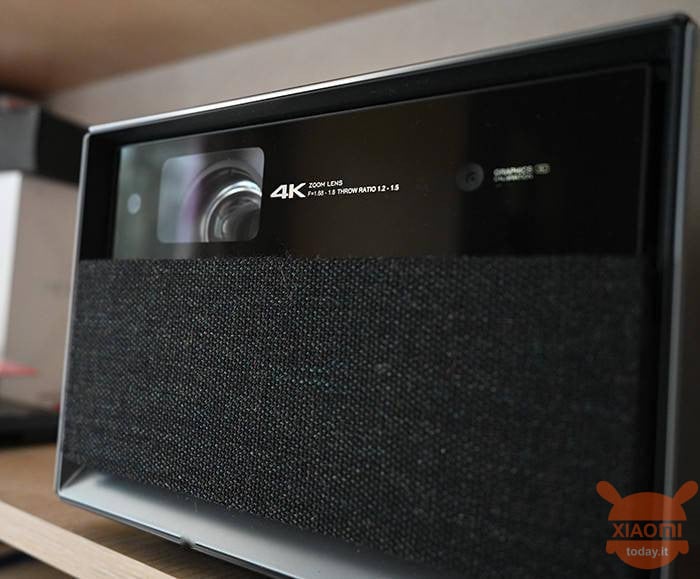 As anticipated, this Xiaomi projector is equipped with a light beam powerful enough for its size and with Harman Kardon patented audio, which supports DTS sound effects. As regards the back-end interfaces from left to right we find: power input, network cable interface, two sets of HDMI, two sets of USB and audio and video output interfaces.
A system of self leveling and framing. Basically, the projector automatically recognizes if the projected image is trapezoidal in shape and corrects it until it becomes rectangular. Other than that, there is support Ambient Light Adaptive which allows you to optimally adapt the brightness according to the light in the room. We also find 4 GB of RAM and 128 GB of storage, as well as a Maximum supported refresh rate of 120Hz.
Are you interested in OFFERS? Follow our TELEGRAM Channel! Many discount codes, offers, some exclusive of the group, on phones, tablet gadgets and technology.