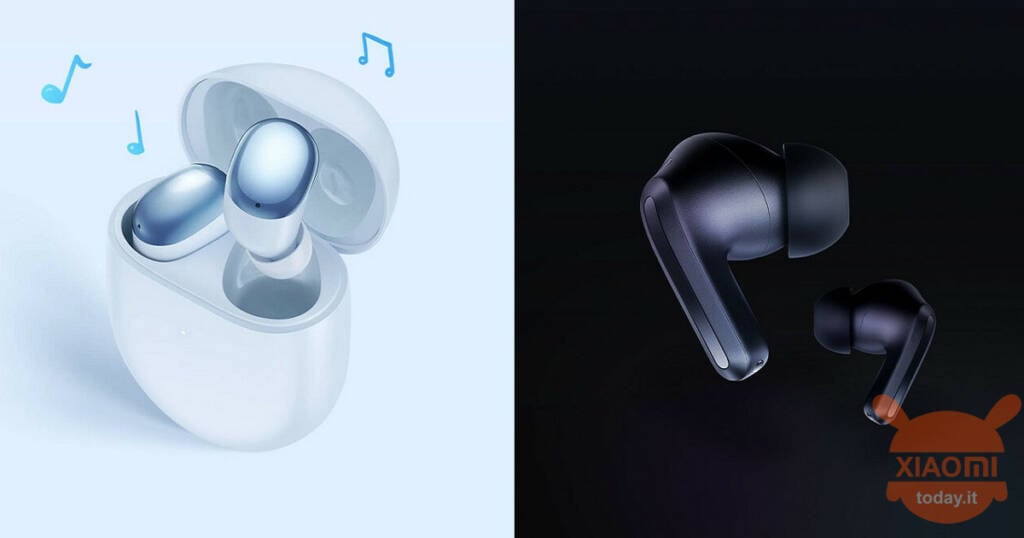 Le Redmi Buds 4 Pro are the latest TWS earphones launched by the Xiaomi sub brand. Right now they are offered on the TomTop store at a really interesting price, but before going into the details of the offer let's see what the technical characteristics of these devices are.
Redmi Buds 4 Pro: technical characteristics
These are high-end but cheap earphones: the quality-price ratio of these devices is indeed remarkable. One of the most important peculiarities is the reduction of noise, increased to 43 dB. But it is certainly not the only one: this model supports the double transparency mode (in addition to the basic one), and offers a two-step improvement of the voice. Translated: it comes ambient noise filtered, so as to work quietly and comfortably, but at the same time the need for normal communication is also satisfied.
In addition, the Redmi Buds 4 Pro also support smart wind noise removal and are equipped with a windproof wire mesh hardware type, which can greatly reduce the wind energy before the wind enters the microphone. This is also the most effective anti-noise structure at the moment. Combined with the wind noise reduction algorithm, the noise can be automatically identified within 3 seconds and compensated quickly.
As for the connection sector, the Buds 4 Pro adopt the latest protocol Bluetooth 5.3, support LC3 encoding and have a minimum latency of 59 ms. We get to the sound quality: these headphones use hardware that effectively expands the overall frequency response range. Therefore, the highs are clearer and the lows deeper.
All this, combined with the software Xiaomi Deeply Tuned in the lab by the brand, it makes the TWS earbuds perform well in a variety of genres. We also note that this is the first time that Redmi's headphones have supported virtual surround sound. In particular, the Redmi Buds 4 Pro adopt the self-developed algorithm of Xiaomi Audio Lab. Thanks to HRTF function developed by Xiaomi, a sound of sound coming from all directions is simulated, regardless of the source or model. So when watching a movie, scene immersion can be much more realistic than headphones without this technology.
Finally, the Buds 4 Pro can be used up to 9 hours at a time and can reach a maximum of 36 hours of battery life with the charging pack. The headphones also have a level of IP54 waterproof, so we don't have to worry about sweating while exercising.
The offer now active to buy the Redmi Buds 4 Pro at a sensational price!
Now we can see the promotion on Redmi Buds 4 Pro made available to TomTom. At this time they cost €65 with tax and free shipping from china. To buy them at this price CLICK HERE.