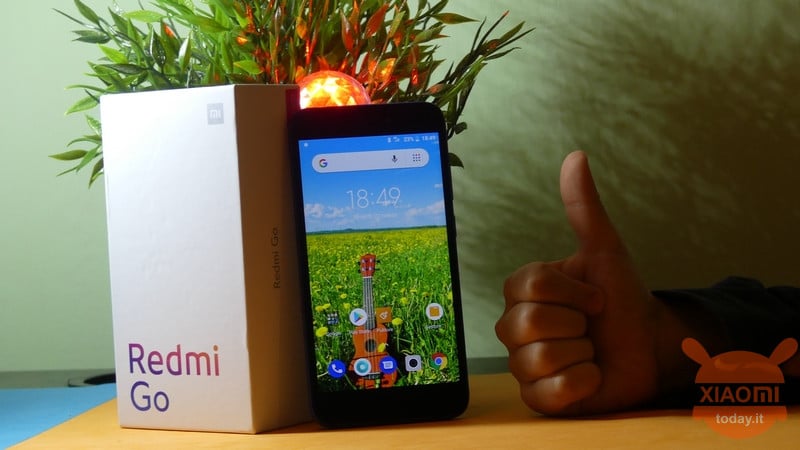 Xiaomi Redmi Go for many it may not make sense to exist. A smartphone with obsolete hardware in this 2019 where the largest mobile phone manufacturers challenge each other with RAM, CPU and camera shots, yet when I first picked up the small device with Android Go I immediately thought of why I started to love the Xiaomi brand. Find out why in our complete review.
On the unboxing of the product I will go quite well also because below you can find the video in which all the contents of the package are gutted enriched by some hot impressions on the Redmi Go.
Xiaomi Redmi Go
Cardboard clutch containing the user guide and the pin for removing the SIM tray
Power supply with European socket and output from 5V / 1A
Cable for data transfer and micro USB charging
Super compact and light are the qualities that at first sight describe this Xiaomi Redmi Go. In fact we have measures equal to 140,4 x 70,1 x 8,35 mm and a weight of 137 grams which make this compact and ultra handy smartphone pleasant to use even with one hand. The grip is also helped by a small step that breaks the uniformity of the back cover completely made of plastic, which in the case of the blue color it is very pleasing to the eye eliminating the prejudice of cheap materials.
Eh already shell completely in plastic that houses only the back main camera flush and the LED flash while on the profiles we find the on / off button and volume rocker on the right while on the opposite side we have 2 trolleys: the upper one houses the first SIM in nano format while the second welcomes the seconda SIM card in nano format and the micro SD card to expand the internal memory with support for units up to 128 GB.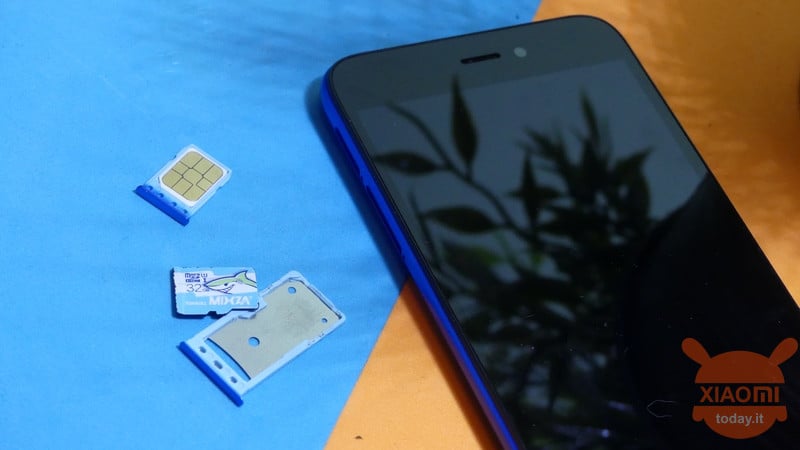 Upper profile dedicated to the mini jack input and second microphone for the reduction of ambient noise while on the lower profile there is the main microphone, the micro USB input for charging with OTG function and the system speaker.
It's a front that really makes you realize you have it in your hands a smartphone that looks like a fish out of water in this 2019, because in addition to the well pronounced frames we find the soft touch keys (not backlit but with vibration) on the chin while in the upper part we have the ear capsule, the selfie camera and the proximity and brightness sensors. Unfortunately no notification LEDs and therefore you will have to rely on what is shown on the display lockscreen.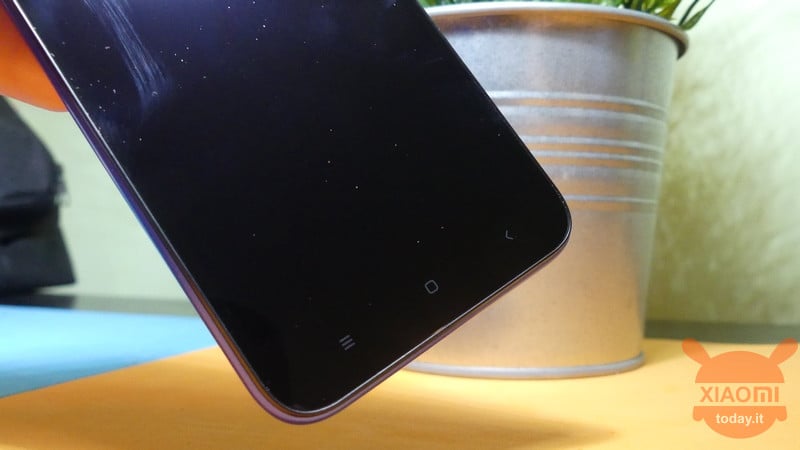 Already the display, he gives us a dip in the past with a form factor in 16:9. You got it right, no notch, no drop, no hole but an old-fashioned diagonal display from 5 inches and HD 1280 x 720 pixel resolution. From his but I can say that it is a great display, thanks to a surface to 10 touches which always makes the user experience fluid, but also good brightness (380 nits) under direct sunlight (296 PPI, 1000 contrast: 1) thus allowing the use of multimedia content without particular problems. The color rendering is definitely better than many competing devices even in the higher range, but by adopting an IPS technology the depth of the blacks is diminishing at strong inclinations.
At the software level we cannot calibrate the colors even if we don't feel the need, while we have the possibility to exploit a double tap to wake up the display del Redmi Go or enable the reading mode, useful for night hours. Finally, given the absence of a notification LED in the event of standby, these will be shown in Ambient mode but only for a few seconds.
Review Xiaomi Redmi Go - A super cheap MUST HAVE
Xiaomi Redmi Go is a smartphone that offers one dual SIM dual standby connectivity with the possibility of exploiting the network LTE 4G both on the 1 SIM and on the 2 SIM but not simultaneously. The 20 band is present to 800 mHz which makes this device perfect with the use of any Italian operator. Noteworthy and above all reliable reception even in areas where the network signal with other smartphones is generally in short supply. Even the speed tests seem to confirm the good signal reception which also turns into good quality on call both for us and for our interlocutor.
And speaking of audio, Xiaomi Redmi Go offers the FM radio usable through the use of earphones. And here the software also allows you to optimize the sound based on the type of headphones inserted, but without the possibility of equalizing the sound (the yield is much better with Xiaomi brand earphones). The speaker, although it is only mono, can assert itself thanks to a decidedly generous volume without ever distorting it, while the frequency ranges are well balanced between them.
In terms of connectivity we also have a module Bluetooth 4.1 which allowed me the connection of True Wireless headsets without any problem as well as the combination of wearable, moreover we have a 802.11 WiFi b / g / n decidedly reliable with the possibility of function WiFi Direct, although for those coming from devices with dual-band WiFi the difference is noticeable. Definitely quick GPS / AGPS / GLONASS / Beidou which was a real surprise for fluidity of navigation, satellite fixes and reliability.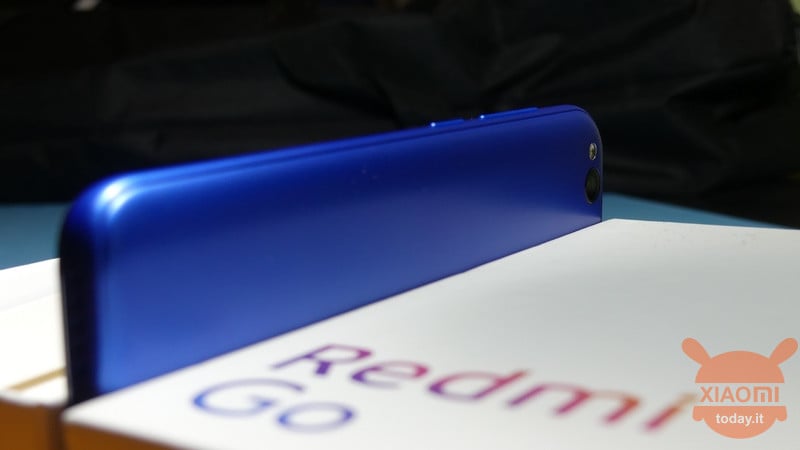 And here we are with the "painful" part, that is the hardware equipment. First of all it should be noted that as the name suggests, Xiaomi Redmi Go is animated by the Android Go software based on Oreo 8.1. and updated security patches in January 2019. Therefore the fundamental requirement to use Android Go on a device is precisely that of limiting the RAM to maximum 1 GB, even though devices with even 512 MB of RAM exist.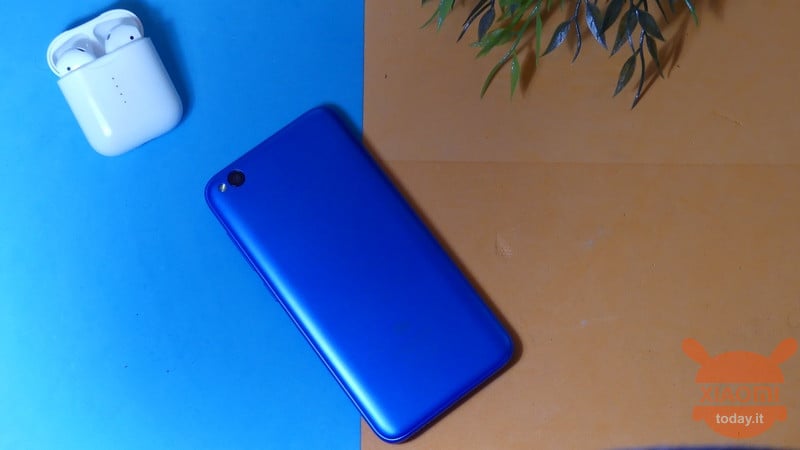 Xiaomi then equips the little guy with note 1 GB of LPDDR3 RAM e 8 GB (there is also the 16 GB version) internal storage with possibility of expansion up to 128 GB via micro SD, which could be used as main memory to store data, photos and install most applications. With such a base, we certainly can't put the last SoC in circulation, so here comes the processor under the hood of Redmi Go Qualcomm Snapdragon 425, quad-core clocked up to 1,4 Ghz (the same one that powers the Redmi 5A) which is supported by the Adreno GPU 308

@500MHz.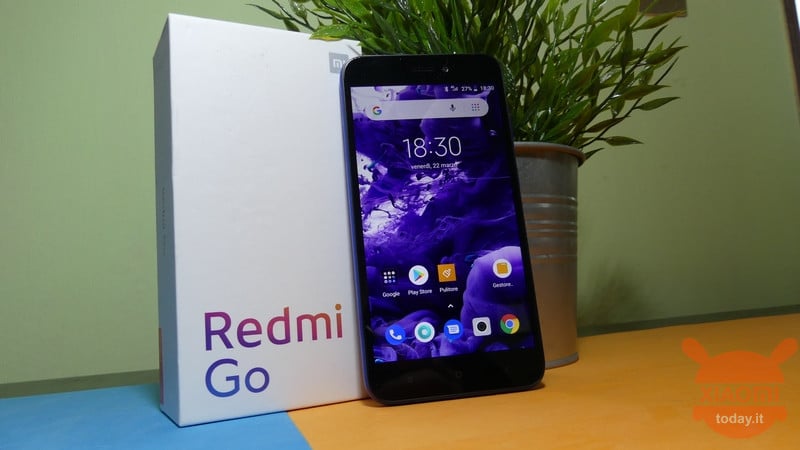 In this 2019 all this makes you smile and the technical card freaks would snub Redmi Go a priori. he knows how to assert himself, giving 360 degree user experience. I was able to play Real Racing 3 without any particular problems (graphic details to a minimum), shoot Instagram stories without lag, chat via Telegram, send work emails, watch streaming movies via Amazon Prime Video but also brighten up my evenings with videos on YouTube by posting a few photos and comments on Facebook. In short, you understand that Xiaomi Redmi Go is not a bolt of war but you won't have to give up anything. On the other hand, the user to whom this device refers certainly does not spend hours stuck in front of a display to carry out a gaming session or even dream of making the most of the CPU for bully benchmarks.
In fact, precisely with reference to the benchmarks, I have in no way succeeded in starting AnTuTu, but in the end it doesn't matter, because I repeat Xiaomi Redmi Go in everyday use it does everything a user can expect from a smartphone. Perhaps thanks to the super minimal interface of Android Go that for the Google suite uses precisely the applications marked GO, more streamlined than the complete counterpart. To be clear, GO applications are comparable to web apps and therefore the processing power in the opening does not have a noticeable effect on RAM and CPU. It must be said, however, that Redmi Go allows you to easily install traditional applications, such as YouTube instead of YouTube Go, an example not by chance since I personally preferred to adopt this solution because in my opinion Android Go is still not very optimized for our market.
In fact YouTube Go is in English but beyond that it does not allow any interaction with the video: no likes, no comments. Moreover the Google assistant is not yet available in Italian, but apart from these little things the combination of Android Go and limited hardware is successful. Xiaomi has included only some small customizations related to the browser and the launcher, both entrusted to the Mint solution. And if for the launcher nothing to say, indeed this is also pleasant thanks to the possibility of changing the icon package (downloadable from the Play Store) or customizing the grid and the relative size to them, I did not understand Xiaomi's choice to insert even the Mint Browser, as Chrome is already present, from which Mint Browser copies practically everything. But above all, the user is not given the opportunity to decide which browser to uninstall, as both browser apps are rooted as system apps.
A positive aspect of a basic hardware and software is undoubtedly the battery autonomy, a unit from 3000 mAh that on average performs around 4 hours and 30 minutes with 20% residual charge with medium intense use but without overreaching too much I can safely say that two full days are guaranteed with the traditional use that would make a common user the Xiaomi Redmi Go is aimed at. The only problem is the recharge that takes about 2 hours for a complete cycle and that will remain so since there is no support for fast recharging.
The time has come to talk about the camera, an aspect that often decrees the success or failure of a smartphone, just think of the many criticisms received from Mi 9. Well this Xiaomi Redmi Go certainly does not want to be considered a camera phone, but believe me in good lighting conditions, the shots obtained are definitely of good quality above all expectations.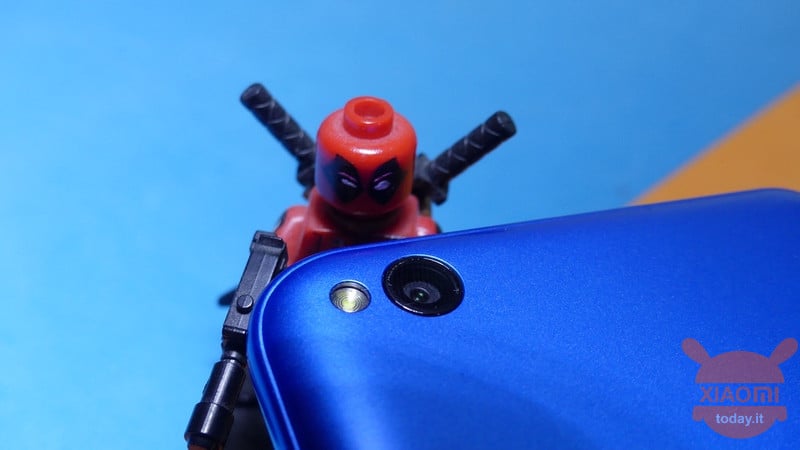 In particular we talk about one rear camera from 8 megapixel with objective to 4 elements, opening f/ 2.0, pixel from 1.12μm, which is accompanied by a LED single tone flash, while at the software level we can take advantage of theAutomatic HDR and an autofocus, which is decidedly slow compared to the older brothers, but the passage from one fire to another takes place in such a homogeneous way that it seems almost a value, so much so that it can be mistaken for a cinematographic effect.
The interface of the camera app is the usual one we are used to with every Xiaomi smartphone, naturally stripped of all those features that the Redmi Go sensor does not support. But speaking of the sensor, I was pleasantly surprised from the fact that I expected an Omnivision on both optics and instead we find on board a Samsung S5K4H7 sensor for the rear chamber and a Samsung S5K5E8 on the front chamber, a lens from 5 megapixel to 3 elements, opening f/ 2.2 e 1.12μm pixel, also equipped with HDR.
The chromatic tones captured seem rather realistic even as I expected it is with the fall of lighting that the photographic compartment of Redmi Go shows its side. Also good videos, which are not at all stabilized (the integrated function of Google Photos comes to the rescue without too much image crop) but which reach a resolution of up to 1080p 30 fps with a good audio capture, to say the least superior to many other models I've tried in the past, even with the front camera.
CONCLUSIONS
Xiaomi Redmi Go was able to surprise me with its simplicity and in its way originality, clearly in contrast with the direction in which the smartphone market is accustoming us, offering tech monsters with more GB of RAM than common PCs and / or notebooks. This small vintage smartphone manages to offer a complete user experience at 360 degrees but above all it is the price that makes it even more interesting. Redmi Go is ideal as a first device to donate to an elderly person, to a child who approaches technology, as a forklift for work or a smartphone to take to the sea. In short, there are many scenarios in which this smartphone equipped with Android Go could be inserted. I strongly recommend the purchase and for a moment I invite you to put aside the prejudices based only on the marketing that runs behind the data sheets of a smartphone.
Are you interested in OFFERS? Follow our TELEGRAM Channel! Many discount codes, offers, some exclusive of the group, on phones, tablet gadgets and technology.
XIAOMI REDMI GO
Difficult to find a real defect in this super compact Xiaomi Redmi Go. I must admit that I was skeptical, thinking of getting too many compromises and instead the everyday experience was definitely satisfying. A limited but well optimized hardware with the Android Go software. Redmi Go is a smartphone for everyone, maybe to be kept as a reserve of the main device or to give to their elderly parents and / or novice children. In short, he has to have absolutely by virtue of a very low price.
PROS
RECEIVING 4G
AUDIO (MULTIMEDIA CALLS AND CONTENT)
PRICE
CAMERA IN THE URBAN
COMPACTNESS
SIMPLICITY OF USE
CONS
ANDROID GO SOFTWARE STILL OPTIMIZED FOR THE ITALIAN MARKET
NO NOTIFICATION LED
Add your review
|
Read reviews and comments