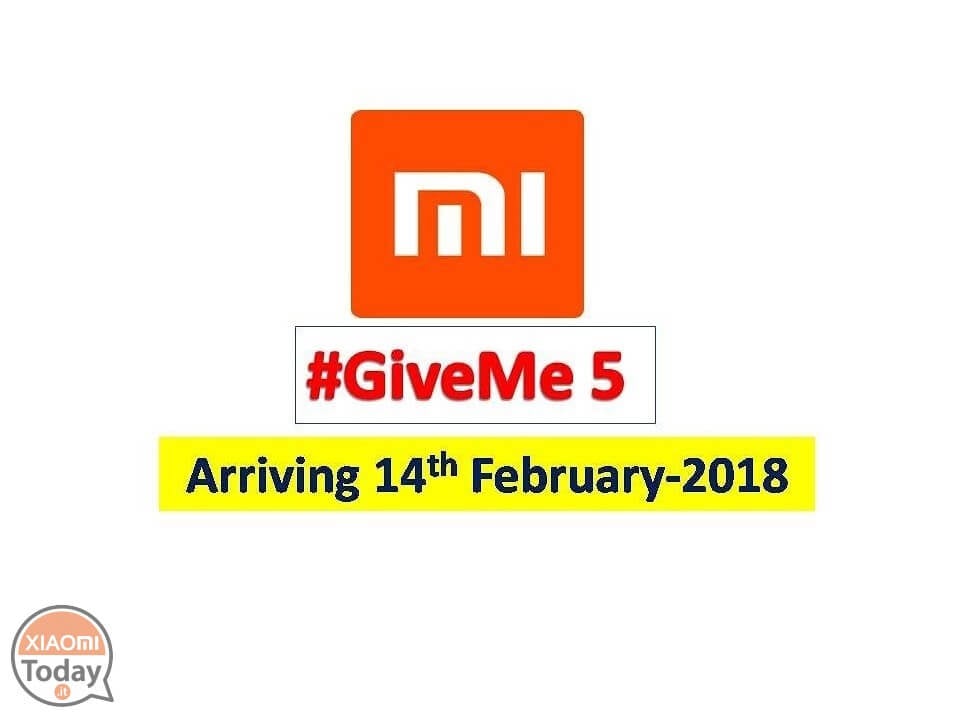 A few days ago we gave you the news about the fact that the expected Xiaomi Redmi Note 5 will be officially presented on February 14, Valentine's Day, how to celebrate the love that fans have for the Chinese brand and vice versa. Someone gave the news that it will not be the Redmi Note 5 to be the first smartphone of the 2018 to be presented, but because the event will be held in India, it is assumed that the device in question will be the Redmi 5 and Redmi 5 Plus, in virtue of the fact that the teaser proposed by the Chinese company reports a huge 5 as a protagonist and the motto of the event is #giveme5.

Xiaomi Mi8 Lite Global
FREE Shipping 8 / 10gg - Cover and Complimentary Film - Italy Guarantee 🇮🇹
249.99€
In reality it is confirmed that Xiaomi Redmi Note 5 will be the protagonist of the dayin fact, from the html code of the internet page dedicated to the event, the word has clearly emerged redminote5, news that we had already revealed on ours Facebook page .. What could make the nose a little twisted is that the new smartphone will initially be sold exclusively through the Indian e-commerce Flipkart.com, which could mean delays in marketing globally at other stores more convenient for purchases made by our country.
The features that are currently outlined by rumors in circulation are not clear, but apparently the Redmi Note 5 it could be an enhanced version of the Redmi 5 Plusin fact, the company is confirmed by the adoption of a display from 5,99 inches Full HD + in 18 format: 9 while the CPU to power the device could be one Snapdragon 630 or 636. However, a double camera on the rear is also awaited, while the design could re-design more squared lines typical of the Note series.
Returning to the marketing of Xiaomi Redmi Note 5 through the Flipkart store is justified by the fact that the triumphal entry into India of the Chinese company was partly made possible thanks to Flipkart in the 2014 exploiting the marketing strategy of flash salt and value for money, contributing to the capillary spread of the brand throughout the Indian territory. Model that partly Xiaomi seems to be adopting also in Italy with the contribution of the Amazon store, proposing offers on a daily basis.
Are you interested in bidding? Follow our Telegram Channel!
A lot of discount codes, some exclusive offers from the group, phones, gadgets and gadgets.