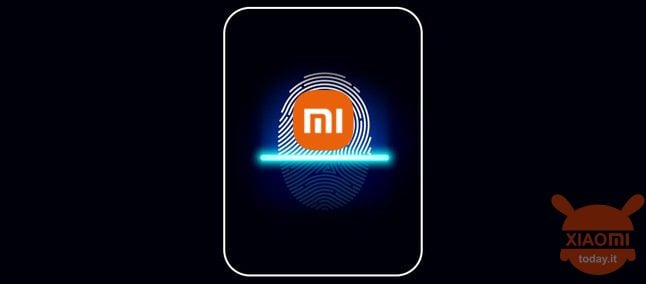 The interest of Xiaomi in solving problems related to unlocking by fingerprint is now known. The Chinese company wants, like many other companies, to improve the unlocking of its smartphones to make it not only faster, but also more secure. According to what was revealed by Chinese sources, the latest idea of ​​the brand brought forward by Lei Jun is really interesting. Taking up a little bit of the Huawei project, a patent has been discovered that talks about the possibility of unlocking the smartphone via sensors under the whole screen. This means that the area for unlocking the smartphone is expanded. Let's see the details.
Xiaomi is considering bringing the smartphone unlocking via fingerprint across the screen, increasing the total area
Under-screen fingerprint sensors are increasingly popular in smartphones and will soon also arrive on entry levels. Although this technology is comfortable as hell, there is a small "flaw": it is need to place your finger exactly on a portion of the screen to scan your finger. Now Xiaomi has registered a patent for a technology capable of remove this limitation. It is a patent that speaks ofextension of the recognition area footprint to the whole screen.
The paper states that the technology uses a number of infrared LED light transmitters between the top panel and the AMOLED of the display. In this case, the light receivers are located above the infrared light transmitters and together are part of the fingerprint sensor reader. But how does the fingerprint reading on the Xiaomi smartphone take place? The capacitive sensor indicates where the finger is. The infrared LED emits light from the screen which is reflected to the light receivers which send the collected data to the system which compare with the stored data and determine if the impression is that of the owner of the mobile phone o no.
In this way, the technology is capable of turn specific parts of the screen into fingerprint readers, eliminating the need to touch a specific part of the display to read. It must be said that this technology has already been proposed by Huawei some time ago even if it has never been used yet. Xiaomi aims to improve the fingerprint unlocking experience but we don't know when. It is a patent and we can imagine that the cost of implementation of this project is, at the moment, still too high.
Xiaomi Areox Smart Fingerprint | Black
10 December 2022 1: 31

Amazon.it
Price updated on: 10 December 2022 1:31