The well-known Smartmi brand which is part of the Xiaomi ecosystem has just released yet another for heating that will come in handy this winter. This is the Smartmi Graphene Heater, or a graphene convector, which will go on sale starting from 20 October at the price of 799 yuan, about 100 euros at the current exchange rate.
Smartmi Graphene Heater is the new IPX4 water resistant graphene convector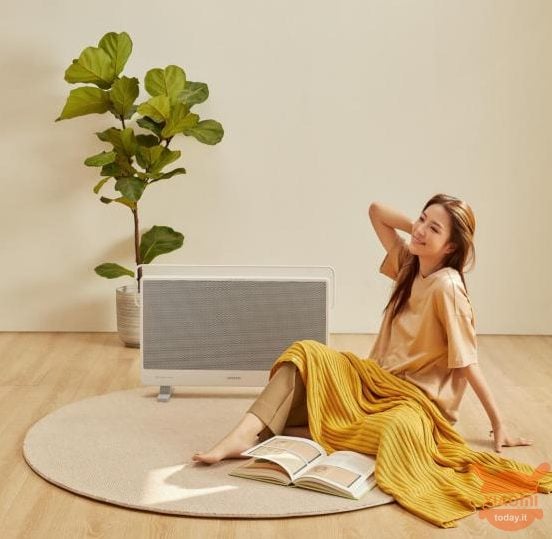 As the name suggests, Smartmi's new graphene convector uses graphene as its primary material, with a 99% conversion rate of electrical heat, thereby reducing energy loss during heating.
In terms of the structure of the heating element, the graphene convector uses an innovative GFM structure with a heat dissipation area of ​​7116 cm², approximately 48% larger than the previous version.
Additionally, there is a 3322cm² graphene infrared heating element coating on the surface of the heating element, which improves the overall heat dissipation efficiency of the convector, for 60% higher heating rate than others electric convectors.
So the Smartmi Graphene Heater uses a combination of convection and heat radiation to achieve rapid and balanced heating and effectively solve problems of uneven heating or slow heating rate of convectors with a single heating method.
In addition to the excellent heating system, the Smartmi convector also has an IPX4 waterproof rating and can be used in the bedroom, living room and bathroom. The internal circuit design is completely closed and equipped with a waterproof protective shell. This means that we can also put it in the bathroom to heat the room during a shower and we will still be safe.
As for consumption, the device has three power options: 900W, 1300W and 2200W. Also, with the temperature control button you can set the desired temperature, after heating to the set temperature, it will automatically stop heating and enter the heat preservation state.
Finally, we have two methods of positioning: vertical and fixed to the wall; the second is useful so that children can turn it upside down in the house. Obviously there is also the shutdown in case of overheating of the product.