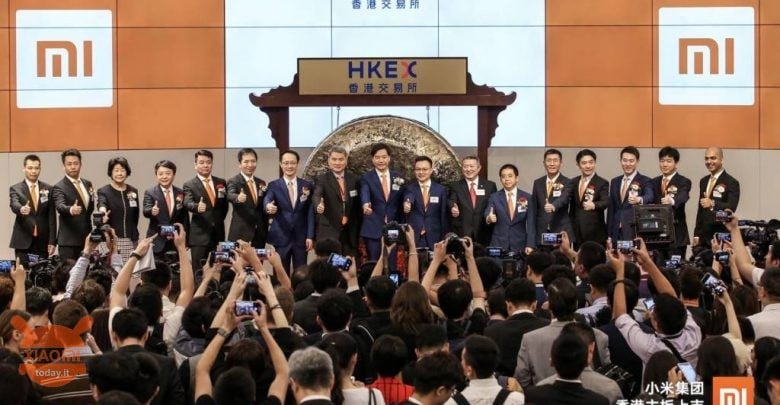 A couple of weeks ago, Xiaomi began his career on the stock exchange Hong Kong. The start of Xiaomi in the stock market has been quite erratic and has raised doubts about the performance of the Asian stock in the financial market, now the company manages to stabilize and its course in the stock market starts to become much more positive.
After the somewhat turbulent arrival of Xiaomi on the first day of his initial public offering (IPO), the second day on the Hong Kong stock exchange got very positive numbers, and from there it had a decline in the price of its shares. The Chinese brand was influenced by the instability of the situation, however, thanks to the famous "rebound effect" in the financial market, the shares achieved an incredible increase in 13%, which means a surplus of 9 billions of dollars compared to market value.
The circumstances that affected the Asian brand in its arrival on the stock market had to do with the conditions of international marketing faced by Xiaomi, as its goals to enter the US market.
The Asian brand is convinced that it still has a long way to go, so it does not leave behind its vision of becoming the world's technology leader.
Sponsors recommend buying Xiaomi shares on the stock exchange!
In recent months, Xiaomi's actions have attracted a number of surprising ratings and analysts say the Chinese company will perform even better as it has a lot of potentials to exploit. The recommendation of the joint sponsors Goldman Sachs Group Inc. together with Morgan Stanley indicates that the shares must be purchased, and analysts such as JPMorgan Chase and Co. and China International Capital Corp. (CICC) have given a fairly solid rating to the Xiaomi shares. So far, Xiaomi's stock market forecasts point to an increase, waiting for it to be positioned at a cost of HK $ 18,60 (USD $ 2,3)

and possibly increases in 9,4% more than the original price.

In general terms, analysts believe that Chinese society may increase by 22% by the end of this week and the trend suggests that it will probably continue indefinitely. With an estimate of 190 millions of users worldwide, the services offered by Xiaomi as a brand and its active participation in the hardware market in China undoubtedly contribute significantly to its increase in revenues and profits. According to CICC and Morgan Stanley, Xiaomi's net income and earnings on the stock market indicate an increase in 45%, 60% and 61% over a two-year period.
Are you interested in OFFERS? Follow our TELEGRAM Channel! Many discount codes, offers, some exclusive of the group, on phones, tablet gadgets and technology.