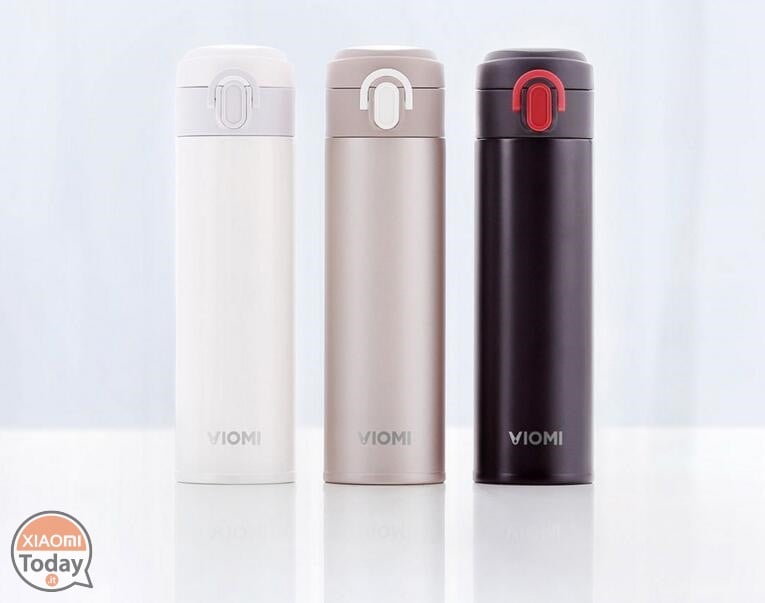 We've already met Viomi: Is the line which Xiaomi has launched to combat water pollution, cleansing it once it is released from our faucets. This time, the product we report on the market is upgrading the previous model and aims to cover the use that is made of our most precious liquid once it has been made drinkable: let's put the purifier filters aside and decide how we want to use the new one Thermos 2-in-1 Viomi.
XIAOMI Mi 9T 128GB BLACK - BLUE Global 6 / 128gb
ATGRATIS Shipping from Italy 24 / 48h

Yes because we are talking about an object with which we all have to do at least once in life, but again in a much more versatile form thanks to ability to keep hot or cold liquids for up to 24 hours. So let's find out the details.
The new thermos is a container of 300 ml capacity, smaller than the previous version that was from 460mml, available in three colors: white pearl, gold and black. Contrary to what we usually think of, the upper cap acts only as a protection for the bottleneck and not from the cup. The entire container is made of stainless steel 316 type, which has even higher corrosion resistance properties than 304, and it is colored with a special spray process that aims to increase the adhesion of the paint to the body, ensuring a much longer life than the competition. Naturally guaranteed IP68 impermeability.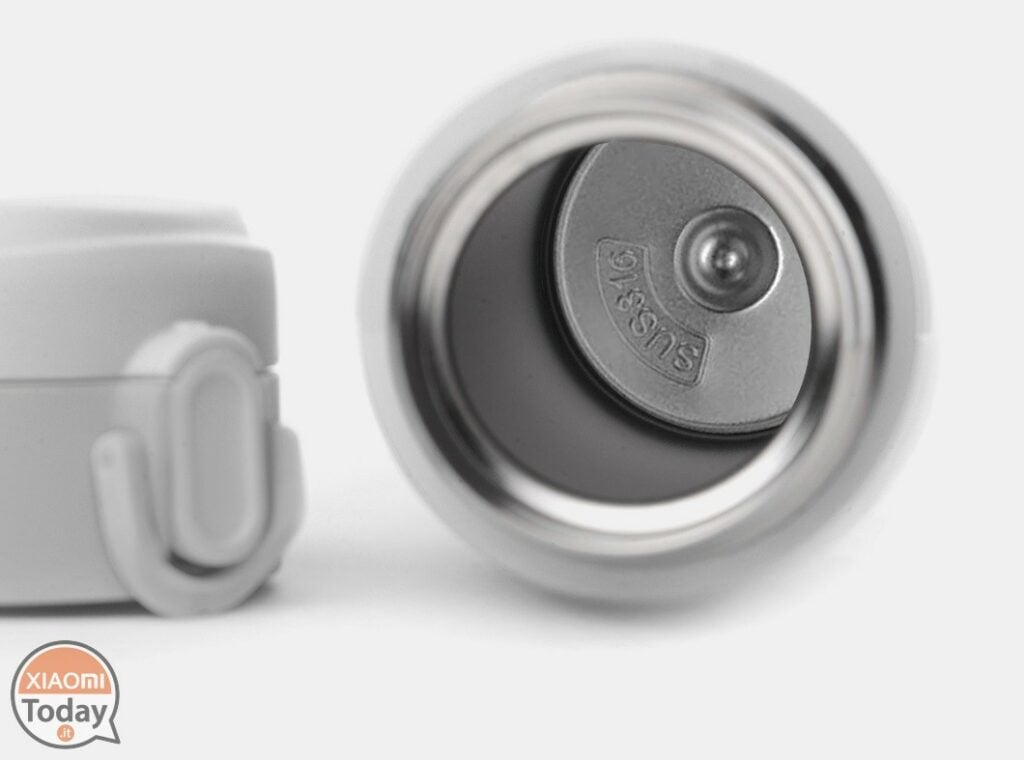 The main feature of this thermos is to offer one great insulation power when it comes to drinks with a very high gradient, positive or negative, compared to the outside environment. It boasts of isolation up to 24 hours, no matter how high or how low the internal temperature.
The data spread by Xiaomi speak fairly clearly and improve the performance of the old model: at 20 ° room temperature, 100 ° of boiling water sealed seal for 24 hours we find it at 37 or more. On the contrary, at 30 ° C ambient temperature, a mixture of ice water at 0 ° we can find it stored at 5 °, always after 24 hours. This result is obtained thanks to the creation of a vacuum chamber between the internal and the external, watertight enclosures. In this way, in fact, the thermal resistance that opposes the change in temperature greatly increases, optimally isolating the contents from the outside.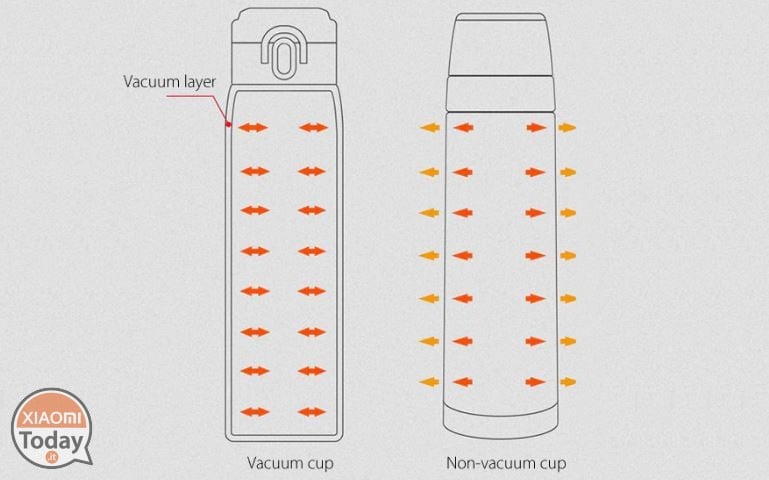 From what we can see, the top lid opens and closes with a safety lock to prevent unexpected openings or anyway from a child, however easy to handle with one hand. Finally, Xiaomi has also studied the shape of the pour spout, capable of ensuring liquid transfer without worrying about spills.
The container does not have any "smart" features but Xiaomi's quality gives you that plus to make it to some extent your ideal thermos: it provides excellent isolation and is a perfect product for those who do not want their drinks (especially hot ones) to do with plastic.
The 2-in-1 Viomi Thermos represents yet another piece of the so-called We Ecosystem, in which Xiaomi is pushing for over 2 years investing in 55 different companies that are involved in the design and processing of products belonging to all areas of technology related to the person and the home. Among these companies, 29 have been incorporated by Xiaomi since their creation as start-ups, including Zhimi (oriented to air purification) and indeed Viomi. The products launched to date on the market have achieved well 28 international awards for design.
So, for those who want to have a new travel partner during the cold season, the new Thermos Xiaomi Viomi may put aside 69yuan (about 9,5 €) and wait for it to arrive on the market. Those who do not want to wait can go to Gearbest and order here the previous version.
Stay tuned on our official channel Telegram and on our group Facebook not to lose any news!
[fonte1]