Are you interested in OFFERS? Be smart and subscribe to our Telegram channel! Lots of discount codes, offers, group price errors, on phones, tablets, gadgets and technology from Amazon and the best online stores.
At the level of innovations in terms of charging Xiaomi it's probably second to none. Chinese society has from poco presented its most powerful wired charging, which arrives at the power of 200W. It didn't stop there: almost simultaneously with Motorola, the tech giant has unveiled the possibility of recharge your smartphones remotely with a very special wireless technology. But does the future stop there? No, Xiaomi has in mind to propose one charging via sound.
Xiaomi aims high, very high: after remote wireless charging, here is a patent for wireless charging via sound
Just today i Chinese media have found a patent on the portal of the China National Intellectual Property Administration, Also known as Chinese Patent Office o CNIPA. In this document, presented in 2019 but accepted only today, reference is made to one Xiaomi charging via sound. Specifically, the patent is presented with a number CN112994199A. Going to read the patent, we understand that there are several components:
a sound collection device
multiple energy conversion devices
a power conversion device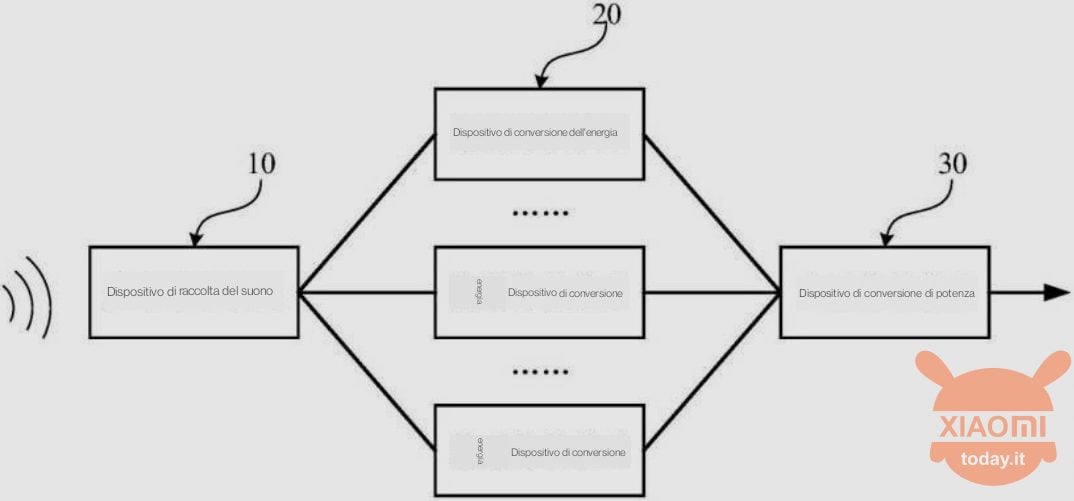 But how does charging via Xiaomi sound work? In short words the sound in the environment is converted into mechanical vibration and therefore the mechanical vibration is converted in turn into alternating current and then into direct current. This will go, with a mechanism similar to that of the aerial recharge, to recharge our smartphone. This is the first time we have heard of such technology and it may even be premature to talk about it. After all, it is a patent that we do not know when and if it will come to life.
However, it is interesting to note how Xiaomi is working hard in the field of alternative charging of your devices. The future is more and more wireless and finding some crossroads to charge devices is an advantage for the brand, where others still do not dare to set foot.
646,16

€

799,90

€
available
20 September 2021 7: 00

Amazon.it
Price updated on: 20 September 2021 7:00