As we told you in this very detailed article Xiaomi has on its side many small companies, which we can call sub-brand and which constitute the entire ecosystem of the brand, which give life to products of all kinds. Here we will see the new product launched in China by ZMI specialized in design and manufacture of power banks, power adapters and charging cables for smartphones, tablets, laptops and other mobile devices: It is Zmi aura, the new powerbank from 20.000 mAh superfast! This is not really a new product as much as an upgrade compared to the previous version.
Xiaomi Redmi 7 Global
ATGRATIS Shipping from Italy 24 / 48h - Cover and Film free
Xiaomi ZMI Aura: the new powerbank from 20.000 mAh superfast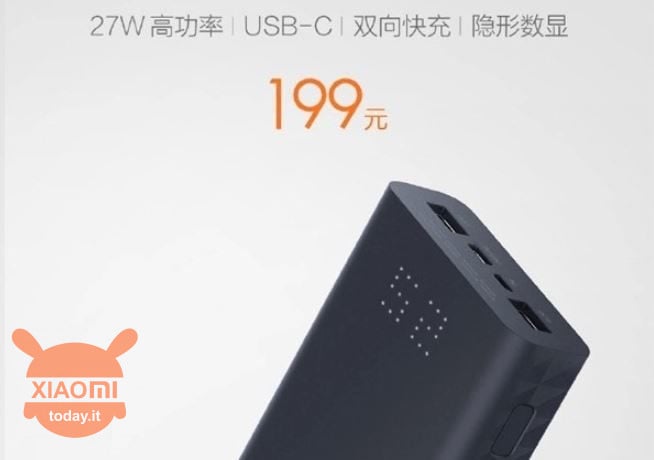 Presented today (5 November Chinese date), this new called powerbank Zmi aura is characterized by a capacity of 20.000 mAh and from two entries that support fast charging to load any type of device: in fact the maximum output of this powerbank comes updated by the 18W of the model before the 27W. The only difference is this because both the materials of construction and the form remain unchanged compared to before: we find indeed an opaque dark gray body in PC + ABS plastic, a light, ecological but very resistant polymer. The powerbank is obviously equipped with a LED which indicates the power and which, if the light is off, camouflages very well with the color of the body. To load the powerbank you can use both an output USB type-c that a micro-USB output, while for charging other devices there are two exits USB that can be used simultaneously to charge multiple devices at the same time.
As for the price, at the exit the device will cost 199 yuan, at the current exchange rate around 23 €. It will be available from tomorrow on the official Chinese channel Tmall but we still have no news about its release in Europe, although we do not struggle to believe that in a few days it will be available for purchase on the store as Gearbest.