After trying almost in totality Mi 8 series (Mi 8, Mi 8 SE, Mi 8 Lite) is missing from the Mi 8 Explorer Edition that will never come to Italy because is the Mi 8 Pro the heir for our market that surely captures the attention of many for a design (the one on the back) that makes everyone fall in love. Today we are going to discover it in our full review.
ES Standard Shipping Shipping 2 / 5gg (NO customs) ✈
This will be a review less articulated than I usually propose as Mi 8 Pro on balance is identical to the standard version, differing in functionality and hardware only in some points. So we start from the contents of the package, a black hardcover, inside which we find:
- Xiaomi Mi 8 Pro;
- 3.0 Quick Charge wall power supply with 5V-2.5A / 9V-2A / 12V-1.5A output;
- Type-C USB charging and data transfer cable;
- USB Type-C / Mini Jack 3.5 mm adapter;
- User Guide;
- Pin for removing the SIM tray;
- Transparent TPU cover.
Xiaomi Mi 8 Pro as mentioned just now in all respects the aesthetics of the Mi 8, even in the size equal to 154.9 x 74.8 x 7.6 mm for 177 grams, but it is certainly the back to make the difference. Indeed we do not find the sensor for unlocking with fingerprints but only one back cover made of transparent glass which lets us glimpse the components used in the device. In reality it is one 3d printing in which in addition to being specified some technical specifications are inserted a series of "company" slogans. The various are also valuable red calls, like the rings that surround the optics of the dual rear camera, the power button and the charging pin, which give a touch of elegance and further wonder to the whole terminal.
All this gives a certain uniqueness to the smartphone even though at the same time I personally created a feeling of having a porcelain doll in my hands. I have often been afraid of being able to scratch or chip it, because the material used makes the grip definitely slippery and therefore by necessity it will be necessary to rely on a protective cover, which causes the WOW effect to be lost. If you are daredevil and then prefer to use it bare and raw, you will still have to cope with the fact that the back will be impregnated with fingerprints and so you should always clean it with a cloth. In short, beautiful to see but you will agree with me that to protect it you must necessarily "hide" its beauty.
That said the perimeter frame is made of aluminum where we find on the side profiles the power button and volume rocker, trolley for the SIM (two SIM cards in nano format without the possibility of memory expansion via micro SD card), while above only the second microphone is located and below we have the main microphone, charging input USB Type-C 2.1 and mono system speaker.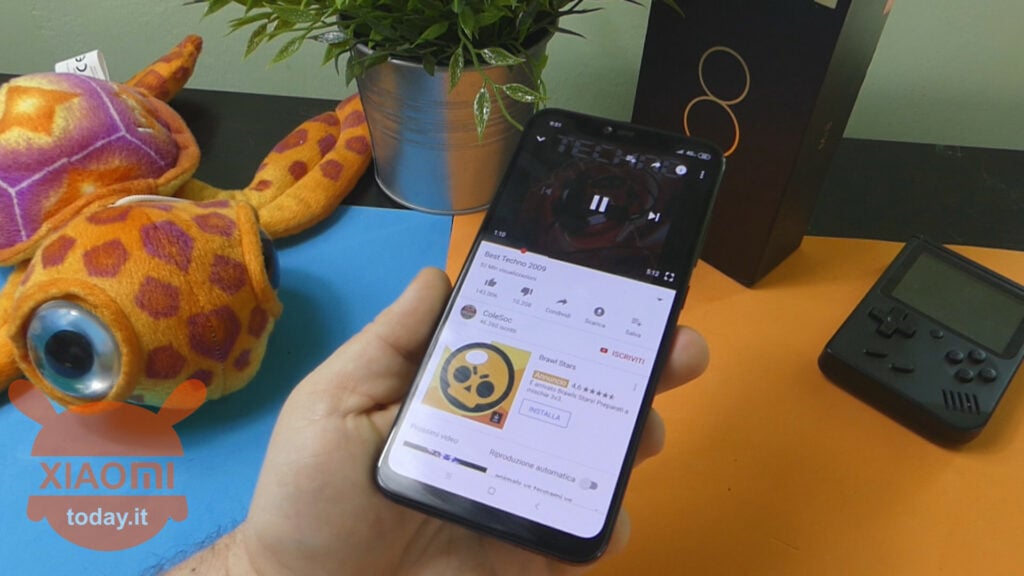 And already that we spoke immediately of the audio offered by the Mi 8 Pro. Also in this case no stereo effect (at least with official ROM) that in the complex behaves well in most of the listening situations, with a good volume level, but that seems to be too unbalanced in the low tones with consequent micro smears at high volume. No problem, however, with the use of music and video via earphones, thanks to the presence of the support for the AptX HD protocol, transmitting sound through the USB Type-C adapter - 3.5 mm.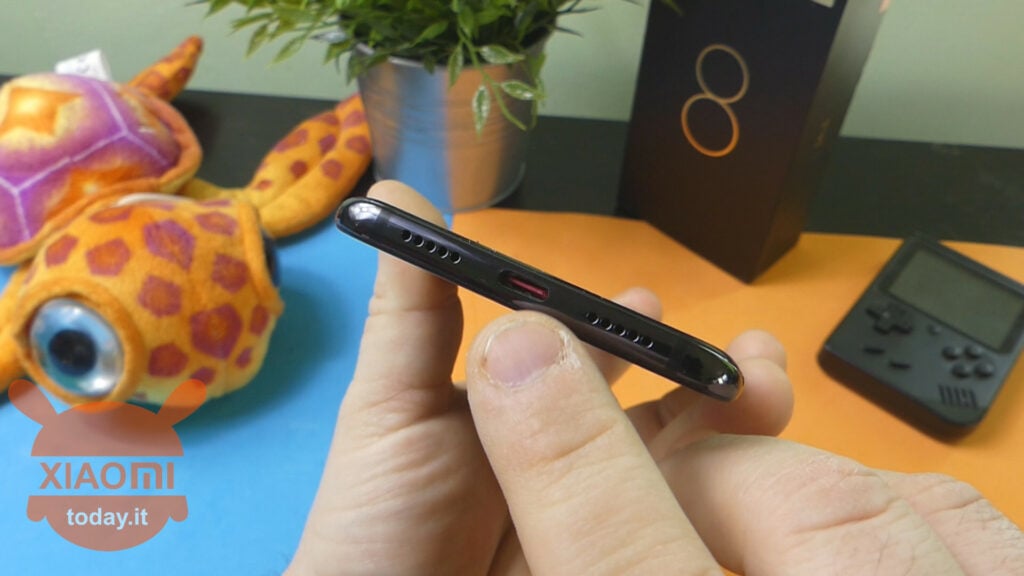 On the front of the smartphone we have a Super AMOLED panel with Full HD + resolution (2248 x 1080 pixels) from 6,21 inches and form factor in 19,5: 9, 402 PPI protected by a Corning Gorilla Glass 5 glass. A very good display with high color rendering, thanks also to the support for HDR content. We can also adjust the color temperature and contrast by software, enable the reading mode, enable the double touch for activation or lifting gesture, but also AOD (Always On Display) allowing users to see time, date and messages even when the phone is locked, even if the latter can not interact. Also in this case there is but ... maybe my mental self but considering the perfect blacks and the excellent color rendering in general, I did not appreciate the viewing angles, which at strong inclinations cause loss of color fidelity. No probema linked to the polarization which is correct and therefore the display will be visible even with polarized glasses.
Another big problem is the adoption of the notch, and I'm not talking about aesthetics. The notch incorporated in the display is dimensionally generous, integrating inside the sensors of brightness and proximity, capsule and earpiece camera selfie plus the IR one for unlocking the device through face recognition. The flaw is that we still do not have the ability to display notifications on the sides of the notch, and although on other models the solution from the company seems to have arrived, this is not entirely conclusive. Personally, it does not create problems for me and certainly not even for Apple users, since they pay much higher figures for certain devices that suffer from the same problem, but it is right to point it out to all those who consider this fundamental aspect. To all this we must also add support Widevine L3 which results in the lack of use of HD content streaming on platforms such as Netflix (solvable with APK moddato), Amazon Prime etc .. but also to the fact that for some applications the screen is not optimized, cutting in fact written and graphics.
Fortunately, the hardware does not disappoint, indeed quite the opposite. In fact, we find the processor Qualcomm Snapdragon 845 octa core from 2.8 GHz, GPU Adreno 630, 8 GB of RAM LPDDR4X e 128 GB of internal UFS 2.1 memory, unfortunately not expandable. No limit of use, offering maximum performance under any circumstances, even under stress without ever presenting particular overheating. But before telling you about anything else, I'll tell you about the novelty of this Mi 8 Pro, that is the presence of the fingerprint sensor placed under the display, so one of the latest technologies on the market.
I was curious to try it and at the same time full of expectations, which personally proved to be outdated. I do not feel to judge neither Xiaomi nor the technology adopted, but I found the release very slow and inaccurate. First you will have to put some pressure on the precise point where the sensor is located to get the release, while with the classic one (positioned on the back of the device) a light touch was enough. Maybe it's just a matter of habit, but I honestly do not consider the adoption of this technology as a plus. Therefore in my personal experience I preferred to rely almost exclusively on facial recognition based on the IR sensor, which is practically infallible even in situations of brightness equal to 0.
In terms of connectivity, the Xiaomi Mi 8 Pro offers a module Double-band WiFi, DLNA, Bluetooth 5.0 and sensor NFC, as well as a very good one Dual GPS that although at first glance does not seem to improve the browsing experience, it is definitely an added value as there are many more satellites to which it is hooked giving more precision on the position. We do not have FM radio while the Dual SIM functionality is enriched by the presence of the 20 band and LTE navigation up to 1024 Mbps with functionality Dual 4G. All this translates into excellent mobile signal reception, good internet browsing performance and above all clean sound during telephone conversation.
ES Standard Shipping Shipping 2 / 5gg (NO customs) ✈
Xiaomi Mi 8 Pro is Global Version and therefore full compatibility with Google services and above all Italian language. Currently we find on board the MIUI 10.0.1.0 based on the operating system Android 8.1.0 Oreo e security patch stopped in October 2018. The MIUI 10 by now we know very well and the features offered are definitely a strength, also offering the screen gestures for Full Screen browsing. MIUI 10 also brings significant advantages from the point of view ofbattery life, which in the case of Mi 8 Pro is a unit from 3000 mAh (smaller than Mi 8) that manages to ensure a day of use with a single charge provided you do not stress too much. On an average day I arrived in the evening with about 20% of remaining charge totaling about 4 hours and 30 minutes of active screen. Non-glaring, but satisfactory data. Although it is not a sample of autonomy with the supplied power supply, Mi 8 Pro will load in about 1 now and 15 minutes.
And finally we have to analyze the photographic section of Xiaomi Mi 8 Pro that does not add anything new to what has already been seen with Mi 8. In fact, the smartphone is equipped with a dual camera on the rear with main optics from 12 megapixel ƒ / 1.8 stabilized on 4 axes and a secondary room always from 12 megapixel ƒ / 2.4 with 2X optical zoom function. The coupling between the two units also allows to obtain photos with blurred effect (bokeh) qualitatively very good, as well as the overall performance of the photographic performances is good, giving back photos with good details and faithful colors.
There is also the double LED flash, which I personally do not use almost never, but I must say that in certain situations performs beautifully his work. At the software level we find theAutomatic HDR and AI mode, functions that on many occasions make the real difference on an acceptable photo and a good photo, without distorting too much the original image. But if in optimal light conditions the result is highly appreciated, on night photos Mi 8 Pro still remains behind the industry's rivals, offering usable images but often rich in background noise and micromosso in general.
At the video level we can decide on exploiting the resolution in 4K is 30fps or even 1080p is 120 fps, but only at 1080p 30fps we could benefit from optical stabilization, with rather appreciable results while the captured sound looks like a muffled thread. No news at the moment on the new features introduced with the 3 Mi Mix, such as Night mode and Super Slow Motion at 960 fps, but soon an update should bring rich news on this front. Definitely Xiaomi Mi 8 Pro is not a camera phone, but knows fake in the landscape of ultra expensive smartphones.
All the considerations just given are also valid for the front camera from 20 megapixel ƒ / 2.0, which is lost more in detail about the night shots but offers in the portrait mode a result decidedly more professional than what was done with the back room.
ES Standard Shipping Shipping 2 / 5gg (NO customs) ✈
CONCLUSIONS
In the end I went on the same, even if the differences with a Xiaomi Mi 8 are practically linked to the aesthetics and the presence of a biometric sensor integrated into the display, net of a lower battery capacity. Nothing to say for this Mi 8 Pro at a performance level, but it is really worth spending more money just for a scream and an advanced technology that does not satisfy? The answer is certainly not, but at the same time it also depends on the tastes. In the end, all too often I hear some YouTubers assert that for them the concept of design is crucial and that they would spend even more money to have a unique product of its kind. Well, then Xiaomi Mi 8 Pro is dedicated to them, because a back cover to charm you will appreciate even in a few years. So if you are a technological "aesthetes", Mi 8 Pro is the product for you.
Are you interested in OFFERS? Follow our TELEGRAM Channel! Many discount codes, offers, some exclusive of the group, on phones, tablet gadgets and technology.
XIAOMI MI 8 PRO
Mi 8 Pro is an iconic smartphone for the Chinese company. Attention to detail and snappy at the level of performance, thanks to a hardware equipment of all respect. If you are a technological exhibitionist, he is certainly the product for you, because you will not go unnoticed, but at a price that for most tech voyeurs is not justified.
PROS
DISPLAY
PERFORMANCES
DESIGN
CONS
NOT EXPANDABLE MEMORY
PRICE
NO AUDIO JACK
NO NOTIFICATION ON THE NOTCH SIDE (for now)
INTEGRATED SENSOR IN THE POCO PRECISO DISPLAY
ABSENCE OF FUNCTIONS / FEATURES PRO
Add your review
|
Read reviews and comments