Among the news that Xiaomi will offer its users tomorrow 5 November 2019, we will have the first smartwatch completely made by the company. The interest is so skyrocketing that the attention could be completely catalyzed on this wearable rather than the amazing Xiaomi Mi Note 10. In the past articles we have already told you a lot about what has been leaked on the net so far, but one of the aspects that really captures the attention of the end user is the price.
So this anticipation could not be missing either, as it comes from the TaoBao store, a few hours after the official presentation, confirming that sales will take place on November 11, on the occasion of the Single Day, a day when global shopping will over-heat the wallet and the credit card of millions of users. For the Xiaomi Mi Watch 1499 yuan will be asked for, equal to about 191 euros at the current exchange rate, but the price is to refer to an offer valid only for that day, as the list price will be 1699 yuan, equal to about 216 euro.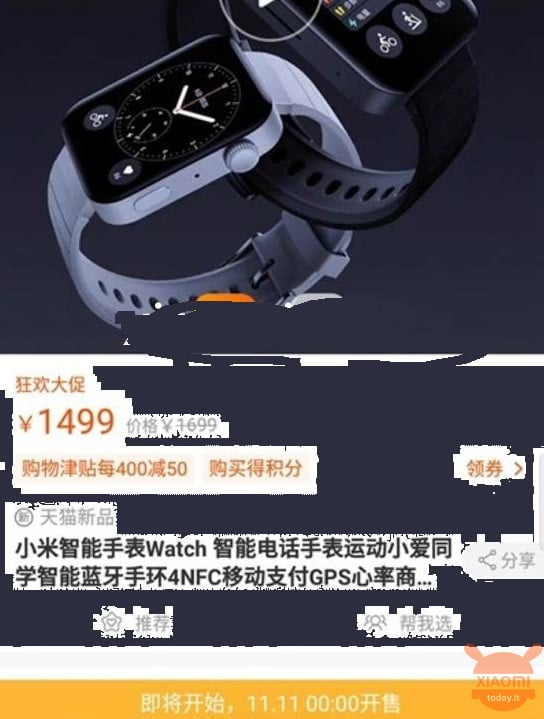 Xiaomi Mi Watch: price revealed and a PRO variant on the way
Features include a stainless steel case with a sapphire crystal. Among the most interesting news is also the support to the eSIM, thus allowing the autonomous reception of incoming calls on a dedicated number, but it will also be possible to use the Mi Watch to answer incoming calls on the smartphone using the Bluetooth connection. Xiaomi also said that both modes of use can work simultaneously in the Mi Watch.
At the hardware level we will have a Qualcomm Snapdragon 3100 processor that will power the innovative OS MIUI for Watch, while it is rumored that Google WearOS will be present in the global variant of the wearable. Functionality of sure interest is the extreme integration with the Mi Home ecosystem.
Many have focused on the design of the Mi Watch which is very reminiscent of Apple, but the first teaser that appeared on the net showed a wearable without crown on the right edge and with a decidedly more similar look to a Mi Band 4 with steroids. So tomorrow there could even be two wearable gadgets that the company has reserved for its users. Indeed they could even be 3, at least this is what the Chinese leaker suggests @Digital Chat Station. A Mi Watch Pro that should differ from the standard model only by the shape of the dial, this time round. The leaker also specified, however, that the launch of the Xiaomi Mi Watch Pro should not take place immediately, but it will be necessary to wait at least 2 months before the official debut.