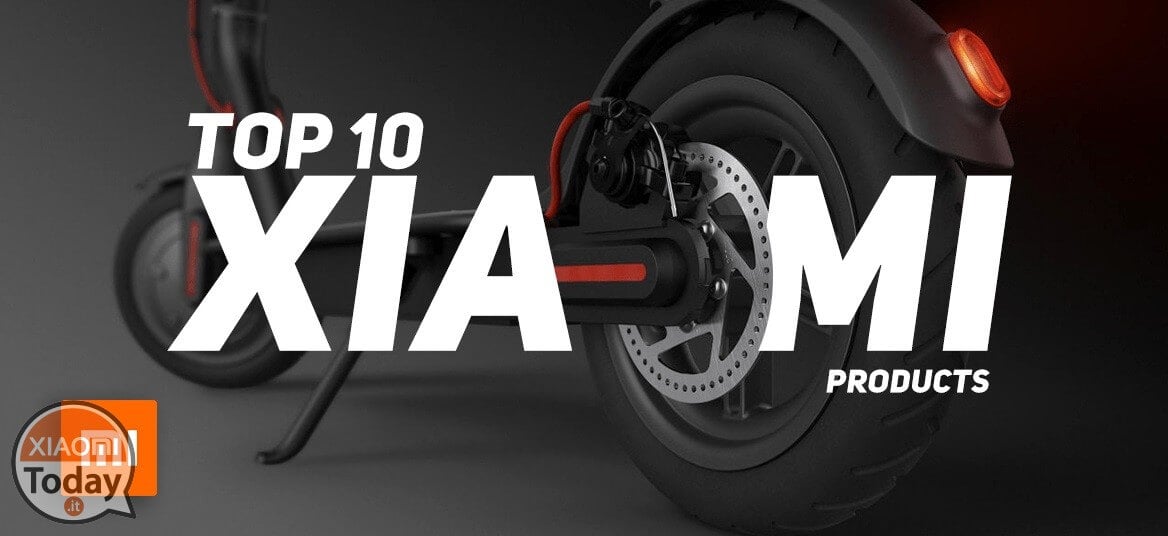 Xiaomi, a name that we are now used to associate with smart smartphones, powerful laptops, long-lasting powerbanks. All characterized by an unequaled quality-price ratio. However, as we have learned thanks to the articles published on these pages, the company does not only deal with the smartphone and laptop sector, but bases its offer on numerous products of categories also very different from each other, some of which are probably not even known to the most passionate.
So today we present the "10 best Xiaomi products that you did not know existed!". All these technological objects are available on GearBest at advantageous prices thanks to a exclusive agreement of XiaomiToday.
1. Xiaomi Smart Rearview Mirror - The smart rearview mirror
Among today's Xiaomi "best 10 products", Xiaomi Smart Rearview Mirror is definitely the most original gadget. A completely new multifunctional device that makes driving easier and safer. Integrated sensors and a dashboard camera allow you to monitor road conditions, predict the possibility of an accident and notify you of obstacles during parking. The device also integrates a GPS module to help you keep driving directions while you drive. Key features include an IPS display from 8,88 inches (1920 × 480 resolution), a viewing angle of 160 degrees, power and charging via a car cigarette lighter, an advanced driver assistance system (ADAS) that provides you with real-time alerts about dangerous situations on the road, advanced driver assistance system including LDW (lane crossing warning), FCW (frontal collision warning) and PVS (in case of uncontrolled vehicle movement), integrated WiFi, wireless connectivity to view and remotely control settings via mobile device, also working with Bluetooth enabled devices, using the 4.0 BLE (low power consumption) module.
For completeness of information, we point out that, for unlocking and use, a Chinese sim is needed with the ability to receive text messages. The menu is also completely in Chinese, so immediacy will certainly not be an element that will accompany you in the early stages of starting the device.
The Xiaomi rearview mirror can be purchased HERE, at the price of 161,90 €, but before proceeding we invite you to inform yourself about the limitations imposed by the highway code regarding the use of these devices on your means of transport.
2. Xiaomi 8.5 inch Tire Folding Electric Scooter - The ultra-smart folding electric scooter with 8.5 inch wheel
Dear friends, here is another good news from Xiaomi! The scooter suitable for young people (both inside and outside) has been renewed. Equipped with a unique folding design, this version was made of aeronautical aluminum alloy and weighs only 12 kg. It is equipped with advanced E-ABS braking system, kinetic energy recovery technology, cruise control system. Smart and practical, as well as beautiful, certainly does not go unnoticed! This is why it is in second place in our ranking.
Why buy it?
The electric scooter is equipped with a double brake system. The front wheel has the E-ABS anti-lock system, while the rear wheel uses the mechanical disc brake. In fact, 4 m is the braking distance, making driving much safer
Powerful 250 W engine, load capacity of 120 kg, maximum speed of 25 km / h, can travel ramps from well 14 degrees of inclination
Powered by 20 lithium ion batteries, 52Ah capacity, able to offer by offering 20 km of autonomy
Adopts the intelligent BMS (battery management system), checking the conditions of the accumulators through the dedicated app, available by searching on the MiHome App or Xiaomi App on Google
Six electrical protection functions: short-circuit protection, overcurrent protection, overload protection, over-discharge protection, low-voltage protection and protection against temperature anomalies
Energy recovery system. The electric scooter has a kinetic energy recovery system that converts the energy into electrical energy during braking, offering better battery life
Smart app, keep track of your driving habits
Foldable design in just 3 seconds
1,1 W front light (6 m illumination distance) and rear light
Also in this case, before the purchase, we invite you to inform yourself about the limitations imposed by the highway code on the circulation by scooter and other means of locomotion of this type.
3. Xiaomi Mi Water Purifier - The water purifier capable of killing 99,9% of bacteria
The Xiaomi purifier can produce a large amount of drinking water using tap water and can be installed on the kitchen worktop. Up to 99,9 percent of bacteria, heavy metals and antibiotics in tap water and up to 99,7 percent of organic matter can be removed. The filtering system is perfectly hidden by an elegant design and will allow you to monitor the water quality in your home in real time by watching the Mi Water Purifier app. The TDS (Total Dissolved Solids) value can be controlled quickly even by the color of the LED light on the tap. Perhaps few were aware of this device, which is why we decided to put it on the list.
Its main features include the ability to guarantee 400 gallons of water (about 1515 liters) without stagnation and contamination (so no additional water tank is needed), advanced "RO" filtration technology (which removes substances higher than 0,0001 micrometers) , automatic cleaning of the RO filter cartridge (which always guarantees maximum water flow and an excellent filtering effect), intelligent production technology of pure water with high flow booster pump for stabilized flow.
Buying guide: do you also want to produce your own water directly from the tap at home? Then you can find Xiaomi purifier HERE, at the promotional price of 407 €.
4. Xiaomi Mi Drone Quadcopter - The drone according to Xiaomi
The new Xiaomi quadricopter offers a very high performance drone at the usual hyper-competitive price of the Beijing house. And this time let's talk about 4K images!
Why buy it? Try taking a look at the features offered by this little gem:
4K UHD camera
Equipped with 4K UHD camera capable of recording video up to 3840 x 2160P to 30 fps.
Streaming in real time
The integrated telephone support of the transmitter facilitates the FPV WiFi function. Furthermore, the control distance up to 3 km ensures good performance.
"Flight tracking" function
Order your quadrocopter where you want to position yourself. Set a location on the map within the app and Mi Drone automatically flies to the location.
Circular flight
Choose what you want to record or capture in 3D and let your Mi Drone scan it by turning it around.
Cardan joint to 3 axis
Stable and accurate photography / recording is guaranteed.
Frequency of communication to 5GHz
High anti-interference performance and powerful signal.
Other features
Automatic take-off / return / landing function, real-time battery level monitoring and low voltage return warning.
Buying guide: to see the world from another perspective, you just have to rely on Xiaomi and its Mi Drone, available in the link below:
5. Xiaomi Mi TV Box - The box that makes any TV smart This TV box with Android supports the 4K ... and many other convenient features. Like voice control via Bluetooth, or the ability to watch favorite TV shows, play games, follow the news or switch to the radio. Mi box also supports Google Cast. Surely many of you are already aware of its existence but for many others, who may have been just recently emerging in the Xiaomi world, can be a nice novelty.
Let's take a closer look at why it might be interesting to add it to your technology shopping list.
Works with the latest version of Android TV 6.0
The high performance of the Cortex-A53 quad-core CPU can support a wide range of games
It is equipped with a Bluetooth voice remote control: just speak in the remote control to activate searches and functions
4K HDR 4K H.265 VP9 Profile-2 decoding ensures image contrast, color and clarity
The HDMI 2.0 standard that comes with it is the fastest way to send video and audio output to your TV
It also supports Dolby and DTS encodings capable of generating a soft and enveloping sound
Buying guide: are you so passionate about Android that you want to see it on your screen in the living room? What are you waiting for, click below and take home the TV BOX Xiaomi at an unparalleled price:
Well, we have come to the end of the first part of this special about Xiaomi products that you might not know.
In the second and last episode we will see other interesting 5 devices belonging to the ecosystem of one of the most prolific producers in the world technology market.
Stay tuned on our official channel Telegram and on our group Facebook not to lose any news!
[Source]