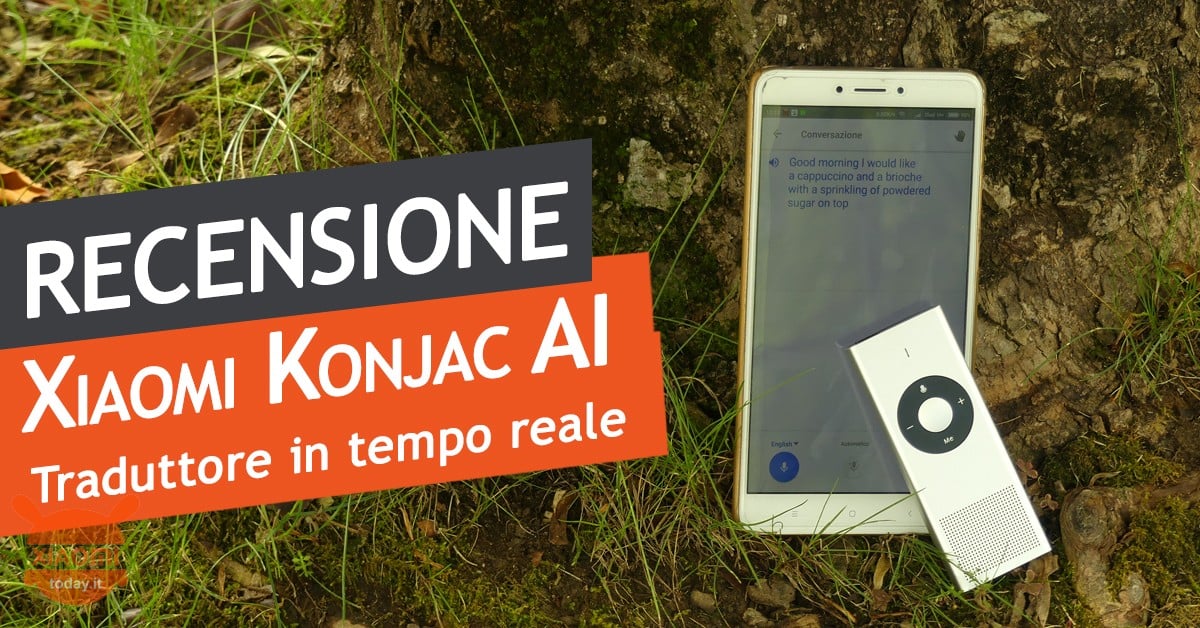 Traveling around the world is the most beautiful way to enrich one's personal culture, but although English is considered the universal language that allows people to speak in every part of the world, unfortunately not everyone knows or understands it. So what to do? Give up traveling? Technology provides us with interesting solutions, like the Konjac AI Translator of Xiaomi that promises translations of ben 14 languages avoiding bad figures and allowing us to enjoy all the experiences offered by our travel destination.

🇨🇳 Priority Direct Mail Shipping (6 / 14gg, No Customs) ✈

Ask us about international distributors

EU Shipping Standard EU Shipping 2 / 5gg (NO customs) ✈

Ask us about international distributors

🇨🇳 Priority Direct Mail Shipping (6 / 14gg, No Customs) ✈

Ask us about international distributors

Many have found similarities between the top of the range Mi 8 and Apple's iPhone X, so too I see similarities between this smart translator and the old iPod models. Seriously, the sales package is in white color, with Chinese writing on the sides in contrasting brown color, while the product is shown on the front. Inside the lid attached with a pinch of double-sided adhesive we find one small cardboard sachet containing the product instructions strictly in the Chinese language, and which contain the QR Code, useful in case you want pair the Konjac AI Translator via WeChat. Beyond that we will finally find a small charging cable with micro USB connection. I say immediately that the recharge must take place through a source from 5V / 1A. I would have expected at least a wrist strap and a bag to store the translator once unused.

Konjac Ai Translator is made entirely of aluminum alloy with sandblasting process that guarantees a longer life in time, with the exception of some plastic inserts, like the one placed in the lower profile that houses the input jack from 3,5 mm and the micro USB charging port. On the upper profile instead the on / off button and the high-sensitivity microphone of -28 db, twice the price of a traditional Bluetooth headset. In this case the plastic band has a polished treatment and extends for about 0,5 cm, on the back of the translator, where they should be hidden WiFi reception antennas.

The sides are completely free except for one small hole on the right, in the lower part, to be able to insert a wrist strap. With a weight of only 63 grams and rodotte sizes equal to 100 x 38 x 10,8 mm, the smart translator can be stored comfortably in a pocket and therefore portability is one of its strengths.

Continuing with the aesthetics, on the front we find the speaker hidden behind a grid, of which I ignore the actual power but which performs its work very well. We also find a command pad that incorporates 4 physical buttons, two dedicated to volume and two instead dedicated to translation. The one marked by the letters "Me" allows us to converse and then translate from our language to that of our interlocutor, instead the button with designed a microphone will serve for the opposite operation. At the center of the command pad we find a further button that will allow you to perform some extra features, such as listening to music, asking for weather and news info and more.

Finally above the commands we find a small status LED, which lights up green when the Konjac AI Translator is on, while it is being lit it will glow red. We speak immediately of battery and autonomy as the multilingual gadget integrates a unit from 900 mAh that allows up to 8 hours of continuous use or 7 days in standby, while the complete recharge occurs in about 2 hours.

🇨🇳 Priority Direct Mail Shipping (6 / 14gg, No Customs) ✈

Ask us about international distributors

EU Shipping Standard EU Shipping 2 / 5gg (NO customs) ✈

Ask us about international distributors

🇨🇳 Priority Direct Mail Shipping (6 / 14gg, No Customs) ✈

Ask us about international distributors

But let us come to the point, and therefore to the function of this Konjac Ai Translator, which thanks to the technology of artificial intelligence

which integrates with the Microsoft's Cortana translation system, It allows translate into 14 languages, drawing from a database of over 5 millions of sentences. The languages ​​available are: Chinese, English, Japanese, Korean, French, German, Spanish, Russian, Portuguese, Italian, Dutch, Danish, Finnish and Swedish.

I showed you in a video tutorials, how to carry out the initial setup of the Konjac AI Translator, which will exploit application Moyu or alternatively the mini program integrated in WeChat, the latter only in Chinese. Once you have chosen the translation languages, for example Italian and English, just press the button for each party and speak. Between the sentence in the original language and the translated one will pass a few moments, sometimes longer, based on the source of the Data connection on which the Konjac AI Translator relies.

And I have to be honest, extremely honest: first often translations are not carried out correctly, perhaps it depends a lot on the pitch and the length of the sentences, so it is advisable not to make long but short speeches and simple sentences. In this case, then we can achieve acceptable results. But the biggest problem in my opinion is linked to the fact that the Konjac AI Translator always requires an active data connection, whether it's a traditional WiFi hotspot or the one made available by your smartphone.

This means that inevitably we should have a good offer from our telephone operator, which also includes data abroad but apart from that, it makes no sense to exist this product. I'll explain: since we have to exploit the data connection of our smartphone and that the smart translator draws on an online database, it is worth using the Google Translate application which also allows translating into many languages ​​and activating the conversation function. Finally, even the extra features made available are completely useless. Theoretically we could play music online, ask for information on weather and news, tell stories and much more, but all these contents are usable only in Chinese.

🇨🇳 Priority Direct Mail Shipping (6 / 14gg, No Customs) ✈

Ask us about international distributors

EU Shipping Standard EU Shipping 2 / 5gg (NO customs) ✈

Ask us about international distributors

🇨🇳 Priority Direct Mail Shipping (6 / 14gg, No Customs) ✈

Ask us about international distributors
CONCLUSIONS
Theoretically the Konjac AI Translator is a very interesting but not very functional gadget. On balance we are forced to use the samrtphone or otherwise have to resort to WiFi hotspots public for the operation of our gadget. Furthermore, every time we start, we still have to make the connection procedure because data relating to at least the smartphone's hotspot are not stored. If integrated AI technology had been exploited for one stand alone operation so that things would have been really interesting, but it is not. Furthermore conversations take place slowly and often not perfect. So Xiaomi is not the main producer of this Konjac AI Translator, but however, it remains a product now associated with its name and this time I'm sorry to say it, but I was not satisfied at all. So I just have to restore it to the factory values, by holding down the power button and the "Me" button at the same time for 10 seconds. But if you think differently from me and you are interested in buying, you can contact the store Gearbest.com, that confirms the most competitive store in terms of prices and professionalism offered.
Are you interested in OFFERS? Follow our TELEGRAM Channel! Many discount codes, offers, some exclusive of the group, on phones, tablet gadgets and technology.
XIAOMI KONJAC AI TRANSLATOR
Konjac AI Translator is a product that I would have judged on paper a genal, and instead after trying it I can only express a negative opinion. Good construction and materials, but at the level of use we are not there. Translations carried out in the long and often inaccurate times, not to mention the constraint of always having the smartphone behind.
PROS
CONSTRUCTION
PORTABILITY '
CONS
EXTRA FUNCTIONS ARE USABLE ONLY IN CHINESE LANGUAGE
WAIT FOR TRANSLATION
NOT ALWAYS ARE THE RECENT JUST WORDS TO BE TRANSLATED
NEED AN ACTIVE DATA CONNECTION
Add your review